These Gifts For Your Husband Are Sure To Put A Smile On His Face
Buying a Christmas present for your spouse can be a tricky endeavour. After all, the two of you have more than likely purchased anything you really need, and for those luxury items, the key question is where you'll hide it away from his prying eyes.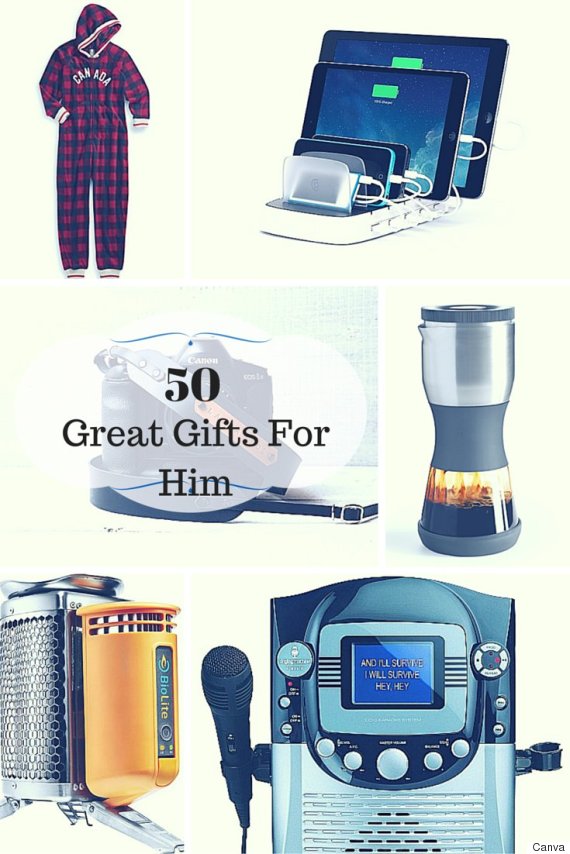 But that, of course, doesn't mean you shouldn't get your husband a fantastic gift for the holidays — it just means you need to be a little more creative than usual.
We've pulled together some ideas for Christmas presents for a variety of husbands, whether he's into cooking, sports or gardening. And the best part? Most of them are items that will benefit you too, so bring on the fun!
Who's hot in the kitchen? This guy. Find it on Etsy, $70.

He'll never want to go back to fleece again. Get them at Kaufman Mercantile, US$120.

Or as an alternative, get him slippers that look like they're suited for walking on the moon. Get them at The North Face, $64.99.

Pricey, but the most comfortable pair he'll ever own. Get them here, $29.95.

Perfect for a laptop or urban essentials (we don't recommend taking it camping). Get it on Etsy, $288.

The Navy Crosshatch Clark Messenger from Herschel will make his commute (by bike, transit or whichever) that much better. Get it here, $99.

This stove from Biolite promises to both cook your food and power your gadgets at the campsite. Get it at MEC, $158.

If your man loves to bake, these Danish Dough Whisks will take his bread to the next level. Get them at Lee Valley Tools, $19.50.

For the cocktail genius, these bitters inspired by cities (including Vancouver!) will be a great addition to the bar. Find out where to get the Bittered Sling Limited-Edition Tales of the Cocktail here (approximately $50).

For the man who's serious about his oral health and happens to love tech, this tracker will help make sure his pearly whites are ... pearly white. Currently $154.99 at Amazon.ca.

Looking good while zipping through the streets will only make him faster, right? Nike's Aeroreact Half-Zip running top, $150.

He's been wanting to get into meditation, and this gadget might be just the thing to convince him to do it. Muse Brain Sensing Headband, Indigo, $299.95.

Whether on a boat or at a campsite, it can help to know what's coming in the air. The Eton Rechargeable Weather Radio is perfect for power outages too. Get it at Lee Valley Tools, $54.50.

Who you gonna call? He's never lost his childhood dream of fighting ghosts, and why should he? Let him cuddle up with the Ghostmobile. Get it at the One of a Kind shop, $35.

It's all in the name — the Cuisinart International Chef Crepe/Pizzelle/Pancake Plus makes all of that, and more, for the man who loves his brunch. Get it at The Bay, $139.99.

With a My Niagara Wine Club membership, he'll get four high quality wines from four different wineries every two months — and you know he'll be happy to share. Get information here, $115 per shipment.

He loves growing his tomatoes, but hates how many he wastes at the end of the season. Give him something to look forward to next fall (and you'll both reap the benefits). Get it at Lee Valley Tools, $49.50.

It not only looks cool, it also makes some of the best coffee you'll ever taste. Get the Duo Coffee Steeper here, US$99.

A raclette is basically a party disguised as dinner, and it gives him a great excuse to get friends together whenever he wants. Get the Swissmar 8 Person Eiger Raclette Party Grill at The Bay, $99.99.

Perfect for gamers, not to mention those who love the next big thing, a curved monitor for a computer can, of course, double as a TV screen. Get the Dell Ultrasharp 34 Curved Monitor here, $1499.

He's creative, so let him make up his own time. As long as he's on time, ya know? Get this chalk board clock at the One of a Kind shop, $55.

He's been wanting to practice his slap shot somewhere, but hates chipping the paint. Plus, the two of you can definitely use this net to settle some 'no, you do the dishes' bets. Get it at Rona, $79.99.

The upcoming Star Wars movie is enough to bring out the kid in anyway. And if he loves making things, he'll adore these metal model kits. Get them at Lee Valley Tools, $12.95 each.

He's been looking for a lower budget tablet for a while, something he can take on trips without being too worried about it — and you found it for him. Get the Android 4.2 Jelly Bean at Grand & Toy, $100.98.

Is a thermostat a sexy gift? It's not, but if your husband is the design-loving type, you know he'll appreciate this good-looking (and money-saving) option for the home. Get it at Nest, US$249.

The LifeProof nüüd iPhone 6 Plus Case not only keeps out dirt, but it's actually waterproof for up to two hours, so if your hubby is a bit of a klutz, you just saved both of you a lot of grief. Get it at MEC, $79.

He complains his hands are cold, but won't wear your old mittens (whyever not?). Get him something stylish he'll actually put on his digits. Get these Ralph Lauren gloves at The Bay, $75.

He thinks he doesn't want a onesie, until he slips this on and realizes it's the perfect winter uniform. The Canadiana aspect doesn't hurt. Get it at The Bay, $89.99.

Chimichurri for everyone! He'll love mixing up his own spices and pastes with this gorgeous set. Get it at the One of a Kind shop, $75.

There's that one shirt he has that can't be worn anymore, but for sentimental reasons, he's never throwing out. Give it a place of honour with this gift. Get it at Umbra, $30.

His aerodynamic talents come to light with a smartphone-controlled paper airplane set that will amaze and astonish the whole family. Get it at the Robot Shop, $64.09.

No, he never quite made it onto The Voice, but that doesn't mean his singing shouldn't be encouraged, right? Plus, it makes for a great New Year's Eve activity. Get this karaoke machine at Toys 'R Us, $139.99.

He'll always remember where he sat at Yankee stadium, during that one game in 1972 ... so get him a pen that commemorates it too. (Available for a variety of stadiums.) Get it at Uncommon Goods, $150 to $190.

He's been a fan of the magazine for years, and this gorgeous coffee table book is just what he needs for browsing purposes. Get it at Indigo, $112.49.

While you're both waiting for the show to start up again, why not display a beautiful set of the books? You could read them together or separately — just keep the spoilers to yourself. Get them at Indigo, $67.90.

He loves to sketch, or just write his ideas instead of typing them — but wants them on hand in his email when he's done. Get the best of all words with the Intuos Draw Creative Pen Tablet, available at Indigo, $79.95.

Why yes, he would love to drop the kids off at school on a hover board, thank you very much. Get it at Amazon.ca, currently $453.35.

Never enough space to charge all his gadgets at once? He'll love the organization behind this gorgeous stand. Griffin PowerDock 5 Charging Station, available at Indigo, $129.95.

You're more of a coffee drinker, but he needs his cuppa. Show you respect his choice of caffeine intake with a gorgeous teapot of his very own. Get it at David's Tea, $40.

Let him indulge both his literary side and his partying side with these shot glasses inspired by Mark Twain. Just don't let him start quoting too many books as the night progresses. Get these from Izola, US$29.99.

Does anything say relaxation like a hammock? No, no it doesn't. Get both of you excited for the warmer months with an addition to the deck that simply whispers "take a nap." Get it at Lowe's, $233.

Combine two of his greatest loves — hockey and grilling — into one perfect way to get a delicious meal. Get the set at Hat Trick BBQ, $50.

His travel aspirations go east and west, so get some art to represent where you could be going next. Get it at Baltic Club, from $50 (personalization possible).

He likes to keep his valuables locked up tight, and when was the last time anyone actually looked in a dictionary? Give him a hiding spot of his own with this faux book safe. Get it at Amazon.ca, $19.10.

He loves the look of his beard, you love the feel when it's maintained properly. The Harry Winter Winston Bundle promises a personalized razor and a travel kit beyond compare, US$60.

You'll never convince him his Android has just a good a camera as any point and shoot — and nor should you. Instead, support his photography habit with a personalized leather camera strap. Get it on Etsy, $67.07.

This is either great for planes or the man who hates coats, but either way, you've found him a garment that can carry ALL his gear. Get the SCOTTeVEST Hoodie Microfleece at ThinkGeek, US$59.99.

He's just started to delve into vinyl, thanks to his parents' collection, and now it's time to play it at home. Get this Orbit Basic Turntable to kick his habit up a notch, US$179.

This is destined to be a winter full of cuddles, especially if there's a pizza blanket to do it with. (Can also double as a beach towel if you're heading down south.) Get it at I Love Lolli, US$115.

He's all about things that last, and umbrellas are at the top of his hit list for items that both break and go missing. Impress him with an umbrella that is wind-tunnel tested — and has a Bluetooth tracking device. Oh yes, really. Get it at Blunt, US$69.