Edmonton Freezeway Pilot Project Opens
When Edmonton freezes over in winter, why not take advantage of the subzero temperatures and enjoy the cold?
That was architect Matt Gibbs' logic when he came up with the idea for an Edmonton "freezeway" three years ago.
"It's been a project about passion. For me, it was about begging the question, what would it take to make Edmontonians fall in love with winter?" Gibbs told Metro News.
On Tuesday, the pilot project officially launched with a 400-metre path through the trees of Edmonton's River Valley near the Victoria Park skating oval.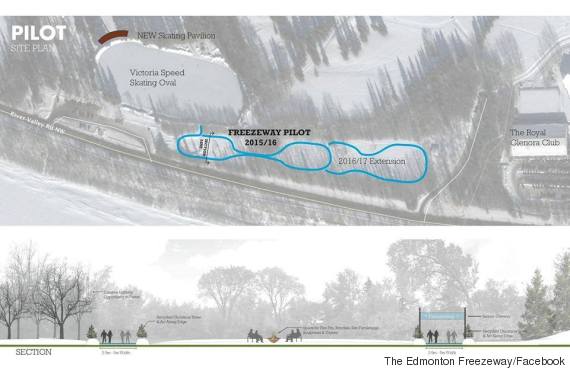 The pilot project's route. (Photo: The Edmonton Freezeway/Facebook)

The path starts off of the existing skating oval, then turns into an artificial skating trail, the City of Edmonton's Angie Blades told CKNW.
If successful, the freezeway could grow to over 3.5-kilometres in length in the next few years — allowing Edmontonians to skate to work or school.
Welcome to the #YEGFreezeway pic.twitter.com/Dzm1o59z1a

— Allyse Haley (@AllyseButler) December 21, 2015
The freezeway was part of Gibbs' master's thesis at the University of British Columbia. In 2013, his idea won top place in the COLDSCAPES international urban design competition, focused on designing urban environments to fit chilly climates.
The proposal made international news, and grabbed the attention of Edmonton city council.
"We thought we'd have to push the snowball up hill. Instead, it's like we're riding downhill, gaining momentum, going faster all the time," Edmonton City Planner Susan Holdsworth told BBC News about gathering support behind the "freezeway."
It's set to extend to from 400 to 800 metres in length next year.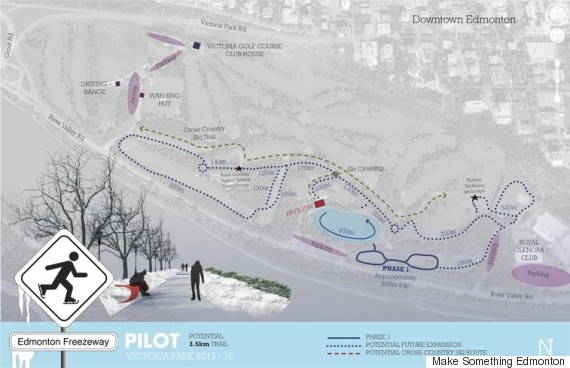 The potential future expansion of the freezeway. (Photo: Make Something Edmonton)

The project was a collaboration between WinterCity Edmonton, Make Something Edmonton, the Edmonton Speed Skating Association and the City of Edmonton.
In summer, the same path would be used for cyclists. And in winter, it will feature rubberized crossings for pedestrians and plenty of public art along the way for skaters to admire.
Light installations from local artist Dylan Toymaker have also been installed along its route.
The icy path isn't the first of its kind in Canada. The pilot project would be following natural skating paths like Ottawa's Rideau Canal, The Forks in Winnipeg and the artificial Sentier Glacé de Magog in Quebec.
Here's a mock-up of what the freezeway will look like once complete: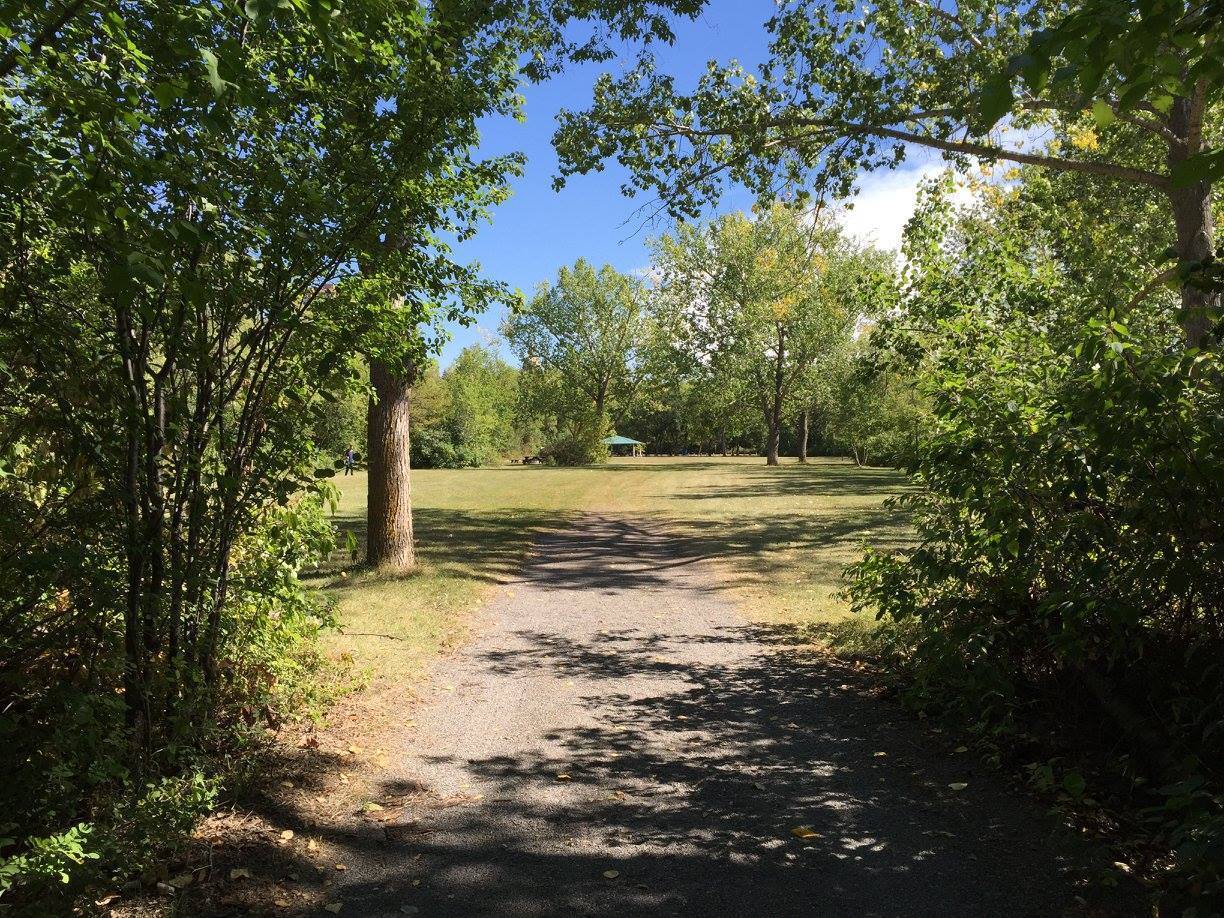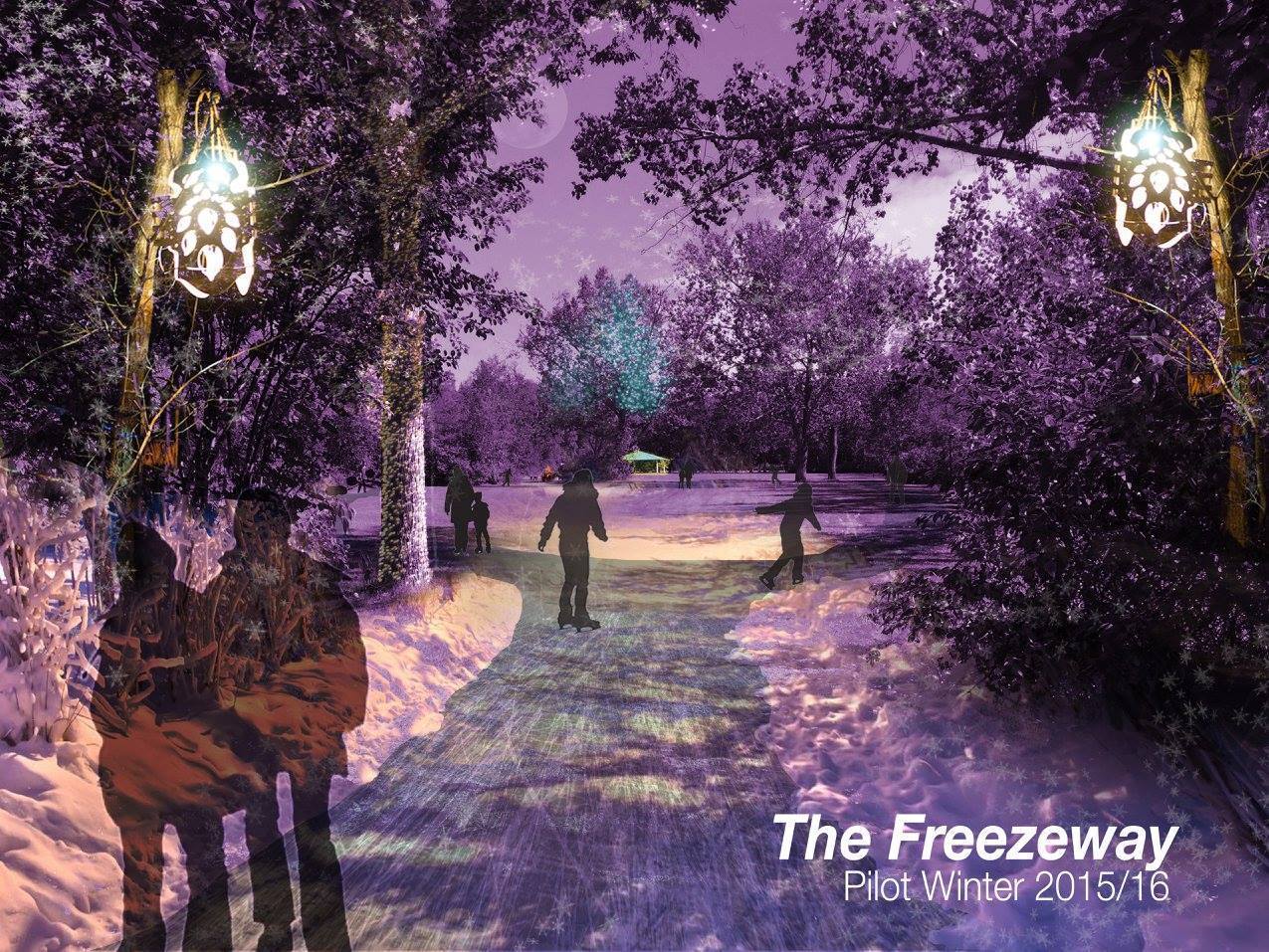 Like Us On Facebook

Follow Us On Twitter

Related on HuffPost:
Alberta Winter Activities
Edmonton's Hawrelak Park will be a-glow with an ice castle that lights up at night and offers tunnels, caves and slides for visitors to explore. Built by Ohio-based Ice Castles, about 5,000 icicles are "farmed" each day for the project.

"Come on it's lovely weather For a sleigh ride together with you." Calgary's Horsin' Around (located next to Fish Creek Park) offers horse-drawn sleigh rides to and from a tobogganing hill, followed by pony rides, a petting zoo, a campfire and hot chocolate. Sounds like the perfect way to spend a snowy day.

Gull Lake is one of the best spots to snag whitefish and pike in the province, and it's even more fun in the winter. Adventure Ice Fishing does all the work for you. It rents out daytime or overnight huts (which include all of your equipment, tables, chairs and bunks), and they're are heated with a wood stove. Holes are already drilled in the ice, and there's even an underwater camera ready for you to use!

Winter is the best time to view the northern lights. The University of Alberta offers an email alert service that lets you know when an aurora might be visible. Better pack a go-bag with mittens, a thermos and hot chocolate packets to be ready once an alert goes out!

The best time to explore Banff's Grotto Canyon is actually after the river has frozen over. Rather than struggling over rocky terrain, you can wander down the smooth, frozen creek bed. Highlights of the walk include spotting ice climbers on the frozen waterfalls, a geology lesson on ancient ocean floors, and 500-year-old pictographs.

Some of the province's best snowshoeing trails are actually up in the Rockies. Try the Troll Falls trail near Nakiska. Just a short drive from Canmore (where there are plenty of spots to rent snowshoes if you don't own a pair), this trail is super easy for beginners and not too long — from start to finish the trek is about two hours.

Making maple taffy on snow or "tire d'érable sur la neige" is a francophone tradition that's alive and well in Alberta. St. Isidore, Bonnyville and Grande Prairie all host sugar shack festivals. Or, if you're feeling adventurous, you can try making the treat yourself.