P.E.I. Group Raises $25,000 For Syrian Refugees In 34 Days
It took barely a month for a private sponsorship group to raise over $25,000 as part of efforts to bring a Syrian refugee family to Prince Edward Island.
A Queen's County group made up of private citizens and local churches launched a GoFundMe campaign on Nov. 18, 2015. By Dec. 22, it achieved its five-figure goal.
"It felt a bit like an early Christmas gift," said Bonnie Stewart, a member of the group that's helping to resettle a family of eight in the area, in an email.
Islanders are credited with making more than half of the donations — other contributions came from as far away as Australia, Scotland, and Qatar.
Offers of more money, as well as donations of goods and services, continue to come in, said Stewart, who works as the University of P.E.I. adult teaching co-ordinator.
"I've had a number of parents of school-age kids reach out to me about meeting with families and connecting refugee kids to local kids once everyone's arrived and settled," she told The Huffington Post Canada.
"It felt a bit like an early Christmas gift."
When HuffPost Canada interviewed Stewart in November, the group had just received a $2,000 donation from a Maritimes family who decided their holiday budget would be better spent supporting Syrian newcomers.
Artist Amy Seymour, who was behind the donation, said at the time that despite the fact she and her siblings "don't always agree on everything," they felt the GoFundMe campaign was a worthy cause.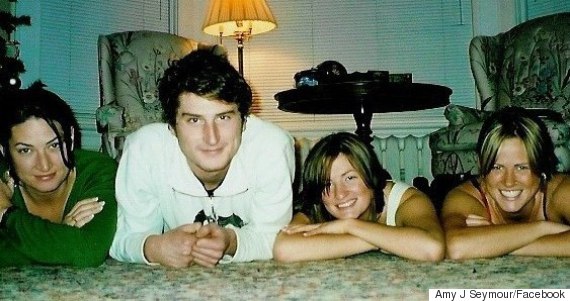 An undated picture of Amy Seymour with her brother and sisters. (Photo: Facebook)
"Our family is blessed to have everything we need," she said, adding they have "great faith" that the sponsorship team and a supportive community will "make a genuine difference" for the Syrian family.
"A little bit can go a long way," she said.
2nd application started
Combining money raised from the campaign with other funding, the Queen's County group has started a second application to privately sponsor another Syrian family. But the group is still in the dark about when they will arrive in Canada's smallest province.
"We haven't had any news about our family of eight over the holidays, which is too bad," Stewart said. Despite the lack of status updates, she said the group remains optimistic.
"We'll see how it all evolves. Right now, we have the funds and the organizational capacity, and we're excited to welcome and support families," she said.
Evaluating priorities
The government fell short of its target to resettle 10,000 Syrian refugees by the end of 2015. Immigration Minister John McCallum acknowledged the shortfall at a Thursday press conference in Toronto, announcing two more weeks would be needed to meet an amended year-end goal.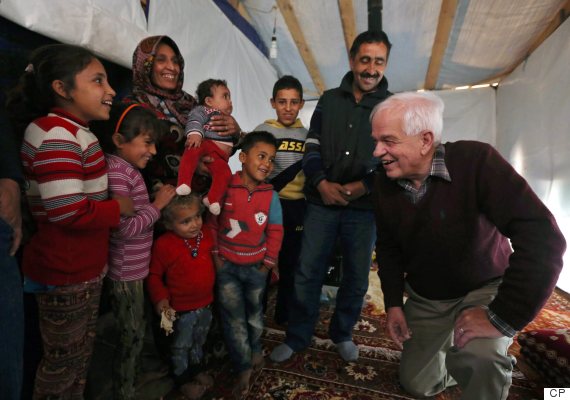 Immigration Minister McCallum speaks with a Syrian family inside their tent during his visit to a refugee camp in the southern town of Ghaziyeh, Lebanon on Dec. 18, 2015. (Photo: Bilal Hussein/The Associated Press)
He urged Canadians to look beyond the deadline and focus on the bigger picture.
"So I think it is up to Canadians to decide whether this two-week delay is a matter of utmost importance or whether we should instead focus on welcoming these wonderful new Canadians to our shores," McCallum said.
Approximately 6,300 Syrian refugees have arrived in Canada so far and over 17,000 applications are in progress, according to the latest government numbers.
Also on HuffPost:
Great Things Canadians Have Done So Far For Syrian Refugees
Joe Woodsworth, a senior manager with Surrey, B.C.-based Options Community Services picks up dozens of backpacks, each filled with school supplies for Syrian children. Operation Backpack is the idea of former 24Hours columnist Laila Yuile.

Malak arrived with her family in July after living in a Jordanian refugee camp for two years. Her teeth were so decayed the 5-year-old girl was kept up at night because of the pain until a local dentist stepped forward to help the family for free.

"Hopefully, together, we can prove that Canada in general and the Maritimes in particular are as generous and welcoming as the rest of the world thinks we are," P.E.I. artist Amy Seymour told HuffPost Canada.

In November, the Edmonton Oilers captain gave $10,000 to Edmonton's Mennonite Centre for Newcomers to support their work in helping to resettle incoming Syrian refugees. The donation helped the group meet its two-month goal in a single day.

The Guelph businessman made headlines last month after stepping forward to say he intended to spend $1.5 million to privately sponsor 50 Syrian refugee families to come to Canada. Estill explained he was tired of seeing refugee applications get snarled in long, bureaucratic processes. "I'm a businessperson, I'm very impatient, and we should just do it now," he said.

"It's really good to know that we're so compassionate and that we want to help," said Darrell McLeod of St. Clare's refugee family sponsorship group. "Everybody's very excited about it. Everyone's been really excited to make things happen."

Westbank Developments founder Ian Gillespie is behind many of downtown Vancouver's glitziest skyscrapers.A descendant of Irish immigrants, he made a pledge in November to furnish a 12-unit West End apartment complex and open it to incoming refugees. He also said he's exploring ways to help Syrians get jobs after they arrive in the city.

A small group of from the Keewatin Otchitchak traditional women's drum group gathered by baggage carousels to greet 17 Syrians to Treaty 1 with a song of welcome.

"I need to point out that the people who are desperate refugees are fleeing from the exact same people who perpetrated the kind of violence we saw in Paris and Beirut last week," the Calgary mayor told reporters a week after deadly attacks in France and Lebanon. "They're running away from the bad guys and, as such, we need to be able to open our arms to make sure that we can provide safety to these folks."

Christine Youssef (pictured) greets newly arrived Syrian relatives on a bus near Pearson International Airport in Mississauga on Dec. 11. Youssef and her mother are sponsoring 43 of their Syrian relatives to come to Canada. Thirteen have arrived and are staying at the family's small Scarborough, Ont. bungalow. Soon, nine of the relatives will move out, making room for more relatives to come in.

When CBC News reporter Eman Bare interviewed Mohamed Al-Noury, 21, and Athar Farroukh, 23, she realized the Syrian refugee couple had no wedding pictures. So Bare put a callout on soical media to surprise the high sweethearts with a wedding. Her request spread and within 24 hours people came forward donating a venue, suit, dress, and cake. "Grateful for a community that makes beautiful things happen," wrote Bare on Instagram below a photo taken at the couple's Saskatoon ceremony.