Powerball Canadian Winner Could Haul In Hundreds Of Millions More Than A U.S. One
The Powerball lottery jackpot has risen to a record US$1.5 billion, or the equivalent of C$2.14 billion at current exchange rates.
The frenzy over a lottery draw that could make someone a billionaire has reached every corner of the world, from Australia to Russia.
But it's been especially tantalizing for Canadians, many of whom are a short ride away from the nearest state where the Powerball can be played.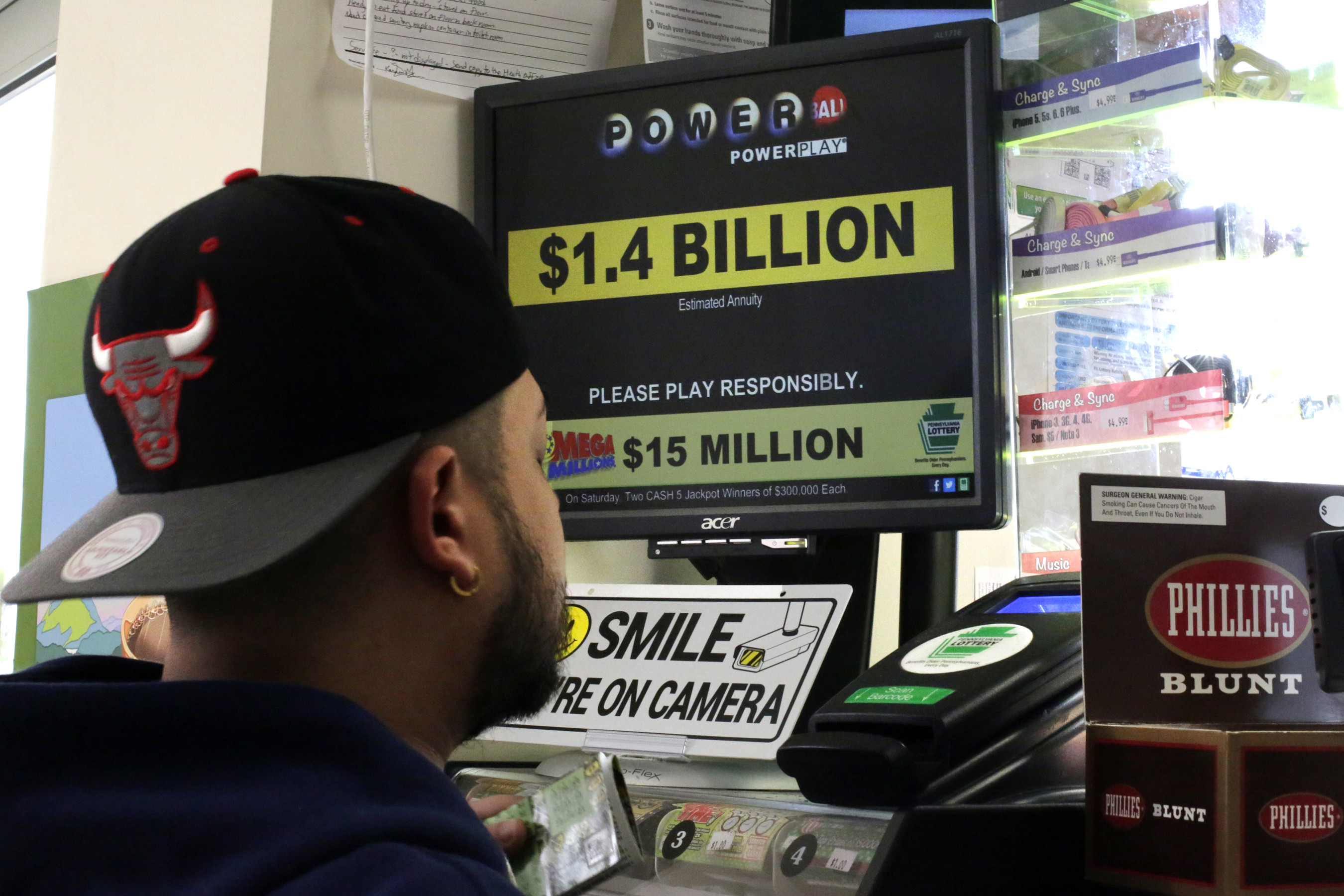 A man buys Powerball tickets at a convenience store in Lancaster, Pa., Monday, Jan. 11, 2016. The jackpot has since grown to $1.5 billion. (AP photo)
Yes, Canadians and other foreigners are allowed to play the Powerball. But on that front, there is both good news and bad.
The Good News: A Canadian Could Win Millions More Than An American
If A Canadian wins the Powerball, they will likely take home millions more than an American would.
That's simply because lottery winnings are treated as income for tax purposes in the U.S., but not in Canada.
An American winning the Powerball would have to pay the top federal income tax rate of 39.6 per cent on the winnings, CNBC reports, plus applicable state taxes.
A Canadian wouldn't have to pay that federal tax rate, but that doesn't mean they would take home the whole amount.
The U.S. government will automatically withhold 30 per cent of a foreigner's lottery winnings, and according to CTV News, a Canadian may still have to pay state taxes where they bought the ticket, depending on the state.
Still, on a lottery haul of US$1.4 billion, the difference between what a U.S. resident would pay in income tax and the 30 per cent withheld on foreigners' winnings amounts to some US$134 million, or C$191 million.
That's if you take the winnings in installments over 30 years. If you take the winnings in a lump sum, the jackpot is "only" US$930 million, but a Canadian winner would still pay less in taxes.
And don't forget the possibility that more than one ticket has the winning numbers. If that happens, the jackpot is divided by the number of winning tickets.
The Accidental Millionaires: 7 Stories Of People Who Stumbled Into Their Lottery Wins
Nick Takticos, a worker at a Toyota Plant in Cambridge, was a big believer in face-to-face conversation. So when he bought a $30-million winning ticket at the end of August, he didn't actually claim it until three weeks later! He spent the time approaching his family and loved ones and telling them the good news in person, claiming that he didn't want them to find out through a news report. Now that's a young man with a plan if we ever saw one.

When a group of Canadian Revenue Agency workers (26 in all!) organized by group play captain Philippe Bussière won their $32.6-million office lottery pool, it came as a group surprise to all of them. The individual payout per participant came to around $1.6-million apiece. The group basked in their newfound financial independence and started planning some amazing vacations.

Lynda Powell is no stranger to playing the lottery; she is a veteran of 25 years! But when her husband John asked her to pick up a ticket for him on her grocery run, it didn't seem like an outrageous request as the family of six regularly played the lottery together. His little request went a long way, as the ticket she purchased that day was a winner! The Peterborough family remain firm that they prefer the little things in life, and are planning to indulge in small trips and splurges along with providing some financial aid to the rest of their extended family!

Tina Ferrone and Liam McGee had never bought a lottery ticket before, but the event planner and construction worker both knew they'd always wanted to open up a yoga studio of their own. Ferrone's random purchase of two quick-pick tickets at a shopping centre dropped a kingly sum of $48 million on the Kanata couple, who have three children. It's safe to say that they made the right purchase at the mall that day, especially because the winning ticket was the first lottery ticket she ever bought! Next up: It's time to build that yoga studio!

When Delmer Hartwig won the $15-million Lotto Max jackpot, instead of immediately claiming the money, he took some time to go elk hunting. In his words, the elk hunt "only comes once a year," and so he put a giant pile of money on the backburner for a few days to chase his passion. After claiming the money, Hartwig went right back to nature, taking more than a few trips to a bush camp with his friends. Some people change their lifestyles when they come into money, and others keep doing what they love, and this is a clear case of the latter.

When she gathered her family together for a Mother's Day dinner, Sophie Rizavas had a bombshell waiting for them all; that she had just won a $50-million Lotto Max draw (plus $5 for matching the first two numbers of her Encore play). To add some further amazing coincidence to that fact, Rizavas and her husband immigrated to Canada on May 10th, 1970 — and they won the lottery on May 10th, 44 years later. From cleaning lady to multimillionaire — how's that for a True Canadian story?

Imagine winning a $50-million lottery ticket. Now, imagine losing it. For months. That's the scenario that Hakeem Nosiru and his wife, Abiola, faced when their newly-won ticket went missing one day. Hakeem had taken steps to prevent this, going so far as to duct tape the ticket on the inside of his wife's purse. Still, that didn't stop the ticket from vanishing, prompting a hectic search of the couple's home, to no avail. Months later, one of their friends from church returned the ticket to them (Hakeem had made sure to write their address on the back of the ticket), and they made quick work to submit it ASAP. Now that's a story of lost and found!
The Bad News: 'Immoral Articles' Law Bans Lotto Tickets At Border
If you do buy a Powerball ticket, you may want to find a safe place to keep it … in the United States.
CTV News in Vancouver reports that border guards at the Washington State border are warning Canadians it's illegal to bring in a lottery ticket into the U.S.
"We got a bit of a lecture from the border guard, saying that you can buy a ticket, but you can't take it back into Canada and then come back to the United States," Burnaby, B.C., resident Lisa Yuen told CTV.
Bringing in lotto tickets is illegal under a law that prohibits the importation of "immoral articles."
The law bans "any lottery ticket, or any printed paper that may be used as a lottery ticket, or any advertisement of any lottery."
Finally, if the border guards don't get you, there is the mathematical reality of the situation.
The odds of winning this week's Powerball are one in 292 million, or "barely better odds than having your name randomly pulled from a hat filled with the names of everyone in the U.S.," Wired reports.