20 Healthy And Hearty Recipes To Enjoy This Winter
We can't be the only ones who are struggling to find filling comfort foods that won't wreck our resolutions.
In the slideshow below, we've rounded up 20 healthy yet hearty recipes that are perfect for a cold winter's night. Since healthy eating can mean a lot of different things to different people, these recipes run the gamut from high protein to vegan, low-carb to low-sodium, and low-sugar to dairy-free, so if there's a particular ingredient you're looking to scale back on, we've got you covered.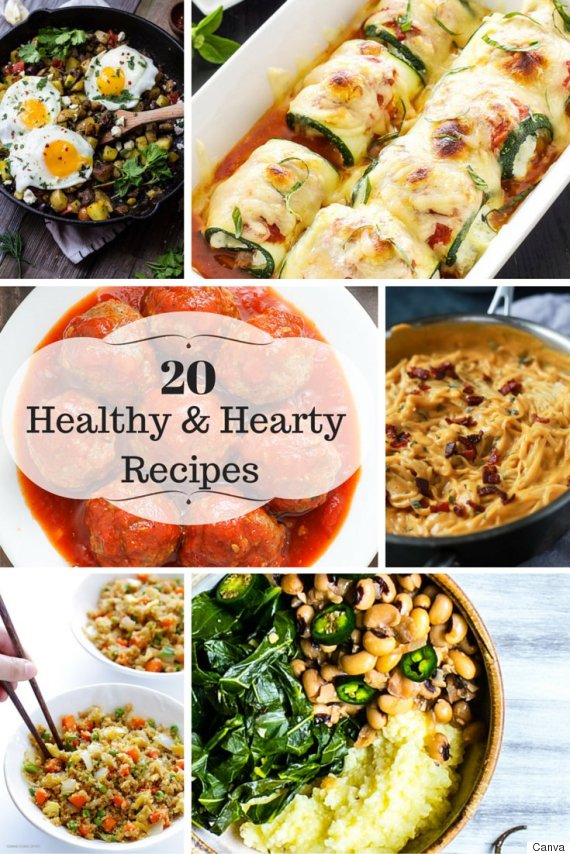 Of course, if that juicy bacon-wrapped meatloaf is really calling your name, these recipes might not cut it, and that's okay. Dietitian Melissa Baker says trying to make all your favourite foods healthy can actually backfire, causing you to overeat, overspend and stop appreciating the foods you love.
So if you're up for trying something new, check out the slideshow below for 20 deliciously filling recipes you can feel good about.
Hearty But Healthy Recipes
A bowl of warm chicken soup is a sick day essential. This dish gets an added healthy kick from ginger and turmeric's anti-inflammatory properties. Get the recipe from Wisconsin From Scratch.

Cutting back on carbs? These coconut flour biscuits can help, they're only 2.5 net carbs per serving. Get the recipe from Drop The Sugar.

Swapping cauliflower for pasta will save you carbs and calories, while adding Greek yogurt gives this dish a little boost of protein. Get the recipe from Kirbie Cravings.

Nutritionists say "the greener, the better," and you can't get much greener than collard greens! Get the recipe from Vanilla And Bean.

On nights when your pasta craving just won't quit, opt for this butternut squash and quinoa pasta dish. Get the recipe from Joyful Healthy Eats.

You can only have so much quinoa before you get sick of it. For another nutrient-packed ancient grain, opt for farro. Get the recipe from Apollo & Luna.

Using lean ground turkey and sweet potatoes is a much healthier option than ground beef and white potatoes. Get the recipe from Primavera Kitchen.

You don't need Parmesan or breadcrumbs to make these filling meatballs. Get the recipe from Baker By Nature.

Some days you just need soup, and this loaded lentil soup is perfect for those days — plus it's packed with protein, vitamins and minerals! Get the recipe from My Whole Food Life.

Your favourite dishes can easily be made healthy with a few swaps. In this recipe you'll save calories by avoiding cornstarch ... and browning instead of frying the chicken. Get the recipe from Add A Pinch.

White potatoes are quite heavy on carbs, so it's nice to know you can still enjoy "mashed potatoes" by subbing in nutrient-rich cauliflower instead. Get the recipe from Anya's Eats.

Friday night fajitas get a healthier spin with portobello mushrooms taking the place of pulled pork. Get the recipe from The Garden Grazer.

No matter how much we love it, we all know rice is nothing but starch and that's bad. Make your favourite "fried rice" dish a little healthier by swapping in quinoa in its place. Get the recipe from Gimme Some Oven.

This creamy soup is surprisingly filling, and unexpectedly vegan. Get the recipe from Elva Jane.

This vegan curry is packed with protein, thanks to filling chickpeas. Get the recipe from Chef De Home.

Packed with protein, this skillet dish is guaranteed to satisfy your hunger. Get the recipe from The Gourmet RD.

This one-pan wonder hits all the important food groups. Get the recipe from Marley Spoon.

You already know fermented foods are a 2016 must-try, so give them a shot in this filling rice bowl. Get the recipe from Marley Spoon.

This filling dairy-free, grain-free, paleo dish is perfect for breakfast or dinner. Get the recipe from Living Well Mom.

Lasagna is a winter classic that comes with a lot of fat and calories. This dish is a little lighter, since it uses zucchini instead of noodles and cottage cheese instead of ricotta. Get the recipe from Recipe Runner.