Vodka Bottle From LCBO Is Filled With Water Instead
Hockey coach Rick Crumpton was well into his Saturday night routine with his favourite drink when he realized something wasn't right.
He was readying to watch the Toronto Maple Leafs play the St. Louis Blues with a "Rickster" in hand — a drink made with vodka, club soda, and orange, The Toronto Sun reported Sunday.
But Crumpton's routine was interrupted when took a sip, and found the beverage wasn't as strong as he expected.
UPDATE: 4:15 p.m. -- The Toronto police are zeroing in on a suspect after another customer bought a bottle of Smirnoff vodka that had water in it, CBC News reported.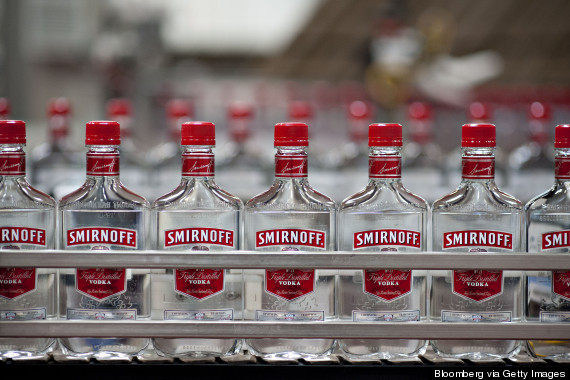 His wife, Marilyn, had picked up a bottle of Smirnoff vodka at an LCBO liquor store close to Highway 401 and Kennedy Road near their home in Pickering, Ont.
"I took a swig from the bottle and said to my wife, 'Wow, that's not vodka,'" he told CBC News.
Crumpton called the store, and a staffer told him this wasn't the first time they'd heard of this happening. But LCBO told the broadcaster it was the first time anyone had ever complained.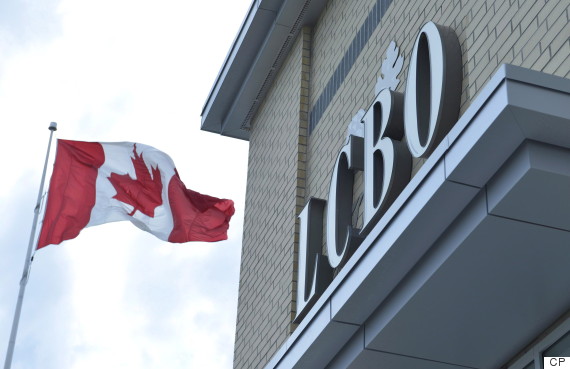 Lab tests found that the 1.75-litre bottle was filled with water, and only had a small amount of alcohol inside.
The LCBO believes someone messed with the bottle, and Toronto police told CP24 that officers know of numerous instances of LCBO products being meddled with between Scarborough and Hamilton.
And it could all be the work of one person.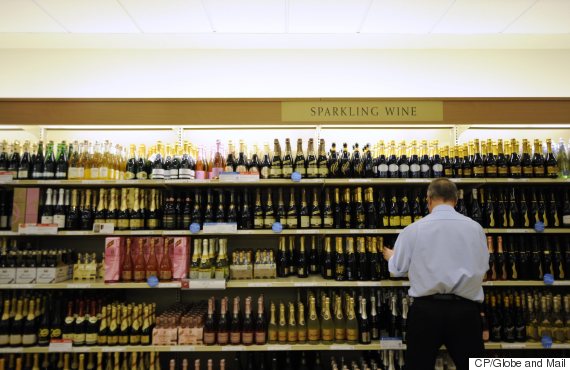 An LCBO store on Queens Quay in Toronto. (Photo: Fred Lum/The Globe and Mail via CP)
The liquor authority is taking a precaution by not re-selling any returned bottles until it has completed an internal investigation.
As for the Crumptons, they've received an apology and a refund. Rick said he doesn't plan to take any legal action.
"We hope everyone learns from this," Marilyn told the Sun. "Given that it's a government process, you have to ask about their quality control."
Like Us On Facebook

Follow Us On Twitter

Also on HuffPost:
Where To Get Booze Outside The LCBO
Dial-A-Bottle delivers everything from beer to liquor to cigarettes and pop to people's doorsteps in various locations across Southern Ontario, but LCBO spokeswoman Heather MacGregor said those service providers also get supplies from places like the LCBO. "What that looks like, what type of product is available, what types of lines they'll encounter will be the same for them as it will be for everyone else," she said.

The Wine Rack has more than 160 stores mainly in Southern Ontario and other outlets located in North Bay, Sudbury, Thunder Bay and Sault Ste. Marie.

While the Steam Whistle brewery is located in the heart of downtown Toronto, customers from Hamilton to Oshawa, and as far north as Aurora and Whitchurch-Stouffville can get home delivery of bottles, cans, and draught kegs made all week long.

Mill St. Brewery underwent an expansion of its Toronto Distillery district location earlier this year and added The Beer Hall.

Situated near the U.S. border, the Taps Brewing Company in Niagara Falls brews on site and offers a variety of natural beers starting at only $4.65 a pint.

The Old Credit Brewing Co. Ltd in Mississauga crafts three distinct beers — Amber Ale, Pale Pilsner and Holiday Honey — in small batches.

Amsterdam Brewery was recently presented with six trophies, including the Gold award, and Beer of the Year for its Spring Bock brew, at the 10th Annual Ontario Brewing Awards.

The Clocktower Brewhouse consists of a main brewery and four restaurants around Ottawa.

Another brewery located on the U.S. border — this one with Detroit — the Walkerville Brewery's retail outlets in Windsor are open seven days a week.