Ontario To Cut Hospital Parking Fees, Assisting Nearly A Million Patients And Visitors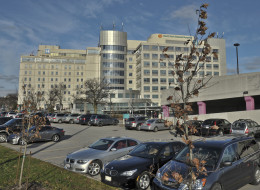 Anyone who has ever driven to Emergency, or visited loved ones in hospital, is familiar with the often exorbitant parking rates found near healthcare facilities. Now, there may be a cure.
The Ontario government has just announced a new policy they say will lower expenses for 900,000 patients and visitors, including 135,000 seniors.
As of today, there's a three-year freeze on Ontario hospital parking rates, and beginning October 1, 2016, any hospital charging more than $10 a day to park will have to provide five-, 10- and 30-day passes that are:
- Discounted by 50 per cent off their daily rate,
- Transferable between patients and caregivers
- Equipped with in-and-out privileges throughout a 24-hour period
- Good for one year from the date of purchase.
"Parking fees should never be a barrier for patients when they go to the hospital," said Health Minister Dr. Eric Hoskins in a press release. "With today's announcement, we are providing relief from the high cost of parking at some hospitals in Ontario. By making parking more affordable for patients and their loved ones who visit the hospital often, we are helping to reduce the burden of parking fees and putting patients first."
The release also says that last fall the ministry consulted with "a number of hospitals and the Ontario Hospital Association in regards to parking fee changes."
However, the OHA released a statement today opposing the changes.
"For the past ten years, government has actively encouraged hospitals to generate revenue to help fund hospital operations. Revenue generated from parking fees is always used for patient care, towards the purchase of capital equipment and projects, infrastructure, clinical research, and day-to-day operations such as facility maintenance," the statement reads. "The decision to cut revenues could not come at a worse time."
This new policy, which fulfills a 2014 provincial election promise, will affect an estimated 36 hospitals that charge more than $10 a day. Toronto Western Hospital, for instance, charges $4.50 per half-hour or a $25 daily maximum, while elsewhere in the province, 45 hospitals offer free parking and 54 charge $10 or less per day.
The push to reduce or eliminate hospital parking fees is not new, nor is it restricted to Ontario. In 2011, a Canadian Medical Association Journal editorial called for free hospital parking across the country, dubbing them "user fees" and arguing they hurt health care.
"Some patients (who have often waited several weeks to see a doctor) try to end a consultation abruptly when they realize that they will have to pay for an additional hour for parking," Dr. Rajendra Kale wrote. "This is parking-centred health care, which is not compatible with patient-centred health care."
In 2013, CBC Marketplace reported that the cost of parking was causing Canadians to miss hospital appointments and increasing their stress.
"Parking fees are a penalty for having a disease. It seems like an unfair tax on my patients," cancer specialist Dr. Bob Winston told Marketplace co-host Erica Johnson. "My patients have a lot of stress from the get-go, and with the addition of more stress with regards to the parking is sort of salt in the wound."
Hospital parking was made free in Scotland in 2008 and there's a current push to do the same in England, specifically to assist patients (and their caregivers and visitors) who must go to the hospital frequently, are gravely ill or are there for an extended stay.
ALSO ON HUFFPOST:
Things We Hate About Canadian Health Care
And then you end up on a wait list for two years.

Which means your specialist might send you to a hospital with a long wait time instead of one with a short one.

And nobody makes change inside.

And it always feels like they're rushing you out the door.

They magically get appointments in two weeks instead of eight months.

But we always forget and end up forgoing care or emptying the wallet.

Which often isn't covered either.

Because they lose money every time you do. Why is the pay structure like this again?

Even though it could help us save money.

We're supposed to have universal health care, but good luck figuring out the paperwork to get reimbursed for out-of-province care.

Why do we pay for you to scribble gibberish on a notepad? Feels like a hidden fee.

Now I'm going to the office for no good reason. But the doctor will get paid, so the system will lose money on the transaction. Genius!

Even after the eHealth scandal in Ontario.