One-Pot Recipes: 20 Meals Perfect For Winter Weather
When the temperature drops, comfort food definitely hits the spot.
And when you're short on time, one-pot meals are the answer: you use one dish to make one great meal. As a bonus, a lot of these recipes can be made in a pressure cooker or slow cooker, which means you can either cook when you get home or have it waiting when you get in the door.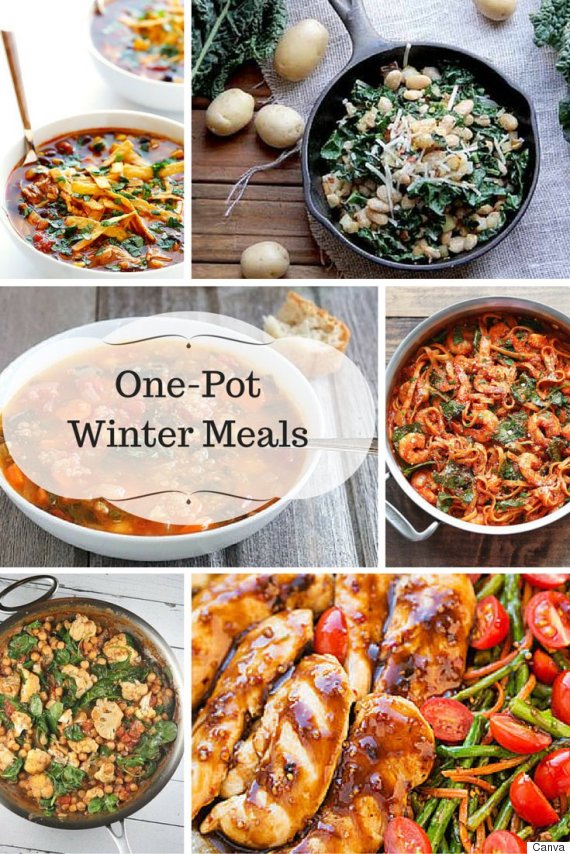 Here are 20 one-pot meals that cover all the bases: from healthy to indulgent, from vegan to meaty, from gluten-free to pasta-centric.
20 One-Pot Meals For Winter
This hearty dish is perfect for this kind of cold weather. Ground lamb is the perfect complement to the sweet potatoes, but you can sub in another ground protein of your choice. Get the recipe from Bare Root Girl here.

Shrimp makes everything better — pasta included! You probably already have these ingredients in your house, making this dish as easy as possible. Get the recipe from Damn Delicious here.

Not only are these tasty vegetarian noodles a one-pot dish, but they're also made with just five ingredients. You can also expand this recipe by adding your own additional favourite meats and/or veggies. Get the recipe from Babble here.

Rice and beans are two inexpensive, healthy staples that cook well when mixed with other ingredients like tomatoes and spices. Get the recipe from The Veggie Indian here.

Have you tried zoodles yet? Noodles made out of spiralized zucchini cook up quickly, are full of nutrients, and are low in calories. They're perfect for quick and healthy one-pot meals. Get the recipe from Making Thyme For Health here.

Chili is a great one-pot meal and mac and cheese is a great one-day meal. Put them together and you have the ultimate comfort food. Get the recipe from Damn Delicious here.

Orzo is a great option if you want the texture of rice, but need something that cooks really quickly. Shrimp is also a quick-cooking option, which makes this flavourful dish the perfect one when you're short on time. Get the recipe from Apple Of My Eye here.

Chickpeas are often an unappreciated source of protein and fibre, but they work well in curries where you might normally use chicken or shrimp. And curries, after all, are some of the best one-pot meals around. Get the recipe from Recipe Girl here.

Soup is perfect for this time of year, and conveniently results in a minimum of dishes. This dish is vegan, but you could swap out chicken broth and/or throw in some leftover rotisserie chicken if you like. Get the recipe from Making Thyme For Health here.

When you've got a one-pot recipe like this one up your sleeve, you can never claim it's too hard to feed your vegan and/or gluten-free friends.Get the recipe from Beard And Bonnet here.

One-pan meals count too! This chicken dish is paleo-friendly, but would go great with a side of rice or noodles. Get the recipe from Cooking Classy here.

This delicious, cheesy dish can be made in just 30 minutes. It's great as a filling in a delicious burrito wrap, but perfect on its own too. Get the recipe from I Heart Nap Time here.

Eggs are a great source of protein for very little cash, and they're also a great way to bulk out your one-pot meals. Get the recipe from The Sugar Hit here.

Lasagna is comforting and filling, but kind of a pain to make.This variation gives you everything you love about the dish — noodles, cheese, meat — with a lot less work. Get the recipe from Damn Delicious here.

Lentils are a great source of minerals, fibre, and protein. You can mix them in with meat-containing dishes to bulk them up and save money, or make great one-pot dishes like this one. Get the recipe from Well Vegan here.

This sophisticated dish looks like something you'd get at a restaurant, right down to the baby kale. Nobody will guess you cooked it all up in one pot. Get the recipe from Spoonful Of Flavor here.

Sometimes, simple really is better. This pasta is easy to make and perfect all on its own, though it also goes great with salmon or chopped spinach. Get the recipe from Damn Delicious here.

Pulled pork may not seem like a one-pot dish, delicious as it is. But if you've got that, tortillas, and some cabbage slaw then you have tacos! Get the recipe from Spend With Pennies here.

Slow cookers are a great way to make one-pot meals, especially if you want to set it and forget it. This soup has the best of Mexican flavours, without the fat and calories that can come with heavier dishes. Get the recipe from Gimme Some Oven here.

Skip the takeout! Break out the slow cooker instead so you've got this delicious dish ready when you get home from work. Get the recipe from My Organized Chaos here.