Alberta Food Deserts: Calgary, Edmonton Lacking Healthy Food Access, Study Says
Downtown Calgary and Edmonton residents currently lack access to healthy food, says a study out of the University of Alberta (U of A).
"Many residents seek opportunities to shop on foot and increasingly, many inner-city residents do not have access to cars. As a result, conveniently located grocery stores have become increasingly important," reads the study's introduction.
And such stores are few and far between for the car-less downtown dwellers of Alberta's major cities, it said.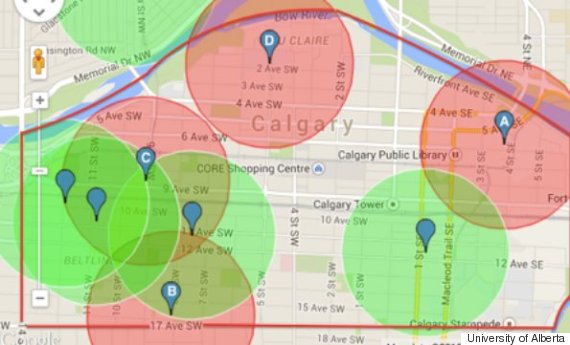 This map shows the locations of existing and planned grocery stores in Calgary's downtown. The circles in green are existing grocery stores, the circles in red are the ones that have been proposed. (Photo: Grocery Stores in Canadian Urban Centres)
A "food desert" is defined by the U.S. Department of Agriculture as an area with poor access to healthy, affordable food.
Studies have pegged areas as "food deserts" when they have fewer than three square feet of grocery retail per capita. Four to five square feet are considered "desirable."
Numbers contained in the U of A study indicate that there are only 3.33 square feet of grocery store per capita in Calgary's downtown. In downtown Edmonton, the number is 2.69 square feet per capita.
"Edmonton, in my opinion, currently doesn't have a healthy downtown."
The study noted that for a grocery store to be "walkable," it shouldn't be further than 500 metres away from a resident's home.
In that light, it honed in on five, 500-metre radiuses in downtown Calgary and four in Edmonton.
The area around Calgary's 11th Avenue SW and 4th Street SW has 10,948 people and no grocery store. Meanwhile, Edmonton's Jasper Avenue and 114 Street area is home to 11,336 people. And again, no grocery store.
'Food deserts'
Downtown Calgary has four grocery stores in total, with four more planned. Two of the planned stores, Loblaws and Urban Fare, have signed leases to locate there.
Downtown Edmonton fares even worse, with only three grocery stores. Four more grocery stores have been proposed there.
Both cities are a far cry from Vancouver, which has 19 stores to help 126,000 residents access healthy groceries, the study noted.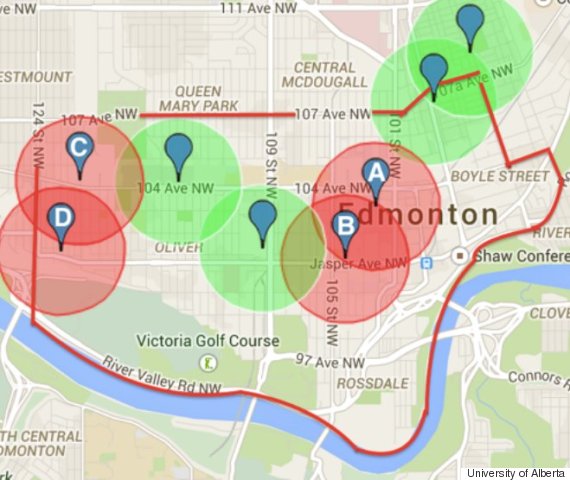 This map shows where grocery stores are located in Edmonton's downtown. The circles in green are existing grocery stores, the circles in red are the ones that have been proposed. (Photo: Grocery Stores in Canadian Urban Centres)
"A healthy downtown and a healthy downtown population make a healthy city. Edmonton, in my opinion, currently doesn't have a healthy downtown," study co-author Craig Patterson told The Edmonton Sun.
Why Alberta?
Alberta's situation is unique, said co-author Kyle Murray.
Albertans living downtown tend to drive to the suburbs to shop at big-box stores, Murray told CBC News.
Those that don't end up paying more money, he said.
The study said Calgary's downtown could use at least five more grocery stores, while downtown Edmonton has room for four.
However, not all experts agree with the study's proposals.
"This is a fun exercise in 'nice to have' rather than an examination of what is actually market feasible, which requires a far more nuanced examination of resident income levels, local consumer behaviours, traffic patterns and so on," Ian Meredith, a business consultant with Altus Group, told the Calgary Herald.
Like Us On Facebook

Follow Us On Twitter

Also on HuffPost:
How to Cut Your Grocery Bill in Half
The adage that the more you do something, the better you get at it doesn't just apply to mental focus or running a mile. Food shopping, too, is a skill, and when you practice it, you start to learn how much different foods cost and can spot true deals. So, consider divvying up other household duties but designating one person to be the official grocery shopper. That way, she or he will be able to develop the skills needed to be a better shopper (and not just to remember the price of these four items).

We know how smartphones can help you save money, but using your device to search for recipes while you're actually in the aisles might have the opposite effect. More of us are using Pinterest and other recipe sites and apps while we're shopping, finding recipes and buying the necessary ingredients. While this may be convenient, this type of shopping also falls into the "impulse buy" category. You'll probably end up purchasing something you already have at home, or not realizing how much the spices, vegetables and meat you need for that last-minute Mexican dinner will cost until you're at the register. Instead, plan ahead and make a list based on that Pinterest recipe before you go to the store.

Just as we pile on an extra-large portion of lasagna when we have a bigger plate and throw even more magazines, snacks and bottles of hand sanitizer into our purse when it's ginormous, we're likely to stack our shopping carts with up to 40 percent more items if they're the size of Mini Coopers. Hand-held baskets may not be the answer, though, since research shows people who use them are more likely to make unplanned purchases (especially of junk food), since the pain of lugging a heavy load can affect judgment. The solution is either to use a smaller cart or a basket that you pull -- or at least to be aware that whatever you're using, it doesn't have to be filled to the brim for you to check out.

The organic-versus-conventional debate is a tough one. Here's a helpful list, though: It's the "Clean 15," and consists of fruits and vegetables that were found to have the least amount of pesticide residues. Avocados are at the top; only 1 percent of samples showed any detectable pesticides. Other green-lit foods include corn, pineapples, cabbage, frozen sweet peas, onions, asparagus, mangoes, papayas, kiwi, eggplant, grapefruit, cantaloupe, cauliflower and sweet potatoes. So if you're all about organic, carry on. But if you're looking to cut costs, you may want to consider exactly what organic items you're spending on.

We are really into our midmorning, midafternoon and midnight bites. Sales of snack foods grew to $374 billion last year; and, according to Nielsen data, while overall grocery spending has barely changed, we're spending much more on protein bars, chips and beef jerky. If you regularly graze on what you already have, instead (e.g., fruits, vegetables, peanut butter on toast, a few slices of cheese), you'll save money (and be eating more nutritionally, too).