Justin Trudeau Feminism: Why Our Prime Minister Is Raising His Sons To Be Feminists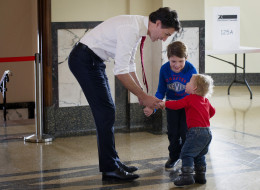 At the World Economic Forum's annual meeting in Davos, Switzerland, Justin Trudeau participated in a break-out session called "Progress on Parity." Much to the delight of the audience, he brought up that he's raising all three of his kids to be feminists "just like dad."
Trudeau and his fellow-panelists, including Sheryl Sandberg and Melinda Gates, were discussing the global gender gap. While more women graduate from university than men in many countries, there is still a global pay gap.
According to a recent report, the annual pay for women now only equals what men earned 10 years ago.
During the discussion, Trudeau brought up the importance of both men and women being feminists and how that applies to his sons, Xavier and Hadrien. He finished his statement with the words: "We shouldn't be afraid of the word feminist. Men and women should use it to describe themselves any time they want." And with that, the audience started to cheer.
"We shouldn't be afraid of the word feminist. Men and women should use it to describe themselves any time they want."
Canada's Prime Minister, of course, made headlines back in November 2015 when he appointed a gender-balanced cabinet.
When asked by the press why he included an equal number of men and women, Trudeau answered simply: "Because it's 2015."
For Huffington Post Canada's parenting expert Alyson Schafer's tips on how to raise boys who respect girls, please click here.
ALSO ON HUFFPOST:
9 Ways Parents Can Combat Gender Stereotypes
Try to focus less on gender differences in general, Brown said. One way is to remove gendered speech from your language as much as you can. Constantly referring to people by their sex or gender labels it to children as something that matters very much, she said, and therefore tells them that it's an important part of who they are -- perhaps more important than factors like their personality or strengths. "I try to just make it not something that really comes up much," she advised.

"There's a lot of individual differences among children that don't follow gender lines," Brown said. It's far more productive to focus on the things about our children that have nothing to do with sex or gender: their likes and dislikes, strengths and weaknesses, and personality traits. "The reality is that gender is pretty irrelevant for predicting what kids are like," she said. Moving away from a focus on what boys are like and what girls are like allows us to instead discover what is actually unique about our child.

"It's important to know the facts," Brown said. "[Parents] should know that there's no differences whether they have boys or girls in terms of academic differences, personality, etc." In fact, when studying infants and young children, the research shows very few inherent differences based on sex, she said. Boys tend to have a bit less inhibitory control at birth and girls tend to talk earlier, though this does even out as male and female children age. In general, Brown said, research tends to match what we know about development in general -- as in, differences that show up between boys and girls as they get older are related to how we treat male and female children differently, not due to any inherent differences between the sexes.

While studies show only slight differences based on sex, they do illustrate that a strong focus on gender norms can be harmful, Brown said. For girls, the negative effects can include poor body image due to the universal value placed on appearance, specifically, a very narrow definition of acceptable appearance for females. For example, Brown said, "By the time they're 12 years old more than 70 percent of girls aren't happy with how they look." In addition, we've seen that girls stay away from careers in science and math (STEM careers) because they perceive themselves as weaker in those subjects, even when research shows that their actual abilities are the same as for boys.

But gender stereotypes can hurt boys too. "One of the most disturbing outcomes of stereotypes for boys is that we really tell boys that you shouldn't cry, and parents worry if they're son is very sensitive," Brown said. Parents can focus too much on trying to avoid introversion and push assertiveness on boys who just don't fit that personality type. But studies don't show any differences between boys and girls tending towards being natural introverts, she said. At the same time as we could be preventing boys from expressing their feelings, we give them aggressive outlets like violent toys. "We shouldn't be surprised that boys grow up and don't know how to handle sadness and feelings well and show a lot more aggression," she said.

Many new parents are surprised by how quickly the focus on gender begins. For example, have you ever tried to find a shirt with a cat on it for a boy? Somewhere along the line it was decided that pink is for girls and blue is for boys, and cats are for girls and dogs are for boys, and clothing and toys for even the youngest children often falls strictly on these arbitrary divisions. This can extend to our behaviour towards boy and girl children as well. Brown mentioned research that shows that people tend to read and speak more to female babies, using more complicated vocabulary, and other studies show that the number and quality of words young children hear can affect their educational success later.

Toys are not just fun for kids; they're also a learning tool. When selecting playthings for your child, break away from thinking in terms of gender or a particular section of the toy store. Instead, choose toys that foster traits you want to encourage in your children, or help them learn particular skills you value. Do you want your child to be nurturing and empathetic? Then provide baby dolls, for boys and girls. Lego and blocks help all children develop spatial skills, and ball play improves hand-eye coordination whether your child is male or female. "We want to make sure we teach the traits that are important," Brown said, "not the toys that fit 'their' half of the toy store."

Are you working on busting gender stereotypes in your own home only to feel undermined when grandma or grandpa says that dolls are only for little girls, or that all boys like to play rough? It can be tricky to get family members on board, but it's worth trying. This will ensure your children are hearing messages that matter to you and to make your family values clear. Brown said that a discussion can often avoid problems. Even if your parents or in-laws don't agree with your decision to keep your children from playing with guns or fashion dolls, they may still respect it. Barring that, she suggested, there's always the donation bin at your local thrift store. "I think it's alright to say 'These are my kids, and I can decide what they have and how they dress,'" she said.

"Kids about three years old start to believe gender stereotypes," Brown said. That's why it's important to consistently correct stereotypes about gender and sex when your child hears them or uses them, even if they seem harmless or silly. But it doesn't need to be a lecture or something that requires a deep discussion each time. For example, you can say things like, "Boys and girls both like to play with trucks. Your friend Jenny likes trucks a lot, doesn't she?" The key factor is making those corrections every time you hear a stereotype, Brown said, providing your children with the language they need to do it on their own when they're older and coming across stereotypes in the media or outside their homes.