Marissa Shephard, Murder Suspect Hunted By RCMP, May Be Changing Her Looks
The RCMP are searching for a 20-year-old murder suspect from Moncton who may be changing the way she looks.
Marissa Shephard is wanted in connection with the "extremely violent" death of Baylee Wylie, whose body was found on Dec. 17.
She's the subject of a nationwide warrant for first-degree murder and arson, said an RCMP video released Thursday.
In the clip, Insp. Jamie George of the Codiac Regional RCMP warns that Shephard is "capable of changing her looks" as photos of the suspect with varying complexions, hair styles, and makeup flash by on screen.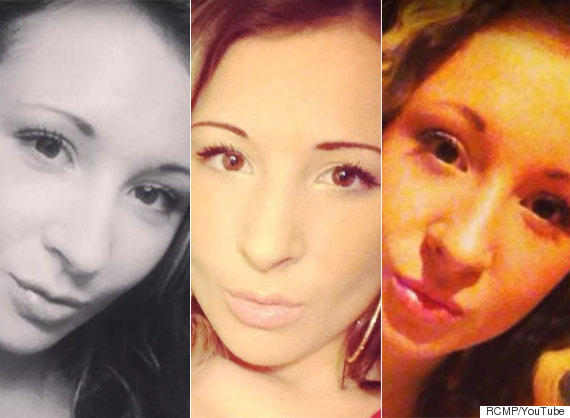 Shephard is a described as white, 5'5", with brown hair and brown eyes. She also has two tattoos: one is a crown on her chest, the other is the name "Stephen" on the back of her neck.
Wylie was found dead following a fire at a Moncton triplex in December. He was 18 years old.
Shephard was initially wanted for arrest alongside 18-year-old Tyler Noel, who was caught earlier this month.
Another suspect, 18-year-old Devin Morningstar, was arrested and charged with first-degree murder after the fire.
Anyone with information about Shephard's location is asked to call 9-1-1 or Crime Stoppers at 1-800-222-8477 to remain anonymous.
RCMP are offering an award of up to $2,000 for any information that leads to her arrest.
Like Us On Facebook

Follow Us On Twitter

Also on HuffPost:
The Royal Canadian Mounted Police Force was created in 1873 with 150 troops. Today, the organization employs more than 28,000 people.

The officers were called the "North-West Mounted Police" until Feb. 1, 1920, when legislation merged the Mounties with other police forces across eastern Canada. They became known as the "Royal Canadian Mounted Police."

In the 1800s, the NWMP uniform was similar to one worn by the British army.

The RCMP headquarters was originally located in Regina. It was moved to Ottawa on Feb. 1, 1920.

The '70s was a big decade for the RCMP. Women were first accepted as uniformed members in 1974. The period also brought an expansion to airport policing, VIP security, and drug enforcement.

Although they weren't recognized as uniformed members, women were involved with the Mounties as early as the 1890s. The force employed women to escort female offenders, and to fill lab-research positions.

Before snowmobiles, Mounties serving in the north used dog sled patrols. Two teams with a total of 21 canines made the last official dog sled patrol in 1969.

The RCMP training academy known as "Depot" has been located in Regina since 1885.

The RCMP's insignia — including a bison, maple leaves, and crown — hasn't changed since 1954. The badge includes the organization's motto, "Maintiens le Droit," which means "Defending the law."

The bison, which has always been included in the RCMP badge, had a close association with the first Mounties who worked on the Prairies, who relied on the animal for food, fuel and clothing.

The largest RCMP detachment in Canada is in Surrey, British Columbia. Over 1,000 police officers, municipal employees, and volunteers serve a population of over 514,000 people.