Scary Things Would Happen To Your Body If You Only Drank Pop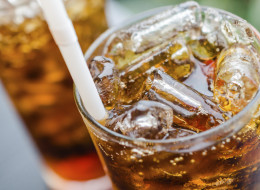 Not that you needed it, but here's a pretty good reason to never go on a pop-only diet.
In the video above by our favourite online science class AsapSCIENCE, the crew figures out what happens to your body when you drink pop on a regular basis. But to get things rolling, they start the lesson by teaching us what happens when you just drink one can.
When pop (or soda) enters your body, its high acid content begins to erode enamel in your teeth, while microorganisms in your plaque start to feed off its sugar. Not only this, but once your brain realizes you're having that sweet, sweet sugar (sometimes up to 46 grams of it per can), it only wants more.
The video also touches on some of the harmful ingredients in pop, its relation to weight gain and why diet pop isn't a good alternative either.
One Harvard study found people who consumed sugary drinks like pop once or twice a day had a 26 per cent greater risk of developing type 2 diabetes compared to those who didn't. The risk was even higher for women, at 45 per cent.
Watch the full video above to find out what happened when one woman only drank pop for 16 years.
ALSO ON HUFFPOST:
Common Names For Added Sugar
This plant based syrup has a sweet mild flavour and is used in making alcoholic beverages like Tequila.

This natural sugar substitute is made from sprouted cereal grains and is a key ingredient in home-brewed beer.

Dark dregs of molasses get boiled down a bit more to make sweet blackstrap molasses. And while many health enthusiasts praise the syrup, it should be noted that it only contains a fraction of the iron, calcium and phosphates found in sugar cane.

No, brown sugar isn't the 'whole wheat' version of sugar, it is actually white sugar combined with molasses.

This thick sweetener is derived from sugar cane.

Cooked sugar is still sugar, so if you're looking to cut out added sugars you should definitely be avoiding caramel.

Fresh fruits are absolutely good for you, but concentrated fruit juice is just too sweet. Think of this stuff as all the overwhelming sweetness from 12 fruits with none of the nutritious fibre.

This thick, sweet syrup is made from cornstarch, and is a key ingredient in frosting, candies, jams and jellies.

This coarse raw sugar originated from the Demerara area of Guyana. It's toffee-like flavour makes a good alternative to brown sugar.

While high-fructose corn syrup is chemically similar to table sugar, this liquid has been linked to numerous health conditions including type 2 diabetes, metabolic syndrome and high triglyceride levels.

This sweet liquid doesn't get its colour and flavour from bees, its sweet taste actually comes from flower nectar.

There's not a huge difference between granulated and powdered sugar. Powdered sugar is in fact granulated sugar ground super fine.

This sugar, derived from milk can be quite difficult for both children and adults to digest.

This simple syrup is made with a combination of granulated sugar and water.

Made from the sap in maple trees, maple syrup is often served on its own.

Another byproduct of sugar cane, molasses is used in everything from baked beans to gingerbread.

Yet another cane sugar, muscavado is a moist brown sugar with strong molasses flavour.

This super sweet liquid is what attracts bees to flowers.

Raw sugar is what is left from sugar cane after the molasses is removed. While it looks and tastes like light brown sugar it is structurally very different.

This thick syrup is made from the starch found in rice.

This cane sugar is less processed than brown sugar and gives off a smooth caramel flavour.