Vancouver Teardown Home Hits The Market For Over $2 Million
A teardown property in an upscale Vancouver neighbourhood has been listed for $2.4 million — and according to one real estate agent, it'll likely be snapped up quickly.
The three-bedroom, two-bathroom house in a "prime" Point Grey location on West 14th Street, overlooks the North Shore mountains. It's also conveniently located near schools, shops, and Pacific Spirit Park.
The building itself, however, doesn't look like much: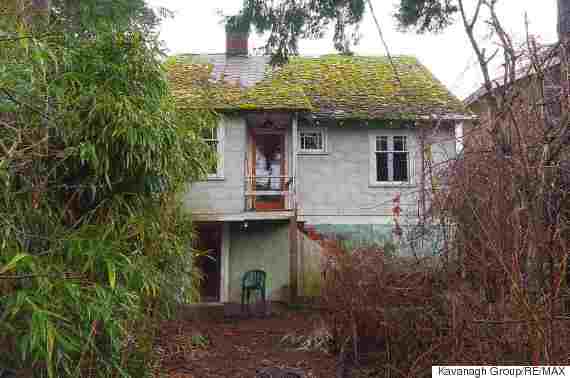 A view of the house from its backyard. (Photo: The Kavanagh Group)
Since it was built 86 years ago, the 2,069 sq.-ft. house has seen "some improvements," according to its listing — even though photos of its interior show dirty floors, peeling paint, and cracked ceilings.
The property's appeal is its address, not the building, as the upscale neighbourhood is one of the hottest in the city. The average selling price for a single-family home on the city's west side is above $2.5 million, according to recent data from the mayor's office — not to mention one mega-mansion that fetched $51 million last year.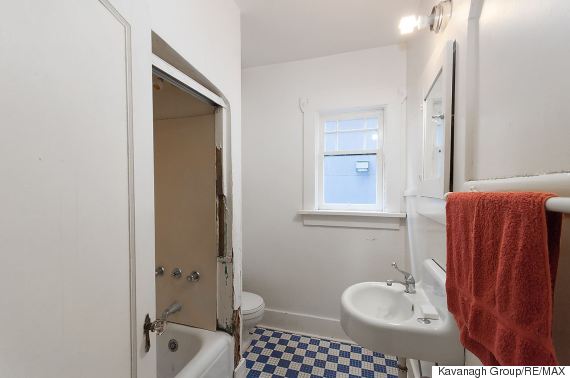 One of two bathrooms in the Point Grey house for sale. (Photo: The Kavanagh Group)
Lising agent Amanda Crosby of RE/MAX said there's been plenty of interest in the property — and it will very likely sell for over its asking price.
"It's hard to say, but based on other comparables in the area it will sell for more," the agent told The Huffington Post B.C. Friday.
Ken Wyder, with Remax Select Properties who is not connected to the listing, was more blunt: "This property will likely bring in multiple offers over $2.5 million.''
Vancouver Teardown Listed For $2.4 Million
This Vancouver home was listed for $2.4 million in January 2016.

Despite being a fixer-uipper, the property will likely sell for over asking because of its address, said real estate agent Amanda Crosby.

The 86-year-old, 2.069 sq.-ft. home sits in the upscale Point Grey neighbourhood — one of Vancouver's most desirable areas.
Thomas Davidoff, a housing economist at the Sauder School of Business, said the public should understand the buyer of the rundown home will be paying for the dirt.
"A home builder knocks down what's already there and builds a tricked-out luxury mansion and sells it to some rich guy,'' said the associate professor to describe the situation.
The value of the building at West 14th was assessed at $45,000 in July 2015, while the land was said to be worth $2.1 million.
Social media users have called the listing for the pricey fixer-upper "ridiculous."
"You have to be pretty warped in the head to think this is acceptable," wrote one user on Reddit
With files from The Canadian Press
Like Us On Facebook

Follow Us On Twitter

Follow Us On Instagram
Also On HuffPost:
Craziest Vancouver Real Estate Stories Of 2015
This home was listed at just under $3 million in June, and was sold to an offshore buyer for $4.1 million after a couple hours, the realtor said.

This abandoned home (read: eyesore) became a dumping ground over several months in 2015. Piles of rotting trash and unwanted furniture attracted rodents to the area, and the smell was sometimes so bad that neighbours refused to open their back doors. The house was assessed at $813,000, and others in the area were valued at over $1 million.

"Avail now. Bring your tent." A Craigslist ad advertised a backyard for rent for $500 per month. WiFi, use of the home's bathroom, kitchen, laundry, and "art room" were part of the deal. Great for travellers, apparently!

This Tudor home in Vancouver's ritzy Shaughnessy neighbourhood was listed for $5.99 million in May. After 12 days, it sold for just over $8 million. "When you've got too little supply (of detached houses) and too many buyers, that's always what happens," realtor Stuart Bonner told The Province.

Bargain alert: a former grow-op hit the market in March for $930,000. The 1968 two-storey home was in such bad shape that no one could live in it. The house got an occupancy permit back in 2001, and was renovated before it was listed. The price was mostly because of the 6,000 sq.-ft. lot.

This rare, 3.6-metre wide home sold in April for $1.35 million. Tucked in the upscale Point Grey neighbourhood, the floor space is only 945 sq.-ft., but manages to cram in a full kitchen, master bedroom, living room, garage, den and 1.5 bathrooms. The home is believed to be one of the last of its kind in the entire city, according to the realtor.

This house, listed for just under $1.6 million, sold for $2.17 million in March — a mind-boggling 35 per cent over asking. "It was the highest price per square foot ever achieved for an East Vancouver home," realtor Paul Eviston told CBC News.

Chump change, amirite? This 25,000 sq.-ft. mansion, which sits on a 1.09 hectare property, was purchased in December 2014 for $51 million. (Details of the sale were made public in March.) The deal included a movie theatre, grass tennis court, and 10-car garage, according to the CBC.

Talk about a sweet deal! This (very well-decorated) gingerbread house was advertised on Craigslist for $4.5 million in December. It's a one-bedroom home that's a single sq. ft. in size. The baking sheet upon which it stands was not included in the sale. The seller asked for "serious" inquires only.