W18 Drug Is 10,000 Times Stronger Than Morphine: Calgary Police Warning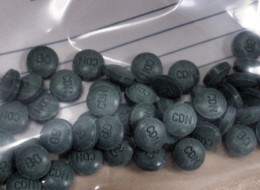 There's only been a single seizure of a powerful new drug called W-18 in Calgary, but police say odds are high that much more is available on the streets.
"I guarantee you, there's got to be more out there. We just haven't seen it yet," Staff Sgt. Jason Walker told CBC News.
W-18 is a powerful opioid considered up to 100 times stronger than fentanyl, which has been blamed for a spike of deaths in the province. According to Alberta Health, 213 overdose deaths in 2015 involved the deadly drug.
That's up from 120 fentanyl-related deaths in 2014 and only six deaths reported in 2011.
Calgary police haven't revealed in what form W-18 was found and haven't disclosed how much the drug can fetch on the streets. A spokesperson told HuffPost Canada more information about the seizure will be released next week.
The discovery of W-18 is significant, considering fentanyl in its current form can be up to 100 times more powerful than morphine.
Walker warned there's a possibility criminals will mix W-18 into illegal fentanyl pills.
There have been no known W-18-related deaths, but police say it's hard to detect the drug in toxicology tests.
The Alberta Law Enforcement Response Team called fentanyl the "biggest drug trend" of 2015. Last year, approximately 21,000 pills were seized by provincial authorities.
Also on HuffPost:
Fentanyl In Metro Vancouver
Hardy and Amelia Leighton, both in their 30s, were found dead July 20, 2015, leaving behind their two-year-old son Magnus. Toxicology testing confirmed that the couple ingested toxic levels of fentanyl in combination with other drugs.

From January to May 2015, 54 deaths were linked to fentanyl. From July 7 to Aug. 7, 2015, fentanyl was detected in at least 12 deaths, said the BC Coroners Service. In 2012, there were a total of 15 deaths related to the narcotic.

Jack Bodie, 17, and a 16-year-old friend were both found unconscious in a Vancouver park on Aug. 1, 2015 in a suspected fentanyl overdose. The teens were rushed to hospital where Bodie was placed on life support but he died a day later. His friend recovered and was released from hospital. Police believe the pair took fake Oxycontin.

Police in Delta, B.C. said it's a miracle that no one died after nine people overdosed within a 20-minute period on what are believed to be drugs laced with fentanyl. Emergency crews responded to a series of nearly simultaneous calls from four locations about recreational drug users who thought they were taking cocaine.

Fake Oxycontin pills containing fentanyl are displayed during a news conference at RCMP headquarters in Surrey, B.C., on Sept. 3, 2015. Fentanyl is 50 to 100 times more toxic than morphine.

The cheap synthetic opioid often added in drug labs to heroin or Oxycontin to make it more potent and fast-acting, according to police. (Pictured is a photo released by Vancouver police of packages of fentanyl which users thought were heroin.)

North Vancouver RCMP said they suspect the death of a 31-year-old man on July 31, 2015 is also linked to fentanyl. A relative found the man in distress and called police, but he died at the scene.

On Aug. 9, 2015, 16 people overdosed in Vancouver — including six in one hour — from pink heroin that police suspect was laced with fentanyl.

Mounties showed off equipment, pills, money and weapons seized from a counterfeit Oxycontin production facility in Burnaby in 2015. They said there was enough fentanyl pills to put 200 to 300 people's lives at risk. Riley Goodwin, 26, of Vancouver, has been charged with production and possession for the purposes of trafficking.

RCMP Cpl. Derek Westwick shows off seized pill making equipment during a news conference at RCMP headquarters in Surrey, B.C. on Sept. 3, 2015. Among the gear was a pill press capable of producing 18,000 tablets an hour, said police.

A member of the RCMP Clandestine Laboratory Enforcement Team is framed by pill manufacturing equipment while standing in a protective suit, of the type worn when dismantling drug production facilities containing fentanyl, during a news conference at RCMP headquarters in Surrey, B.C., on Sept. 3, 2015.

RCMP Cpl. Derek Westwick of the RCMP Clandestine Laboratory Enforcement Team, holds genuine Oxycontin pills, left, and seized fake Oxycontin pills containing fentanyl, right, during a news conference at RCMP headquarters in Surrey, B.C., on Sept. 3, 2015.

In October 2014, Vancouver police issued a warning about fentanyl masquerading as heroin. It caused more than 30 overdoses and one death that month.