Beyoncé And Coldplay's Collab 'Hymn For The Weekend' Sparked Cultural Appropriation Debate On Twitter
With their Superbowl performance nearing, Coldplay and Beyonce release a collaboration video for the band's new single "Hymn for the Weekend," but rather than stirring up buzz for their halftime show, the video has sparked a debate on cultural appropriation, specifically Desi or Indian culture.
The single from the British band's latest album "A Head Full of Dreams" was directed by Ben Mor and takes the band on a trip to Mumbai, India where the members roam the streets seeing Sadhus, dancing street kids and people playing Holi, a Hindu festival of colours. And of course, Beyonce who appeared in clips as a Bollywood star donning henna and a bejeweled sari.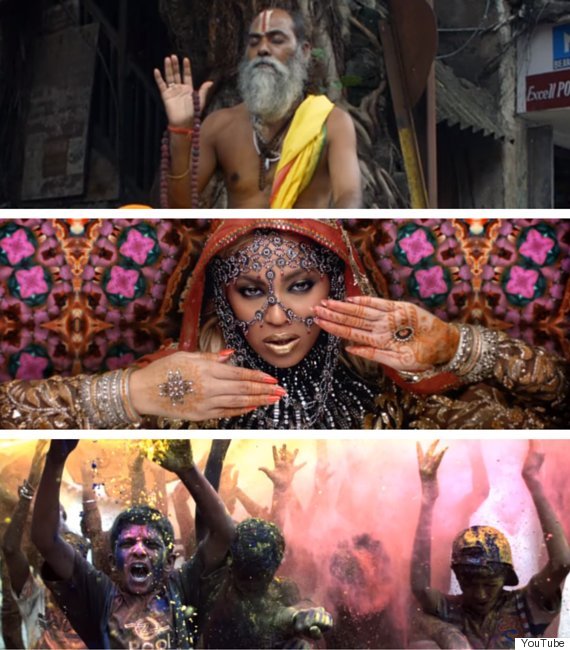 In the 24 hours since its release, viewers have been torn on whether to call this new piece cultural appropriation, meaning the group was trying to profit from a culture that isn't their own, or appreciation.
The issue some commentators take with the video is the one-sided representation of Desi culture. Buzzfeed writer Ahmed Ali Akbar went on Twitter to point out that this and other controversial music videos set in India generally only feature slums, Bollywood and Holi.
it's crazy how literally all the india music videos hit all the same beats. holi paint, bollywood, poverty, spirituality. come onnnnnnnnn

— ahmed ali akbar (@radbrowndads) January 29, 2016
Coldplay goes to India, finds hungry and naked people (and Sonam Kapoor). https://t.co/2GVDIFwitK

— Harsh Mall (@harsh_mall) January 29, 2016
So upset by @coldplay using my culture as a prop for their music video. India isn't just street kids and exotic women. #HymnForTheWeekend

— Atiya Hasan, MD (@AtiyaHasan05) January 29, 2016
Another wondered why they didn't have a Desi woman play the film star instead of Beyonce, like Indian actress Sonam Kapoor who makes an extremely brief cameo in the video.
The Bey Hive rushed to defend the Queen, calling it appreciation and citing her being a black woman as evidence that she can't actually appropriate and profit from another culture. Some also pointed out that there's overlap between black and Indian culture, despite the fact that Beyonce does not identify as Indian.
Cultural appropriation is about power structures just as with racism. How is Beyoncé, a black woman, offensively appropriating?

— nygma (@Seauxmali) January 29, 2016
In Coldplay's video, Beyoncé was wearing the traditional clothing with other women in the actual culture. How is that wrong?

— Karisa. (@Karisanewkirk) January 29, 2016
But other Desi commentators also had no problem with the video, tweeting that they personally welcomed the spotlight on their culture.
All this "cultural appropriation" talk. If anything, the vid showcases the beauty of India. No need for all the drama. #Coldplay #Beyonce

— Ekta Patel (@protEkta) January 30, 2016
@coldplay @Beyonce @sonamakapoor what an absolutely beautiful way to showcase my culture and people. This is stunning! Thank you!

— Zareen (@sheway_out) January 29, 2016
@coldplay @Beyonce @sonamakapoor The most beautiful and the best music video from कोल्डप्ले 😍🇮🇳👌

— Ravi Lakra (@RaviWL) January 29, 2016
Still, this grey area between appreciation and appropriation has become a problem over the last few years. Other celebrities have been found guilty of abusing similar tropes, including Iggy Azalea for her "Bounce" music video and Major Lazer, DJ Snake and Mø's collaboration "Lean On".
And for Coldplay themselves, this isn't the first time they've been accused of cultural appropriation. The video for their song "Princess of China" featuring Rihanna received heavy criticism for its cocktail of Chinese, Japanese and Hindu themes.
But Jezebel blogger Julianne Escobedo Shepherd, pointed out that in "Hymn for the Weekend", lead singer Chris Martin comes across on the same plane as the Mumbai locals, rather than as the "powerful centre" of a Bollywood backdrop.
One Reddit user called this the antithesis of "Princess of China," writing that the director's care is visible. Others on the thread also had positive feedback.
For now, it's a toss up. Watch the video above to see for yourself.


ALSO ON HUFFPOST:
The Year In Cultural Appropriation
If the word of the year in 2012 was YOLO, this year's word was twerking. And boy, was there a lot of it. Sure, Miley Cyrus was twerking, but so were a slew of other white celebrities from real housewives to former Disney channel stars. Which is all well and good, except the fact that twerking in pop culture looks like this and twerking originally looked like this. And we promise you, no black person almost won Time Magazine's Person of the Year after twerking at the VMAs.

We get it, maybe a lot of people didn't watch 106 & Park in 2001 and have never seen G-Dep's "Special Delivery" video, but the Harlem shake from 12 years ago looked nothing like the viral video craze that took over the Internet this year. The Harlem shake from back in the day was done to syncopated rhythms, the Harlem shake of this year featured people swinging shirts, gyrating and doing whatever strange dance came to mind.

That's right folks, not only did Jay kick the hyphen in his name to the side, he did the same to the black community this year. The rapper-turned-mogul made it painfully obvious on his "Magna Carta Holy Grail" album that things have changed for him, from his days in Marcy Projects to buying Picasso paintings and Tom Ford suits. But he drove the nail in the coffin when he stood by his partnership with Barneys, after the high-end retailer was accused of racial profiling. The rap community declared the once celebrated MC dead inside, but not to worry, Sean Carter lives on through his business ventures.

2013 was a big year for R&B music. But the frontrunners in the genre were what the black community affectionately calls "blue-eyed souls" like Justin Timberlake and Robin Thicke. Timberlake splashed back on the scene this year with a show-stopping comeback performance at the Grammys and the release of two albums ("The 20/20 Experience," "The 20/20 Experience – 2 of 2"), while Thicke sailed to the top of the charts with his hit single "Blurred Lines," which Billboard named the Song of the Summer ("Hey, Hey, Hey!").

This past summer Kanye West sat with his soon-to-be mother-in-law Kris Jenner for a sit down on her, now-canceled talk show, and the rapper showed a side of himself we rarely see-- the white Kanye. Shortly after footage from his interview was available, the Internet erupted with questions about Kanye's voice and why he dropped his quintessential Chicago accent. The rapper later explained why he switches his tone of voice in certain situations, an action known as "code-switching" in minority communities. "Even when you're in certain magazines, it's still like a dinner for Schmucks situation," West says. "Are they inviting you to be a part of your situation, or are they inviting you to laugh at your tooth. We have our thing that every time we do it, we give them the 'white' voice."

We already told you that everything about the 2013 MTV VMA's was black, except for the winners. And no instance drove that home further than when Macklemore & Ryan Lewis' "Can't Hold Us" took home the moon man for best hip-hop video, beating out the likes of Drake, Kendrick Lamar and A$AP Rocky, an occurrence some viewers were not happy with.

Unfortunately, blackface costumes rear their ugly heads every year, but 2013 seemed to be the year everyone decided to paint their faces. Julianne Hough caused quite a stir when she stepped out as "Crazy Eyes" from the Netflix hit series "Orange Is The New Black." But it didn't stop there. Some people took their costumes to a whole new level of ignorance and tastelessness dressing as Trayvon Martin and throwing Africa-themed parties.