'Cape Breton If Donald Trump Wins' Urges Americans To Move Northeast
A Donald Trump presidency in the United States is starting to look like a very real possibility.
But those who fear that situation needn't worry — you have somewhere to run, and it's one of Canada's most beautiful hidden gems.
A website called "Cape Breton if Donald Trump Wins" was launched Monday, pitching the lovely Nova Scotian island as a place of refuge, should Trump take the White House.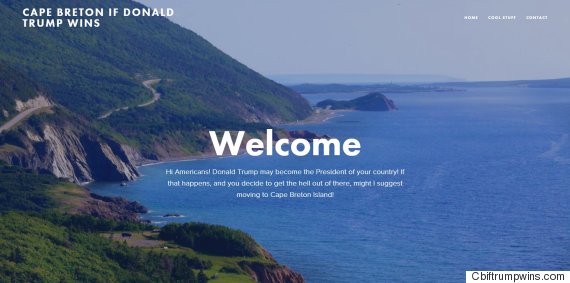 The "Cape Breton if Donald Trump Wins" homepage. (Photo: cbiftrumpwins.com)
The site shows gorgeous pictures of life on Cape Breton Island as it encourages Americans to move there.
"Don't wait until Donald Trump is elected president to find somewhere else to live," it reads.
"Start now, that way, on election day, you just hop on a bus to start your new life in Cape Breton, where women can get abortions, Muslim people can roam freely, and the only 'walls' are holding up the roofs of our extremely affordable houses."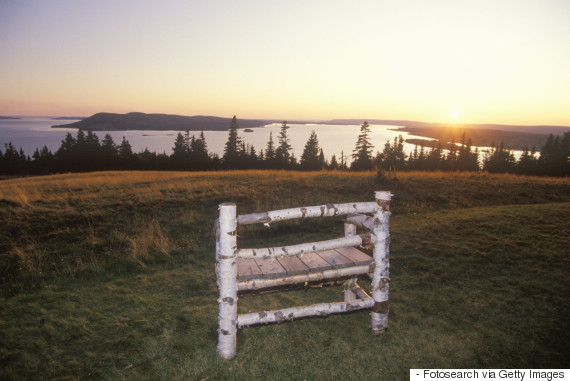 Cape Breton Island. (Photo: Fotosearch/Getty Images)
The site was created by DJ Rob Calabrese, who works at 101.9 The Giant in Sydney, N.S.
Calabrese said it's just a personal project he created in anticipation of a mass American exodus.
"I know after every election you always hear usually Democrats saying, 'Oh dear, that's it, I'm moving to Canada if a Republican wins,'" he told The Huffington Post Canada.
"We're living on an island where the population is decreasing. As a joke, we thought of it to maybe get the word out there that, 'Hey, you should come here!'"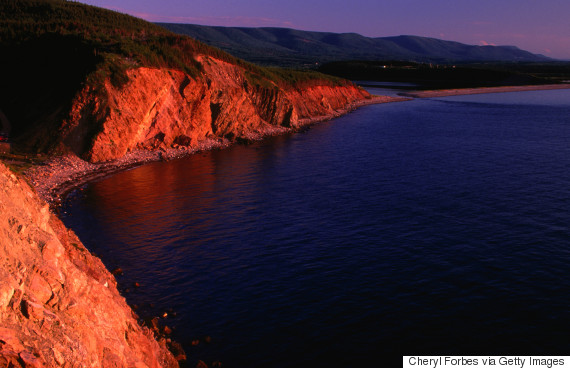 Cape Breton Island. (Photo: Cheryl Forbes/Getty Images)
The Cape Breton Regional Municipality's (CBRM) population was just over 100,000 people in 2013, Metro News reported.
But in years since, there's been a projected decline of one per cent or more.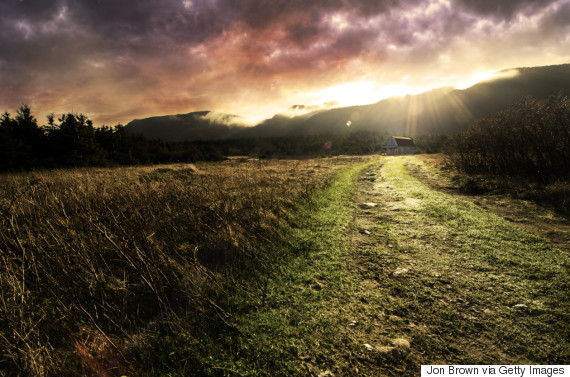 Cape Breton Island. (Photo: Jon Brown/Getty Images)
While the site carries a link to Destination Cape Breton, it's not affiliated with the travel body.
It's simply a project by a Cape Bretoner who wants people to know what his home has to offer.
Like Us On Facebook

Follow Us On Twitter

Also on HuffPost:
22 Things To Do In Nova Scotia
Drive along Highway 105 connecting Cabot Trail and Sydney in Cape Breton. The picturesque coastal highway overlooks dozens of hiking trails, restaurants and cottages. Just be sure to plan your time accordingly — Cabot Trail Travel recommends allotting three to five days for the full experience.

Before you hit the beach, stop into the impressive museum honouring telephone inventor Alexander Graham Bell, also in Cape Breton. Website here.

This quaint island is just across the bay from Alexander Graham Bell's historic summer home in Baddeck.

This national historic site on the southeastern end offers fun for the whole family with interactive games for kids and rum tasting for adults.

Make your way to downtown Halifax for fine dining. We recommend these amazing spots.

The stunning public gardens in Halifax are perfectly preserved. To help maintain its peaceful appearance, the gardens do not permit pets, bikes or joggers.

A trip to the South Shore will bring you closer to iconic landmarks like the Peggy's Cove lighthouse.

Not too far from the cove lies the old town of Lunenburg. Named a UNESCO heritage site in 1995, this coastal town has everything from

Annapolis Valley is Canada's newest wine destination. Whether you pick up a bottle or two to take home or just sip on a glass while enjoying some Nova Scotian seafood, it's hard to deny the great taste of these Canadian wines.

This site marks the spot where Scottish, French, First Nations and English settlers battled over the Annapolis River. Walk the earthen walls of one of Canada's oldest historic sites.

Within Sydney, Cape Breton stands the world's largest fiddle. This iconic landmark is a whopping 60 feet tall and resides at the foot of the waterfront.

Arguably one of the best beaches in Canada, Carter's Beach will make you feel like you've escaped to paradise as soon as you step on to its soft white sand.

Watch the tide come in off The Bay of Fundy while climbing up the rocky edge of Cape Split. Just be sure to wear the right shoes because this trail runs a good 16km!

This provincial park is home to three white sand beaches and a 10km hiking trail.

Whether you like camping in the woods or by the beach, this impressive campground can accommodate you.

This 7.5km trail loops through Cape Breton National Park and offers stunning views of the Cabot Trail. Be sure to note that plenty of animals live in these mountain peaks like moose, bears and bald eagles.

The Gampo Abbey is a Western Buddhist monastery founded in 1983. The abbey is surrounded by meadows and hills making the journey to get there as worthwhile as the visit itself.

Climb to the top of Franey Trail and enjoy the breathtaking 360-degree views from the flat rock.

Enjoy the long stretch of beach at Clam Harbour Provincial Park. Most recognized for its annual sandcastle competition, this shallow beach is best for families with young kids.

Hiking by the water has never been better than on this 18km trail that juts into the Atlantic Ocean.

Believe it or not, this stunning waterfall is in Nova Scotia. Located along the North River just south of St. Anne's Harbour, this stunning view is hidden within the 12,394 acres of the North River Wilderness Area.

Spot pods of Atlantic pilot whales in Cape Breton or Humpback, Finback and Right whales along The Bay Of Fundy.