'The Rebel' Reporters Booted From Alberta Government Events
Reporters from Ezra Levant's conservative news and opinion site are not actual reporters — at least, not according to the Alberta government.
According to a blog on The Rebel, Premier Rachel Notley is a "bully" because her NDP government is banning the site's reporters from provincial media events.
The Rebel's reporters Holly Nicholas and Sheila Gunn Reid were kicked out of a media lock-up about Alberta's royalty review announcements on Jan. 29 despite being initially admitted to the event an hour earlier.
Later that day, a government staffer asked them to leave a common area of the Hyatt Hotel, where they had scheduled interviews with industry stakeholders.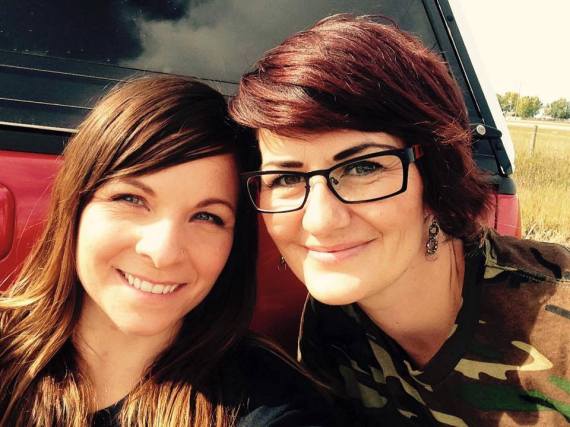 The Rebel reporter Holly Nicholas, left, and Alberta bureau chief Sheila Gunn Reid, right, were booted from Alberta legislature media events. (Photo: Facebook)
Reid, the site's Alberta bureau chief, tried to attend a press conference with Alberta premier Rachel Notley and Prime Minister Justin Trudeau on Feb. 3, but security told her The Rebel was on a "no-go list" and escorted her off the property.
The Rebel's blog, titled "Notley is a bully," says security asked Reid for "accreditation." However, Reid had confirmed with the legislature's press gallery president that "there is no such thing as accreditation to cover the government of the day, in the building that houses our democracy."
A lawyer for The Rebel sent a letter to the premier's office, asking for clarification.
The province responded on Friday with a short letter of its own.
Alberta unleashes lawyers to inform @TheRebelTV that its reporters aren't reporters. https://t.co/KB7PqIMz6s pic.twitter.com/PpT0ogrlmB

— Steve Ladurantaye (@sladurantaye) February 16, 2016
"Our client's position remains that your client and those who identify as being connected to your client are not journalists," the letter from an Alberta Justice lawyer read.
The Rebel decried the move as a suppression of free speech, and has started a petition to end the "illegal blacklist" and "telling Notley that her enemies list just isn't acceptable in Alberta."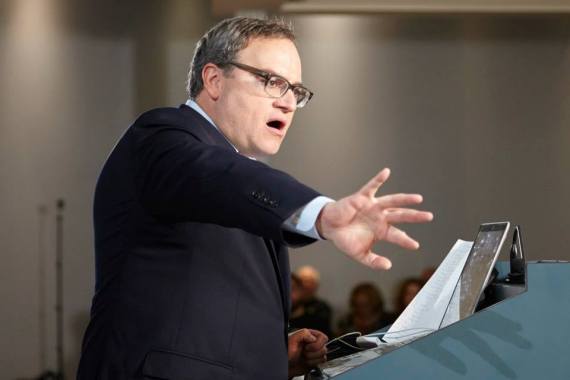 Ezra Levant, seen at a town hall in June 2015, runs The Rebel, his conservative news and opinion site. (Photo: The Rebel/Facebook)
The site also plans to sue the provincial government, and is crowdfunding to help cover its legal costs.
Its blog says:
"The Rebel isn't everyone's cup of tea. But all Albertans are entitled to freedom of the press. Notley is doing things we couldn't imagine even the Redford or Prentice Tories doing. Even they wouldn't throw out reporters for criticizing them. Notley promised us a more transparent and accountable government. But in reality, Notley and her NDP have given us a more closed, more censorious and more belligerent government than ever."
Also On HuffPost:
Title: Premier, minister of intergovernmental affairs. Notley, 51, is serving her third term in the legislature. She has been government house leader and won the party leadership last October. She has a law degree from Osgoode Hall, has worked as labour lawyer and was adviser for the NDP government in British Columbia.

Title: Minister of municipal affairs and Service Alberta. Bilous, 39, is in his second term in the legislature. He has served as opposition critic for education, municipal affairs, aboriginal affairs, housing, infrastructure, and transportation. He is a former English and social studies teacher. He has an education degree from University of Alberta.

Title: Minister of human services. Sabir, 37, is a lawyer specializing in aboriginal affairs. He also has a degree in social work from University of Calgary, and a degree in economics in his home country of Pakistan. He worked with the homeless in Calgary.

Title: Government House Leader, minister of infrastructure, transportation. Mason, 61, led Alberta's NDP from 2004-2014. He won his fifth term in the legislature in the May 5 election. He is a former Edmonton city councillor, studied political science at the University of Alberta and drove a city transit bus in the 1980s.

Title: Minister of agriculture and forestry. Carlier was born in Val Marie, Sask., and raised his family's farm. He moved to Alberta in 2002 and has worked as a regional representative with the Public Service Alliance of Canada.

Title: President of treasury board and minister of finance. Ceci, 57, was a city councillor for 15 years in Calgary advocating for progressive issues and help for blighted neighourhoods. He was a longtime social worker with a master's degree in social work from the University of Calgary.

Title: Minister of innovation, advanced education, jobs, skills training and labour. Sigurdson, 54, is an instructor and social worker with more than 20 years experience. She was the manager for professional affairs with the Alberta College of Social Work, the professional association for social workers.

Title: Minister of justice, solicitor general and aboriginal affairs. Ganley, 36, is a lawyer specializing in labour and employment issues. She has represented employees and unions in a variety of work-related issues. She has degrees in psychology and philosophy.

Title: Minister of education, culture and tourism. Eggen, 52, has won his riding three of the last four elections and has served as opposition critic in portfolios including health, environment, and education. He is former executive director of the Friends of Medicare. He was a teacher before entering politics.

Title: Minister of environment, parks and minister responsible for the status of women. Phillips, 39, has been a journalist, consultant, and economic analyst. She worked for the Alberta Federation of Labour helping craft pipeline policy. She graduated from the University of Alberta with a degree in political science.

Title: Minister of health and seniors. Hoffman, 34, was a trustee and chair with the Edmonton Public School Board, fighting against school closures and for more inclusive student policies. She is a former researcher with the Alberta NDP caucus. She has a master's degree in educational policy studies.

Title: Minister of energy McCuaig-Boyd, 62, has been a teacher and administrator with the Peace River School Division for more than two decades. She is a former executive with Grande Prairie Regional College. Left education in 2013 to run a consulting company.