Your Brain On Sugar Is Like Your Brain Extremely Stressed Or Abused, Study Finds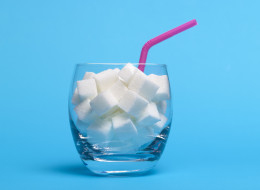 We already know what sugar can do to our bodies, but a new study now thinks it knows what can happen when the sweet stuff hits our brains.
Researchers Jayanthi Maniam and Margaret Morris published their study in the journal Frontiers in Molecular Neuroscience after running tests on rats. The result? Sugary drinks can be just as damaging as being exposed to extreme types of stress or abuse.
"The changes we observed to the region of the brain that controls emotional behaviour and cognitive function were more extensive than those caused by extreme early life stress," researchers wrote in the The Sydney Morning Herald.
To conduct the study, researchers studied female Sprague-Dawley rats and gave half the rats water and low-fat chow, while the other half got chow, water and a 25 per cent sugar solution. The report found rats who consumed sugar even ate more calories over the course of the experiment.
"We found that chronic consumption of sugar in rats who were not stressed produced similar changes in the hippocampus [part of the brain that is important for memory and stress] as seen in the rats who were stressed but not drinking sugar," the wrote in the paper.
Although this study wasn't based on human research and was very specific in its findings, health experts will tell you an excessive amount of sugar can lead to other health issues like high blood pressure or weight gain.
If you're constantly craving the sweet stuff, you may be over-eating carbohydrates, says registered dietitian Nicole Osinga of Oshawa, Ont.
And of course, cutting out sugar fully isn't something everyone wants to do, so we suggest checking out some of these healthy food swaps.
Watch the video above to find out what else researchers found.
ALSO ON HUFFPOST:
Common Names For Added Sugar
This plant based syrup has a sweet mild flavour and is used in making alcoholic beverages like Tequila.

This natural sugar substitute is made from sprouted cereal grains and is a key ingredient in home-brewed beer.

Dark dregs of molasses get boiled down a bit more to make sweet blackstrap molasses. And while many health enthusiasts praise the syrup, it should be noted that it only contains a fraction of the iron, calcium and phosphates found in sugar cane.

No, brown sugar isn't the 'whole wheat' version of sugar, it is actually white sugar combined with molasses.

This thick sweetener is derived from sugar cane.

Cooked sugar is still sugar, so if you're looking to cut out added sugars you should definitely be avoiding caramel.

Fresh fruits are absolutely good for you, but concentrated fruit juice is just too sweet. Think of this stuff as all the overwhelming sweetness from 12 fruits with none of the nutritious fibre.

This thick, sweet syrup is made from cornstarch, and is a key ingredient in frosting, candies, jams and jellies.

This coarse raw sugar originated from the Demerara area of Guyana. It's toffee-like flavour makes a good alternative to brown sugar.

While high-fructose corn syrup is chemically similar to table sugar, this liquid has been linked to numerous health conditions including type 2 diabetes, metabolic syndrome and high triglyceride levels.

This sweet liquid doesn't get its colour and flavour from bees, its sweet taste actually comes from flower nectar.

There's not a huge difference between granulated and powdered sugar. Powdered sugar is in fact granulated sugar ground super fine.

This sugar, derived from milk can be quite difficult for both children and adults to digest.

This simple syrup is made with a combination of granulated sugar and water.

Made from the sap in maple trees, maple syrup is often served on its own.

Another byproduct of sugar cane, molasses is used in everything from baked beans to gingerbread.

Yet another cane sugar, muscavado is a moist brown sugar with strong molasses flavour.

This super sweet liquid is what attracts bees to flowers.

Raw sugar is what is left from sugar cane after the molasses is removed. While it looks and tastes like light brown sugar it is structurally very different.

This thick syrup is made from the starch found in rice.

This cane sugar is less processed than brown sugar and gives off a smooth caramel flavour.