Forget Foreign Buyers: 3 Reasons Toronto, Vancouver House Prices Aren't Coming Down
With house prices up by double digits in the Toronto and Vancouver areas, policymakers are finally starting to take the foreign investor issue seriously. British Columbia, for instance, announced in its budget this week that it will start tracking the citizenship of home buyers.
But Bank of Montreal senior economist Robert Kavcic thinks the foreign investor debate amounts to barking up the wrong tree.
"It's easy to blame the foreign-buyer boogeymen for the home price gains in Vancouver and Toronto," Kavcic wrote in a client note this week.
"Sure, all anecdotes suggest they are playing a role in some neighborhoods — we just don't know exactly how big that role is. What we do know is that the fundamentals right here at home are strong enough on their own to drive big price gains."
Kavcic offered three "simple facts" that he says are behind the rise in house prices:
Home-Buyers Are Arriving In Swarms
Kavcic says population growth in the 30 to 39 age group (the "prime first-time or move-up buying years") is accelerating in Toronto and Vancouver.
"At the same time, these two cities have accounted for 75 per cent of Canada's net job growth over the past two years," he noted.
That's putting upward pressure on these two housing markets — but only these two housing markets. In Canada as a whole, the first-time home-buying demographic (ages 25 to 34) is shrinking, as Kavcic himself noted in 2014. He predicted at the time Canada's housing markets, faced with a dearth of young home buyers, would move into a protracted slump starting around 2018.
They're Running Out Of Room To Build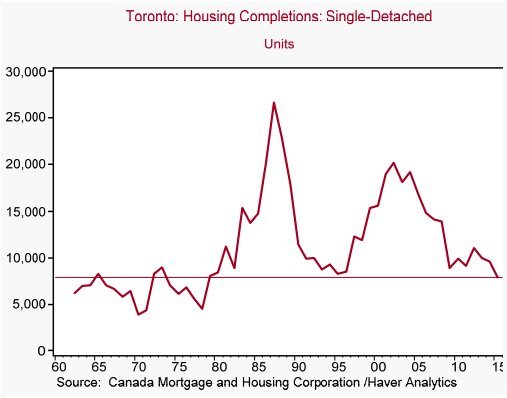 Completions of single-family homes hit their lowest level in 37 years in Toronto last year. (Chart: BMO)
Vancouver is sandwiched between mountains and ocean, and its lack of developable space pushed the city towards high-rise development decades ago.
Meanwhile, Greater Toronto municipalities are facing development restrictions such as the Green Belt and density requirements that are pushing single-family home construction to the brink of extinction.
Kavcic notes that single-family home construction in Toronto fell to its lowest level in 37 years in 2015 — "and that's not a population-adjusted number!"
Rock-Bottom Mortgage Rates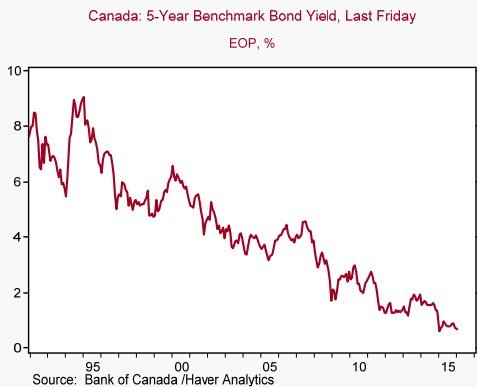 The cost of borrowing money has been on a 30-year downward trend line in Canada. (Chart: BMO)
Interest rates in Canada and much of the developed world have been slowly coming down for the past three or so decades, to the point that, today, "a five-year fixed mortgage is barely above the expected long-run inflation rate," Kavcic notes.
"The longer this lasts, the hotter these markets will burn."
But will it last? Many experts say the long-running era of falling interest rates is over, and they will start climbing in the years ahead. Faced with higher borrowing costs of their own, some of the major banks have raised mortgage rates in the past few months.
That prompted TD Bank to predict, in a report earlier this month, that the pricey Toronto and Vancouver housing markets will cool off this year, and will actually see price declines in 2017.
"Every month of double-digit home price growth raises the risk of a deeper home price correction down the road," TD economist Diana Petramala wrote in a client note earlier this month.
Dream Homes In The Rockies (November 2015)
$4,450,000 Location: 856 Silvertip Heights, Canmore, Alta. Beds: 3 Baths: 3.5 Size: 4,882 sq. ft. Features: Three fireplaces, teak panelling, solar panels, Bang and Olufson audio system, white oak flooring, wine cellar, granite counters, walk in closet, custom lighting.

$2,500,000 Location: 264073 TWP RD 263A, Rural Bighorn M.D., Alta. Beds: 3 Baths: 4 Size: 2,139 sq. ft. Features: Artisan iron work, heated stone floors, two wood burning fireplaces, horse stable.

$2,849,000 Location: 500 Silvertip Pointe, Canmore, Alta. Beds: 4 Baths: 4 Size: 3,326 sq. ft. Features: Cathedral entry, vaulted ceilings, breakfast nook, luxury master bedroom, ensuite bath, walkout basement, games room,attached triple garage.

$998,000 Location: #333 104 Armstrong Place, Canmore, Alta. Beds: 3 Baths: 3 Size: 2,661 sq. ft. Features: Penthouse apartment with vaulted 18 ft. ceilings and rock work fireplace, fir-slab breakfast bar, granite counters, hardwood flooring, clubhouse with pool, tub and games room, underground parking, spacious deck.

Location: 501 5th Street, Canmore, Alta. Beds: 4 Baths: 3 Size:3,450 sq. ft. Features: Open concept, walking distance from downtown, glass wine tower, chef's kitchen, two fireplaces, 600 sq. ft. deck, double garage.

$949,000 Location: 532 Deer Street, Banff, Alta. Beds: 4 Baths: 3 Size: 2493 sq. ft. Features: Two separate suites, wood burning fireplace, gas fireplace, large private backyard, playhouse, deck with view of Cascade and Norquay mountains.

$2,999,000 Location: 160 McNeill, Canmore, Alta. Beds: 5 Baths: 4 Size: 5,259 sq. ft. Features: Frank Lloyd Wright-inspired home, with adjacent 14,000 sq. ft. lot, expansive windows, three car garage, air conditioning.

$3,375,000 Location: 529 Silvertip Pointe, Canmore, Alta. Beds: 5 Baths: 4.5 Size: 5,407 sq. ft. Features: Rundle stone fireplace, vaulted ceilings, hardwood floors, built-in cappucino machine and wine fridge, home gym, library, heated two car garage, located on a golf course.