Oscars Mean Tweets Own George Clooney, Jessica Chastain And More Celebs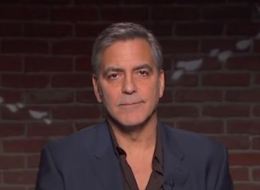 Now we'd like to clarify that we love every version of Jimmy Kimmel's "Mean Tweets" segments, but it's safe to say this movie edition is the best one yet.
In a new video, the host gets A-listers to read some of the funniest and meanest tweets about them from the Twitterverse. From "gross ratty old man" George Clooney to "annoying little fart" Kevin Hart to "uggo" Cate Blanchett, it seems like nobody is safe in this round of hilarious tweets.
And since the Oscars are coming up on Feb. 28, it's nice to see some of our favourite actors and actresses get fierce with their comebacks — we're talking about you Taraji P. Henson. Watch the full video above.
ALSO ON HUFFPOST:
Controversial Oscars Looks
Sure, Demi is a great actress, but a fashion designer she is not. For the awards show in 1989, the star arrived wearing an outfit of her own design, consisting of bicycle shorts and bustier combo, complete with half a ballgown. It may not have been her best look, but it sure got people talking.

Costume designer Lizzy Gardiner wore a dress made entirely of American Express gold cards. Apparently, she had wanted to use the costume in the film, "The Adventures Of Priscilla, Queen Of The Desert," but the credit card company nixed the idea. Instead, Gardiner arrived wearing it herself, explaining that she was too "broke" to buy a real dress. Later, in 1999, the iconic frock was auctioned off for more than $12,000, which was put towards AIDS research. A silver gold lining?

When JLaw accepted her Best Actress award (and fell down the steps on her way to the stage) in this massive Dior couture number, it became an instantly iconic Oscars moment. And then who could forget the time when she flipped the bird in the press room backstage? That's our girl!

Hilary Swank's deep blue Guy Laroche gown is hands down one of the best dresses in Oscars history. From the front, it was demure and conservative, and then BAM! When the "Million Dollar Baby" star turned, she revealed the super sexy backless design. It was definitely the dress of the night! And the best part was that she won her golden statue while wearing it, making it a memorable part of Academy Awards history.

Generally, Charlize can do no wrong. But in 2002, things were a little different. After losing the weight gained for her role in "Monster," the actress' body was in tip top shape and she wore a slinky Gucci dress to show it off. Her tan however? It wasn't so great! The South African beauty's overly bronzed skin (and seemingly invisible eyebrows) definitely had critics buzzing. But she got the last laugh, since she took home the statue for Best Actress and no one could take that moment away from her. At least we can say she was glowing, right?

Michelle Obama surprised the audience when she appeared on screen to present the award for Best Picture in 2013. Dressed in a gorgeous Naeem Khan gown, the First Lady looked lovely. However, when the show was broadcast by Iranian media, Obama's dress was Photoshopped to feature sleeves and a higher neckline in order to fit in with the country's more conservative sensibilities. She also happened to present the award to "Argo," which Iranian media deemed an anti-Iran film. But despite the controversy, the show was the most watched since 2010.

When Angelina Jolie arrived on the red carpet back in 2012, all eyes were on her right leg. Her toned leg was on full display thanks to a thigh-high slit, and it became the subject of many a meme online. It was definitely one of the most memorable fashion moments the Oscars has ever seen.

Geena Davis' Moulin Rouge-meets-Vegas wedding dress was definitely a talking point of the night. The "Thelma And Louise" actress landed on pretty much every worst dressed list possible, but we admire her risk-taking attitude. As Time notes, "this is clearly a woman who sees the Oscars as a hilarious costume party -- and yes she achieves it." What do you think?

Celine Dion (a.k.a. Canada's national treasure) arrived at 1999's show wearing a white Dior suit with the jacket on backwards. She definitely had people scratching their heads and wondering if she had, perhaps, gotten dressed in the dark. Let's just say she took a little too much creative license over the look, especially with the addition of a matching fedora and rhinestone studded sunglasses.

Was anyone really expecting anything less from Cher? We think not! The singer and ultimate diva's Bob Mackie ensemble (complete with giant feathered headpiece) landed her on the night's worst dressed lists, but if you ask us, she rocked the look like no one else could have. And for her adventurous sense of style, we praise her. Besides, the red carpet could always use a little excitement, don't you think?

Two years later, the iconic singer arrived wearing yet another Bob Mackie design, which of course, brought a little scandal to the red carpet. As she's known to do, Cher showed some (read: a lot of) skin. And of course, she ended up taking home a Best Actress award for her role in "Moonstruck" making this one of the most memorable Oscars looks ever.

Halle Berry's striking Elie Saab gown at the 2002 Oscars is definitely one of the most memorable. Not only was it super sexy, it helped catapult the Lebanese fashion designer's name into the limelight (his creations are now red carpet staples) and it became a notable part of black history, as Berry accepted her Best Actress award (she was the first black woman to win the accolade) while wearing it.

Gwyneth Paltrow opted for a gothic-inspired look back in 2002 when she arrived wearing this dramatic Alexander McQueen gown. The ruching and sheer fabric of the bodice revealed more than the actress expected, and to this day, she admits that she "should have worn a bra." But, you can't win 'em all, even if you're as style savvy as Gwyneth!

While her dream of winning an Oscar may have come true, her road to finding the perfect dress was a little less than perfect. The actress had originally chosen a Valentino gown for the night's festivities, but after finding out that her "Les Mis" castmate would be wearing something very similar, she opted for something else. And that something else was this ballet pink Prada gown, which familiarized the world with the term "nipple darts." The darted seams were just so unfortunately placed! Let's just say the star had much better luck the following year...

Babs decided to rock a sequined, bell-bottomed pantsuit to the awards show in 1969, but apparently didn't realize the ensemble was completely see-through once the lights shined on her. Lucky for her, the design featured a nude lining, and the Best Actress winner's look became one of the show's most unique and iconic.

Hollywood jokester Sacha Baron Cohen arrived dressed as his character from "The Dictator," holding an urn with Kim Jong Il's "ashes," which he then spilled (read: dumped) all over Ryan Seacrest's Burberry suit. We don't even want to know what that dry cleaning bill looked like.

Over 20 years after playing the iconic "Annie Hall," Diane Keaton kept the menswear-inspired look alive with this ensemble at the 2004 Oscars. No one rocks the trend quite like Diane, and it's become on of our favourite looks (though it is a little costumey) of years past.

Grace Kelly's gorgeous green Edith Head dress is one of the most classic Oscars looks of all time. When we think of old Hollywood glamour, the late Princess of Monaco's gown definitely comes to mind.

And how could we forget Bjork's infamous swan dress? The feathered frock, designed by Marjan Pejoski, was literally her swan song. She even pretended to lay an egg on the red carpet!

Like Demi Moore, Kim Basinger decided to take designing into her own hands. The result was this dramatic white satin ballgown with a suit jacket/strapless dress bodice. It was a bizarre look, to say the least, but at least it was memorable. Right?

It's hard to tell which was more inspired, Gwyneth Paltrow's teary speech for her 1999 "Shakespeare in Love" win or this soft pink Ralph Lauren number.

Penelope Cruz was a vision in rose-colored feathers at the 2007 Oscars.

In 2000, Charlize Theron stunned in a cut-down-to-there Vera Wang dress. Not a whole lot's changed in 12 years, I guess.

Bouncing way, way back from her 2002 blunder, Kate Hudson is red carpet ready in Versace for the 2003 ceremony. (Give us a smile!)

Model Heidi Klum fell down the rabbit hole and landed at the top of all Best Dressed lists for this 2008 red frock.

Gwyneth Paltrow upped her star power in 2011 with the help of this shimmering Calvin Klein design.

Farrah Fawcett attended the 1978 ceremony sporting a barely-there sparkler.

Back in 1997, Nicole Kidman's John Galliano-designed gown changed all the rules. "Not now, Tom. I'm posing."

Honestly, Halle Berry would look good if she were draped in a bed sheet. So, following that thought to its most logical conclusion, Ellie Saab fashioned her the most exquisite bed sheet ever for the 2002 Oscars.

While Michelle Williams has recently been boring bloggers with her love affair with neutrals, but she hasn't always been so tame. Case in point: this 2006 sunflower-colored Vera Wang.

Nominated for her Supporting role in "Iris," Kate Winslet wow-ed in a floral-embellished Ben de Lisi design in 2002.

At the 2006 Oscars, Jessica Alba ushered in the era of table cloth fashion.

Audrey + pixie hair + Hubert de Givenchy = The 1954 Academy didn't stand a chance.

While she won back in 2001 for her portrayal of surly and scantily-clad heroine in "Erin Brockovich," she sure cleans up nice!

She wouldn't be Grace Kelly if she couldn't make a straight jacket-cum-shawl look fab.

At the 1955 Oscars Kelly won the gold for Best Actress for "The Country Girl" and she's looking -- duh -- perfect. Making a motion to bring back full length gloves and small embroidered purses right now.

UP NEXT: Stars' First Oscars

Nominated for: "August: Osage County"

In: "Captain Phillips"

Nominated for: "August: Osage County"

Nominated for: "The Wolf of Wall Street"

In: "12 Years a Slave"

Nominated for: "The Wolf of Wall Street"

Nominated for: "Gravity"

Nominated for: "Blue Jasmine"

Nominated for: "Philomena"

In: "Her"

In: "Dallas Buyers Club"

Nominated for: "Dallas Buyers Club"

In: "Her"

Nominated for:"American Hustle" In: "Her"

In: "Gravity"

Nominated for: "The Wolf of Wall Street"

In: "American Hustle"

Nominated for: "American Hustle"

Nominated for: "American Hustle"

Nominated for: "American Hustle"