Black Man Interviews White Woman At Laval Tim Hortons, So Someone Calls 911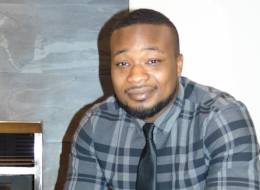 It's 2016, but a black man can't talk to a white woman in a coffee shop without someone assuming he's a pimp.
Mactar Mbaye, a 23-year-old entrepreneur in Quebec, arranged to meet a woman at a Tim Hortons in Laval who applied for a job at his company.
A short time after he started interviewing her, two police officers approached and asked to speak with Mbaye. Two more officers joined them soon after, according to Global News.
Mbaye told CTV Montreal he was "shocked" but went with them.
"What happened right now is because you're black. If you were a white, I don't think we would get the same call."
Laval police had received a 911 call about a young black man trying to recruit a young white female for "most probably prostitution," Const. Franco di Genova told Global.
"With all the events that happened with the youth centre here in Laval we didn't take a chance."
Earlier this month, five girls ran away from a Laval group home, who were likely targeted by a prostitution ring, reported CBC.
No 'anger against the police'
Mbaye runs a construction estimation company that has no office, since most of the business can be done online, reported CTV Montreal.
He said he understands police were simply doing their due diligence in following up with a 911 call.
"I don't have any anger against the police — it's against the person who called just because I was black she thought I was a pimp."
He told Montreal's CJAD 800 that one of the officers told him, "What happened right now is because you're black. If you were a white, I don't think we would get the same call."
Mbaye spoke about his experience in a video he posted on Facebook.
DIFFICILE DE CROIRE CE QUI M'EST ARRIVÉ! IL NE FAUT JAMAIS JUGER UN LIVRE PAR SA COUVERTURE! UN HOMME NOIR PEUT RÉUSSIR SANS POUR AUTANT ÊTRE ILLÉGAL ! #blackhistorymonths #nonauracisme

Posted by Mactar Mbaye on Thursday, February 18, 2016
In a follow-up, he said he was amazed at how many people reached out to him with similar experiences.
Mbaye said he wants to warn people that racial discrimination is still everywhere, and profiling can affect them too.
The female applicant ended up accepting a job with Mbaye's company, said CJAD.
Also on HuffPost:
Tips To Fight Racism And Discrimination
Even teens with the same identity -- be it racial or gender -- can be guilty of bullying and discrimination. Ontario's Ministry of Education defines bullying as "a form of repeated, persistent, and aggressive behaviour directed at an individual or individuals that is intended to cause (or should be known to cause) fear and distress and/or harm to another person's body, feelings, self-esteem, or reputation."

Social media can be a platform for bullying to continue even after school is out. Cyber bullying occurs when young people take malicious actions online. through chat rooms, email, social sites and instant messaging.

"You don't need to go into full confessional mode, but have fun with it, if that helps. Or be perfectly honest," Author Jonathan R. Miller said. Miller pens e-books with multi-ethnic characters and themes. You don't have to talk about all the nuances of your family tree every time you're asked about your background, He said. That can be exhausting. Find something that works for you personally.

"I like the word 'mixed' because it's a messy word, and in my experience growing-up mixed is exactly that," Miller said. He suggests that it's important to allow yourself to truly wrestle with questions of identity in environments you consider safe.

If you are struggling with your identity, you don't have to tell the whole world, but confide in a friend that you trust. Having someone to confide in is important. "If you can, find someone who you can talk to about your most honest, ever-evolving, often-messy answer to the question, "What am I?" Miller said.

"Maybe you don't have anyone trustworthy to talk to honestly about your experiences. Write about them. It helped me, sometimes, to get those out," Miller said. It may not make a lot of sense initially and it might feel uncomfortably personal, but write. Keep a journal, write short stories and rename the characters, try your hand at poetry -- whatever feels best.

"You are likely being told at different times, more or less, to hurry up and get off the fence, pick a side and get on with it," Miller said. It's not necessarily a bad thing to be unsure of who you are, even if your peers seem to have their acts together, he said. Teenage years are discovery years. Miller also quoted author Rainer Maria Rilke: " 'Have patience with everything that remains unsolved in your heart. ...live in the question.' That's good advice. Difficult to follow, but good."

When it comes to mixed heritage, "you don't have to be 'both' or 'other' or 'all of the above' all of the time. Sometimes the only way to figure out what you are is to choose one thing and be it for a while," Miller said. Explore how it feels to fully embrace a single aspect of your identity, for short period of time. See "what stick and what slides off." It's simply learning, Miller said.

"I can't tell you how many multi-racial people I've met who have chosen a single race or ignored race entirely and been perfectly content with the decision. A biracial friend of mine used to tell me, 'I'm black and white, yes, but I'm black. Period,' " Miller said. He said he knows many people have chosen to identify with only one aspect of their multi-background, while others have embraced the blend.

Find creative ways to occupy your time, Miller said. Join a group or do an activity (with others) where you are empowered to be who you are, instead of having to act how others think you need to be in order to fit in.

Take pride in your ethnic (culture, colour or religion) heritage. You have no control over your heritage, and you can't change that fact that this is who you are. So embrace it and learn as much as you can. "You may feel like it would be an insult to your heritage to embrace one aspect of yourself above the others, but trust me, it wouldn't be. This is important: it is not your job to uphold, with perfect equity and grace, all of the elements that went into your making," Miller said.

"Often they're the 'gatekeepers' that decide whether you're 'in' or 'out.' But what you can do is have a ready answer for the 'charges' they level against you. Whether you use humour, earnestness, or self-righteous anger, it helps to have your defense lined up and ready," Miller said. Sometimes people think all the "members" of their cultural or ethnic community must behave, dress and think a certain way. But as an individual, you can do whatever you want and find your own identity.