Canada Real Estate Is Essential To The Economy. This Graph Shows Just How Much.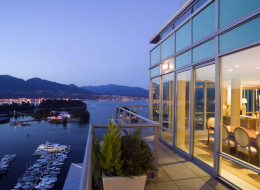 Canada's economy emerged fairly strongly in the fourth quarter of 2015, despite projections of zero growth.
And for that, you can thank real estate.
Data released by Statistics Canada on Monday shows the country's gross domestic product (GDP) growing by 0.8 per cent in the fourth quarter. Canada's total annual GDP growth was 1.2 per cent.
Housing accounted for a $7.4 billion increase in GDP — about half of Canada's economic growth in 2015, the agency said.
GDP measures economic activity within a specific time period. It is a simple method for determining a country's economic health.
When GDP is positive, that means an economy is growing. When it's negative, that means an economy is shrinking, or contracting.
The following graphic shows how much GDP different industries generated last year (tap the lines to see what sectors they represent):
Real estate GDP grows steadily from month after month, while other industries, such as manufacturing, oil and gas, tend to fluctuate.
Most of the real estate GDP had to do with "imputed rent," University of Calgary economics professor Trevor Tombe told The Huffington Post Canada.
It's a concept that involves calculating how much it would cost to rent out an owner-occupied property.
Imputed rent accounted for just over $4 billion in real estate GDP, Tombe said, and much of Canada's overall GDP growth.
What's behind real estate's contribution to 2015 GDP? Mainly imputed "rent" home owners "pay" themselves. #cdnecon pic.twitter.com/l4EQ3KlaMI

— Trevor Tombe (@trevortombe) March 1, 2016
Agriculture followed second to real estate after generating around $3 billion in GDP, followed by finance and insurance at just over $2 billion.
While manufacturing saw heavy economic activity relative to other industries, it also experienced negative growth of approximately $2 billion on the year.
What drove Canada's economy in 2015? Real estate. While construction and resources contracted. #cdnecon pic.twitter.com/swoVKOEHos

— Trevor Tombe (@trevortombe) March 1, 2016
The very fact that the economy managed to grow over the course of 2015 demonstrates just how essential real estate is — but it's also an observation making some analysts uneasy.
"It is concerning to see that degree of concentration coming from one sector," TD Bank economist Brian DePratto told Bloomberg in January.
"This underscores the importance of real estate to Canadian growth, and also reinforces how key of a risk the real estate sector is for the Canadian economy."
Last year, ratings agency Fitch said Canadian homes were overvalued by about 20 per cent, though the numbers varied by location.
Prior to that, the Bank of Canada said housing could be overvalued by as much as 30 per cent.
Fitch predicted that rising prices in Canadian housing markets in the last decade will eventually abate, "with modest declines to follow."
Like Us On Facebook

Follow Us On Twitter

Also on HuffPost:
Craziest Vancouver Real Estate Stories Of 2015
This Tudor home in Vancouver's ritzy Shaughnessy neighbourhood was listed for $5.99 million in May. After 12 days, it sold for just over $8 million. "When you've got too little supply (of detached houses) and too many buyers, that's always what happens," realtor Stuart Bonner told The Province.

This abandoned home (read: eyesore) became a dumping ground over several months in 2015. Piles of rotting trash and unwanted furniture attracted rodents to the area, and the smell was sometimes so bad that neighbours refused to open their back doors. The house was assessed at $813,000, and others in the area were valued at over $1 million.

"Avail now. Bring your tent." A Craigslist ad advertised a backyard for rent for $500 per month. WiFi, use of the home's bathroom, kitchen, laundry, and "art room" were part of the deal. Great for travellers, apparently!

This home was listed at just under $3 million in June, and was sold to an offshore buyer for $4.1 million after a couple hours, the realtor said.

Bargain alert: a former grow-op hit the market in March for $930,000. The 1968 two-storey home was in such bad shape that no one could live in it. The house got an occupancy permit back in 2001, and was renovated before it was listed. The price was mostly because of the 6,000 sq.-ft. lot.

This rare, 3.6-metre wide home sold in April for $1.35 million. Tucked in the upscale Point Grey neighbourhood, the floor space is only 945 sq.-ft., but manages to cram in a full kitchen, master bedroom, living room, garage, den and 1.5 bathrooms. The home is believed to be one of the last of its kind in the entire city, according to the realtor.

This house, listed for just under $1.6 million, sold for $2.17 million in March — a mind-boggling 35 per cent over asking. "It was the highest price per square foot ever achieved for an East Vancouver home," realtor Paul Eviston told CBC News.

Chump change, amirite? This 25,000 sq.-ft. mansion, which sits on a 1.09 hectare property, was purchased in December 2014 for $51 million. (Details of the sale were made public in March.) The deal included a movie theatre, grass tennis court, and 10-car garage, according to the CBC.

Talk about a sweet deal! This (very well-decorated) gingerbread house was advertised on Craigslist for $4.5 million in December. It's a one-bedroom home that's a single sq. ft. in size. The baking sheet upon which it stands was not included in the sale. The seller asked for "serious" inquires only.