Liberal MP Nathaniel Erskine-Smith Dismisses 'Fear-Mongering' On Animal Welfare Bill
A rookie Liberal MP calling for more legislative teeth to protect animals says the politics of fear shouldn't turn his private member's bill into a partisan fight.
Nathaniel Erskine-Smith, elected in the Toronto riding of Beaches-East York, has tabled a bill that he believes will bring Canada's animal welfare laws "into the 21st century."
But a veteran Conservative MP and critic has already blasted his proposed changes as "dangerous" for hunters, farmers, ranchers, and aboriginal communities.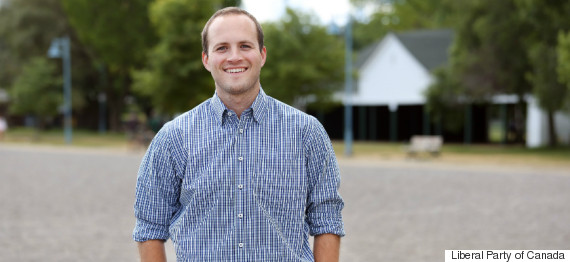 (Photo: Nathaniel Erskine-Smith/Liberal Party)
Erskine-Smith's Bill C-246 — the Modernizing Animal Protections Act — sets out to achieve three key measures that are entirely reasonable and should win broad support, he told The Huffington Post Canada Thursday.
First, it aims to end the "cruel practice of shark finning" — where the animal's fin is removed and its body discarded back into the ocean — by banning the import of the appendages. It's estimated that 100 million sharks are killed each year because of the practice.
It would also ban the sale of cat and dog fur in Canada, as the European Union and United States have already done, and require source-fur labelling for companies.
Third, the bill seeks to amend the Criminal Code to "close loopholes" related to animal abuse, fighting, negligence, and bestiality.
Erskine-Smith, a lawyer, insists he's done his homework and is just building off previous legislation introduced to the House of Commons by Liberals and New Democrats.
"I'm not re-inventing the wheel here," he said.
A bill calling for a ban on shark fins, introduced by NDP MP Fin Donnelly, was narrowly defeated in 2013.
A previous Liberal government also attempted to update animal cruelty provisions about 15 years ago. It's something Erskine-Smith says hasn't been changed substantively since 1892.
'Gross negligence' versus 'willful'
Perhaps the biggest change to Code would be the creation of a new offence for individuals who cause unnecessary suffering to an animal by "gross negligence." As it stands, it's a crime to cause an animal pain through "willful" or deliberate neglect.
"In many cases, it can be difficult for a Crown prosecutor to prove that someone willfully intended to cause harm through neglect," he said. "So, instead, gross negligence is where there is a marked departure from a reasonable standard of conduct and an animal has unnecessarily suffered."
If passed, someone guilty of such mistreatment could spend two years behind bars.
The bill would also make it an offence to encourage or receive money for animal fights.
And it would update the definition of bestiality to mean, simply, sexual activity between a person and animal. While Erskine-Smith says that's what any reasonable person thinks it means already, a British Columbia Court of Appeal decision held that the criminal act requires penetration.
Accomplishing all this, however, will mean looking at animals as more than just property — a step that has set off alarm bells among some MPs in the past who fear such a move could jeopardize hunting rights.
Tory MP: 'Omnibus bill' poorly drafted, flawed
Manitoba Conservative MP Robert Sopuck, his party's critic for wildlife conservation and Parks Canada, released a statement last week calling the legislation "fundamentally flawed" and an "omnibus bill," because of the many laws it would change at once.
But he also expressed reservations about changing how animals are seen under the current law.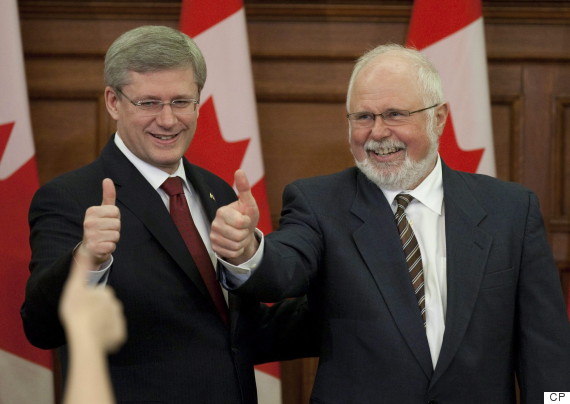 Prime Minister Stephen Harper welcomes MP Robert Sopuck to the Conservative caucus on Parliament Hill in Ottawa on Dec. 1, 2010. (Photo: Sean Kilpatrick/CP)
"This bill proposes to move animals out of the property section of the Criminal Code and place them in the public morals section," he said in the release. "Its terms are so broad that they could place all animal use in legal jeopardy."
Such a step would have "drastic implications," he said, for communities who rely on "farming, hunting, trapping, commercial fishing and angling," as well as medical researchers.
Sopuck also accused NDP MPs last year of harbouring a "radical animal rights agenda" for wanting to remove animals from the property section of the Code.
'You can't do with them whatever you like'
Erskine-Smith says that animals are obviously still property in society — "one owns a pet, one owns farm animals" — but removing them from that section would recognize animals as "quasi-property."
"They're not the same as a table, as a chair," he said. "You can't do with them whatever you like. While they are property, they are owned, you also have to treat them in a humane way."
Current laws on the books concerning animal cruelty have done nothing to hurt farming or hunting in Canada, Erskine-Smith says.
"They're not the same as a table, as a chair. You can't do with them whatever you like."
The Liberal said he sat down with Sopuck and explained how this bill won't affect farmers, hunters, or medical researchers. That's the same message he says he delivered to industry and farming associations, and one he will explain to any else with concerns.
"This bill is designed to prevent and target animal abuse, not legitimate animal use," he said, adding that farmers and hunters who abide by all the current regulations should have no concerns if this bill becomes law.
Erskine-Smith said Sopuck is trying to drive a wedge into the issue.
"It's fear-mongering to whip up a base of support and it's absolutely unnecessary," he said.
Erskine-Smith, who grew up with cats and dogs but doesn't currently have a pet, is confident that "with a lot of work," enough MPs of all stripes will get on board with his bill. The legislation has already won the endorsement of the Canadian Federation of Humane Societies.
&nbsp
His gambit is perhaps ambitious but Erskine-Smith says it's motivated by a desire to make the biggest possible impact as an MP.
"I'm very interested in ideas that cross political party lines, where there is cross-partisan support," he said.
"Canadians across the country — whether they're Conservative, whether they're NDP, whether they're Liberal, whether they're farmers, whether they're pet-owners — Canadians care about animal welfare."
Also on HuffPost:
What Kids Learn From Pets
"[My dog taught my baby] How to love." -- Sarah W. Babies and toddlers are already expert cuddlers. The hope, of course, is that by having a snuggable furry friend in the house, the chances of kids enjoying hugs and kisses from mommy after the age of 10 might increase -- by at least one squeeze per week.

"We refer to [our son] as 'the dog whisperer.' Having a dog has taught him to share (especially at dinner time)!" - Sadie K. Pets, unlike kids, never really grow out of needing to be taken care of. Which means children learn how to care for another living creature, even when it means giving up a beloved stuffed animal when it is commandeered to be a teething toy -- or some precious floor space.

"My daughter has learned how to crawl with the help of our dog, as well as how to bark (and unfortunately beg)." - Bonnie L. We already know that dogs love to look out the window. And, when kids take the time to gaze outside with a four-legged friend, they're learning an important skill -- how to tune out everyday noise and get lost in a daydream.

Pets teach kids that meaningful experiences don't always need to involve conversation. A quiet afternoon with a playful cat or lazy puppy shows children that there's more to relationships than words: just being together -- watching, listening, and caring for another person or animal -- is enough.

Dogs smile. Cats are curious about the world around them. (Sometimes too curious.) Nobody says you have to be happy all the time -- but would you rather your kid grew up to idolize teenage nonchalance, or the boundless enthusiasm of your family pet?

"[My dog teaches my baby] to feel safe." -- Sarah H. For the love of Mom and Dad, take a good nap. And may solid daytime sleep lead you to restful nights. While babies may have a bad reputation for not learning this lesson well, seeing their animal friends -- who are nap masters -- just might help them learn how important it is to get a solid 10 to 12 hours of sleep every night until the age of 12. (That's when kids, like grown-ups, start to need only the standard eight.)

"My kids have learned patience, kindness, and responsiblity from our pets. They have also, sadly, learned about death. ... Sad to lose our sweet pets, but a good introduction into the idea of life and death for our kids." - Kirstin Mix As Lindsay Cross wrote in a blog post on Mommyish, one of the most obvious lessons kids learn from having pets is responsibility. Cross writes: "Having two dogs to take care of has taught my daughter an amazing amount of responsibility that I might never have been able to instill this early on." Parents who succeed in getting their children to take on key pet-rearing tasks will teach their children the importance of reliability (oh yeah, and get out of feeding the dog every once in a while).

"Dogs know if you're scared of them" -- we've all heard that before. Whether or not there's science to back it up, to pet owners -- and certainly, to people who are actually afraid of dogs -- it seems true. Pets often win over so-called "scaredy-cats," if given enough time. The lesson: Fend off your instinct to lash out at someone who doesn't understand you, even if you're going through a biting phase. Look out for people who feel uncomfortable (new kids at school, for instance) -- and show them that you think they're worth getting to know.

"Outdoor play is beneficial for motor development, vision, cognition, Vitamin D levels and mental health," Pooja Tandon, of Seattle Children's Research Institute recently told The Huffington Post. Get a dog or an outdoors cat, and the time your family spends outside will likely increase exponentially -- first out of necessity, but more and more out of pure enjoyment. For one thing, there's no mistaking the joy on an animal's face when he or she is liberated from the confines of a stuffy house. The dog-walking and ball-throwing that start as chores will probably turn into family tradition or routine. At a time when fewer children are getting to play outside, the increased exercise will be a huge added plus.

Because it feels good. Because little muscles need to be properly cared for. Because in a metaphorical sense, it means that you should always go just a little bit outside of your comfort zone. Who better to teach kids the very essential skill of stretching? The animal who gives its name to yoga's most basic moves, "downward dog," "puppy pose," and the arched back "cat," of course.

Just because a dog has teeth, doesn't mean she'll bite. Ditto for cats and nails. Even if your pet isn't big and tough, it takes time to learn these things, but once your child does, he or she will have discovered one of the most important facts of life. Having these creatures in the house, who don't speak human, is just one big fantastic reminder that something or someone who looks different certainly isn't scary -- and just might become your best friend.

"JR, at the ripe age of 4 months, has learned from his Pug Brother that tongues are just as effective as baths for cleaning." -- Abbie P. We're not suggesting that all household animals are pristine -- far from it. (Indeed, with many pets, the question isn't whether or not the animal smells, but what, exactly, the animal smells like. Seafood? Garbage? Stinky feet? Mold?) Mysterious perfumes notwithstanding, most animals do make an effort to preen or groom themselves regularly. We have to hope kids get the message that it's good to at least want to look your best.

"This is my daughter just after her 1st birthday looking over our balcony. This kid has no fear of dogs and will walk right up to every dog she sees if we let her." - Melissa Versen For people with furry pets, leaving the house without sporting a single animal hair -- or, more realistically, a substantial coating of the stuff -- is pretty much an impossible dream. And more often than not, getting out of the house with only hair on your clothes is a break; loving pets with dirty paws or slobbery lips are hard to turn away. Having affectionate but messy animals around teaches you to stop worrying about being perfect and just let things go.

"K, now 3, has learned how to be gentle with his doggy friend Belle, which has come in handy this year when his little brother was born." - Sarah W. No matter how badly kids want to pull their tails, pat them on their adorable puppy heads or tackle a kitty, animals demand a gentle touch. And, on the flip side, having a yippy or bark-happy dog might persuade a child going through a tantrum phase to embrace a new appreciation for peace and quiet.

"Kitty keeps S's glance which has been wonderful practice for tracking objects and muscle control." -- kimonox

"She has learned to share food and how to pet nicely." - Sarah H. Pets have feelings too, and when they get sad or tired , it's up to their owners to be supportive. As all good friends know, sometimes that means being a distraction. Unsurprising, babies and kids have this approach down.

Dogs may be known for being able to guard people and their possessions, but their fierce loyalty is also a reminder to care for friends who can't stand up for themselves.

Perhaps this one goes without saying, but all pet owners know it's true. Dogs love you as much when you're sad or tired as they do when you're having a great day. And the style of love we learn from them -- warm, generous, active, loyal -- is eminently transferable.

Sharon Raghavachary:Our dog Teddy has taught Becky how to pose for the camera!

Sherri Anderson Salgado:Growing up with pets has taught my sons compassion and responsibility..when we found Elvis starving at a gas station, little did we know he would grow to be this large..if we had it to do again, we would not change a thing!

Siobhan Green:Anthony and our dog Delta on a farm in Pennsylvania. Delta was a rescue dog

HuffPost Blogger Lois Alter Mark:Our dogs have taught our children compassion. - Lois Alter Mark

Lori Strong:My Doberman still thinks my daughter is her puppy!