Beijing-Vancouver Flight Passengers May Have Been Exposed To Measles: VCH
Did you fly from Beijing to Vancouver on an Air China flight that landed at 9:30 a.m. on March 3?
Then you may have been exposed to the measles.
A passenger on that flight developed symptoms of the illness after disembarking, and was "infectious during the flight," Vancouver Coastal Health (VCH) said in a Friday news release.
Passengers on March 3rd flight from Beijing at risk of measles https://t.co/7xprByTb2j #YVR pic.twitter.com/c7wUPWwMpF

— VCH Healthcare (@VCHhealthcare) March 11, 2016
The health authority is asking anyone who was on this flight to ensure they are "up to date with measles vaccinations."
They should also keep an eye out for measles symptoms such as a red rash, cough, fever, runny nose or pink eye until March 24.
"Measles is highly infectious and spread through the air [when] someone who is infected coughs or sneezes," the statement said.
"Measles can be a serious illness with complications such as inflammation of the brain (encephalitis), convulsions, deafness or brain damage."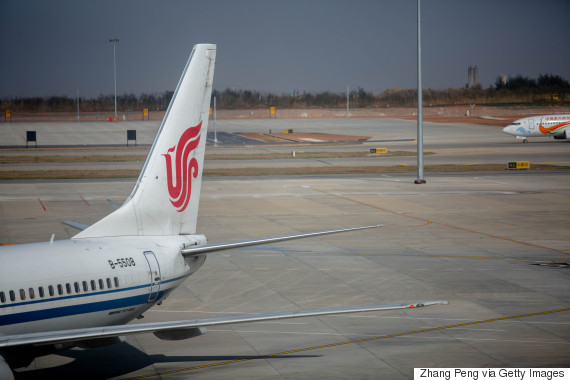 Air China flight sits on a tarmac at Changshui Airport in December 2015. (Photo: Zhang Peng/LightRocket via Getty Images)
The alert comes amid concerns about low vaccination rates throughout the Vancouver area.
Last year, CBC News compiled VCH data to look at which schools throughout the region fell below the 95 per cent herd immunity rate for measles shots.
The Vancouver Waldorf School in North Vancouver, for example, only had a measles vaccination rate of 27 per cent, while Grandview Elementary School in East Vancouver had a vaccination rate of 47 per cent.
The provincial government last year sent out a mailing reminding parents to have their children vaccinated.
"Not immunizing children puts all of us at risk" the letter said.
Like Us On Facebook

Follow Us On Twitter

Follow Us On Instagram
Also on HuffPost:
Everything You Need To Know About Measles
The measles, also known as rubeola, is spread through coughing, sneezing and breathing. Symptoms include fever, cough, runny nose, red eyes and sore throat. This is then followed by a red, blotchy skin rash.

Although the measles are highly contagious, they are not common in Canada and the U.S., which is why the recent outbreak is so worrisome. Today, the measles are common in Europe, Asia, Africa and the Pacific. The virus spreads when infected people travel abroad.

If your child's fever lasts for at least three days and they have a cough, catarrh (nose and air passages are filled with mucus), or conjunctivitis (pink eye), then they likely have the measles. Tiny white spots on the inside of the mouth, known as Koplik spots, will also appear, usually two days before the measles rash occurs.

This is because the measles can lead to serious complications, including pneumonia, encephalitis (swelling of the brain), and death. According to Mayo Clinic, the measles kills more than 100,000 people a year, most are under the age of five.

There is no specific treatment for the measles because it's caused by a virus. When someone is infected with the measles, their symptoms don't show until 10 to 14 days after exposure. The infected individual is then kept isolated and treated for things like lack of vitamin A, protein deficiencies, respiratory tract infections, eye-related complications and dehydration through diarrhea. Most people will recover from the measles within two to three weeks. However, between five and 20 per cent of people who contract the disease die from complications.

The measles vaccine is known as the MMR shot (measles-mumps-rubella) or the MMRV shot (measles-mumps-rubella-varicella). Two doses of the vaccine can protect you for life as the first has 85 to 95 per cent efficacy and the second is almost 100 per cent.

The second shot is then given between the ages of four and six.

This is because pregnancy changes your immune system. Thus, pregnant women who have not yet received the vaccine should wait until after they give birth.

Infectious disease specialist Dr. Michael Gardam recommends receiving the second vaccination within 72 hours of exposure to the virus. "It is really incredibly contagious and it's spread through the airborne route," he says. "So I don't have to touch you, or come even close to you -- if you're breathing the air that I just exhaled, you can get infected."

So far there have been six confirmed cases of the measles in Toronto -- four adults and two kids under the age of two. Thankfully, this is significantly lower than last year's outbreak in British Columbia, where 433 cases were reported. Additionally, there is one case of the measles in the Niagara region. The infected individual is an unvaccinated, female adult who had recently visited Toronto. One case has been reported in Manitoba.