20 Bridesmaid Gift Ideas For Wedding Season
On your wedding day it's hard to imagine your life going forward without your partner, but in the days, months and years before you say "I do," there's another crew on top of your list.
Whether they're siblings, friends, co-workers or cousins, your bridesmaids have always had your back, and now it's time to give back.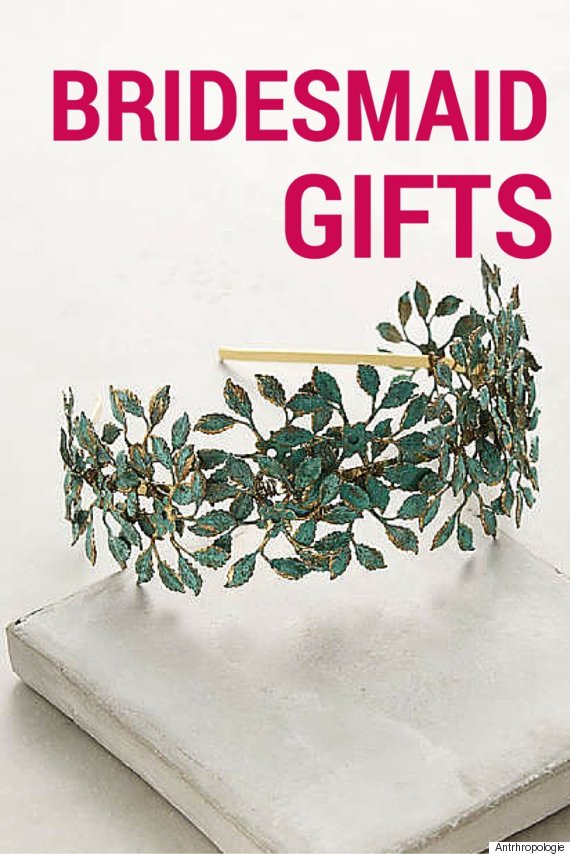 In the slideshow below, we've rounded up 20 gift ideas for your bridal party. From scarves and jewelry they can wear on your big day to bags and trinket boxes that will always remind them of you, there's something in here for every personality.
Gifts For Your Bridesmaids
You'll love wearing matching robes as you wait to walk down the aisle. Order it on Etsy.

It can be tricky finding the right necklace to go with a bridesmaid dress. Make it easier on your bridesmaids by giving them one to wear. Order it on Etsy.

Before you head to the wedding venue, be sure to stop by Starbucks to fill up your personalized cups. Order them on Etsy.

Giving your girls matching clutches is a great way to complete their looks on your wedding day. Get it from Fox Blossom.

Your friends have been with you through thick and thin... and all the parties. Keep the party going with personalized flasks. Get it from Brika.

Not all of your bridesmaids are the same, get them similar gifts like candles by choosing scents that match each person. Get it from Indigo.

A beautiful picture frame gets even more stunning when filled with a photo of the entire bridal party. Order it from Wayfair.ca

After the celebration your best friends will want to kick back and relax, help them do so with some scented bath salts. Get it from Anthropologie.

Let your girls know how important they are to you buy getting them matching bracelets to wear on your big day. Get it from Kate Spade.

If you want your girls to dance all night, give them a pair of comfy flats that match. Order these TOMS online.

An elegant tea pot is the perfect gift for bridesmaids who love to host brunch. Get it from David's Tea.

With these classy labels, you'll be able to put a personal touch on your bridesmaid's favourite bottle of wine. Order labels on Etsy.

Your bridesmaids have listened to you talk about your wedding since before you even got engaged, give them break with these beautiful headphones. Order it from Frends.

From fallen hems to concealing cleavage, your bridesmaids (and photographer) will thank you for this thoughtful gift. Get it from Papryus.

A simple scarf can be used to add character to an outfit, or to cover up cold shoulders on a sleeveless bridesmaid's gown. Get it from Hudson's Bay.

Keep your girls from losing their favourite rings and necklaces by gifting them with these gorgeous trinket boxes. Get it from West Elm.

First they'll use it to jot down their speech, then this journal can be used to house all sorts of special memories. Get it from Indigo.

Not every gift needs to be used on your big day. Your bridesmaids will love carrying around this gym bag all year long. Get it from Lole.

Give your girls a gift they can wear on your wedding day, and any other day they might need a little sparkle. Get it from Anthropologie.

Spend the morning sipping on champagne mimosas in these cute, custom cups. Order it on Etsy.