Rob Ford Statue 'Deserves' To Be Erected In Toronto, Says Petition
A Toronto man believes the late Rob Ford — famous for waging a war against a municipal "gravy train," among other things — deserves a statue.
Calling the former mayor a "tireless fighter for the people," James Morrison launched an online petition last week addressed to Mayor John Tory, Toronto city council, Ontario Premier Kathleen Wynne, and Prime Minister Justin Trudeau.
"Former Toronto mayor Rob Ford has touched the hearts of many in the great city he represented. This man was a fighter until the end," Morrison wrote.
Ford died Tuesday, 18 months after being diagnosed with a rare soft tissue cancer. He was 46.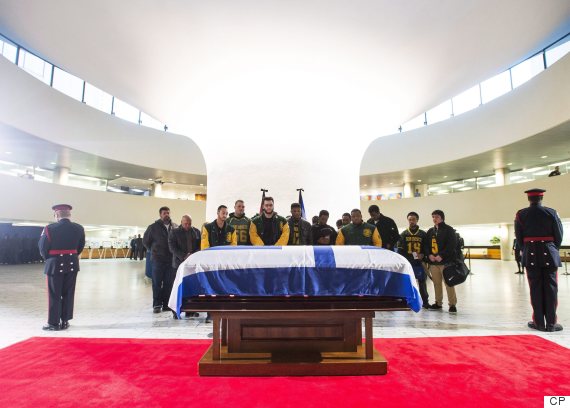 The public paid their last respects to former Toronto mayor Rob Ford, who lay in repose at city hall on Monday. (Photo: The Canadian Press)
Morrison credited Ford's "eagle eye" with ending the so-called "gravy train" — a moniker used by the late politician to describe and decry excess spending of taxpayer money.
"Rob Ford deserves a statue. Especially if Jack Layton got one," wrote commenter Nickolas Tzavaras. Another praised Ford for being an "icon" who was a "real person who made mistakes and faced struggles but always had a good heart."
But some disagreed, arguing the use of public money for a statue would be the last thing Ford would have wanted.
"Folks, that's a great example of not respecting the taxpayer's dollar," wrote one commenter.
Morrison did not respond to The Huffington Post Canada's request for comment.
"Rob Ford has touched the hearts of many in the great city he represented."
— James Morrison, Change.org petition sponsor
If the petition gains enough momentum and moves through all the necessary bureaucratic hoops, there would be a total of two Ford family tributes in the city.
In 2010, an Etobicoke park was renamed in tribute to Ford's late father Douglas Ford Sr., a former member of the provincial legislature.
Goodbye to an 'average' guy
Despite making international headlines for a crack video scandal and even appearing on American talk show "Jimmy Kimmel Live!," Ford often brushed off any notion of celebrity tied to his name.
"I'm just an average person that watches taxpayers' money, returns phone calls and does what the taxpayers want," he explained to media while signing bobblehead dolls made in his likeness in 2014.
Proceeds from the sale of those dolls went to two city hospitals where Ford was seeking chemotherapy treatment at the time.
A funeral will be held for Ford on Wednesday.
Also on HuffPost:
Then-Toronto Mayor Rob Ford tells supporters at the "Ford Fest' barbecue in Toronto on Sept. 27, 2014, that he will triumph over a rare form of a cancer.

Ford casts his ballot in advance voting for the Toronto Municipal Election at an Etobicoke polling station on Tuesday October 14, 2014.

Ford discusses the election results with his brother and Toronto mayoral candidate Doug Ford at his mother's home in Toronto on Oct. 27, 2014.

Ford gets a hug from his children Doug and Stephanie following his election to council in the municipal election in Toronto Monday, Oct. 27, 2014.

Ford makes a speech to supporters at the Woodbine Banquet Centre shortly after winning his Ward 2 seat on city council Oct. 27, 2014.

Ford stands next to his brother Doug Ford outside his office as he scrums with the media before signing bobblehead dolls in Toronto on Nov. 21, 2014.

Ford poses for a photo with grade six students from Forest Hill Public School as they visit City Hall in Toronto on Nov. 21, 2014.

Ford signs a bobblehead doll in his office in Toronto on Nov. 21, 2014.

Toronto Mayor John Tory presents a declaration of office to newly elected councillor and outgoing mayor Rob Ford during an inauguration ceremony in Toronto on Tuesday, December 2, 2014.

Ford glances over to a colleague as Toronto Mayor John Tory is shown on a monitor during an inauguration ceremony in Toronto on Dec. 2, 2014.

In a file photo from May 11, 2015, former Toronto Mayor Rob Ford gives a thumbs up before surgery in Toronto to remove a cancerous tumor from his abdomen.

Toronto Councillor Rob Ford reacts as Mayor John Tory debates a point with Councillor Giorgio Mammoliti in Toronto City Council chambers on Sept. 30, 2015.

Toronto city councillor Rob Ford arrives to a Conservative party campaign event in Etobicoke on Oct. 13, 2015.

Former Conservative Leader Stephen Harper and former Toronto Mayor Rob Ford, left, leave a campaign rally in Toronto on Oct. 17, 2015.