10 Things You Didn't Know About Dirty Belly Buttons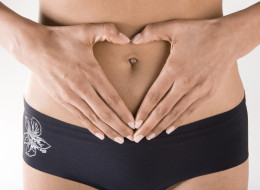 When was the last time you cleaned your belly button? If you don't remember, chances are you're not alone.
If you aren't cleaning out that tiny crevice on a regular basis, you may want to reconsider. In the video above, Dr. Travis Stork of The Doctors explains the average belly button is home to more than 60 different types of bacteria in addition to lotions, dirt, sweat and soap.
Belly button dirt can actually build up so much, people have mistaken it for skin cancer, dermatologist Alexandria V. Booth explained to Women's Health.
In the slideshow below, we reveal 10 fascinating facts about your belly button, from how it's formed to the infections you can get and most importantly, how to keep it squeaky clean.
10 Facts About Your Belly Button
Dr. Curtis Cetrulo Jr. tells NBC News, your belly button is created by the way the umbilical cord is cut at birth. He notes it gets its appearance from the way the cord dries up and falls off.

According to researchers at North Carolina State University, the average belly button is home to 67 different types of bacteria.

Yep, in 2013 biologist Christina Agapakis teamed up with odour artist Sissel Tolaas to make craft cheese from bacteria found on the human body, Wired reported. But we suggest just buying your block of cheese from the local grocery store.

Belly button yeast infections can affect both genders at any age. According to Livestrong, newborns can develop infections from a mother's yeast infection during childbirth. Symptoms of belly button yeast infections include itching, redness and odour. If you notice discharge or if you feel pain, nausea or a fever, contact your doctor immediately.

Unlike your ears, which are self-cleaning, your belly button needs a little help to stay clean. Use cotton swabs and a bit of rubbing alcohol to wipe away the dirt hiding inside your navel. Alcohol should be used sparingly however, as it may dry out the area. Regular soap and water should do the trick on a daily basis.

The lower abdomen is a very sensitive area for both men and women, and the belly button is a major part of that area. According to Intimate Medicine, stimulation of the belly button can result in a tingling sensation on the clitoris for women and on the penis for men.

But not all. According to researchers in Singapore, small, oval shaped navels with a ratio of 46:54 and a "hood" are the prettiest.

Though it is uncommon, some people don't have belly buttons as a result of umbilical hernias and gastroschisis being born with their stomach and intestines poking through a small hole in the abdominal wall, reports BBC News. Model Karolina Kurkova lost her belly button to this type of condition and surgery as a child.

Researchers in Australia found over weight men with body hair on their stomach were more likely to develop belly button lint, because the hair on their stomach tends to rub against clothing fibres creating and trapping lint.

During pregnancy, a growing belly can actually pop out an "innie", Dr. Karen Marie Jaffe tells Everyday Health. After childbirth, the belly button tends to return to its normal shape.