Vancouver Police Officers Donate Overtime Cash To Rescued Puppies
K9 officers from the Vancouver Police Department sure do have a whole lot of heart.
Last month, 66 dogs — including 34 puppies — were rescued from a suspected puppy mill in Langley, B.C., inundating the SPCA with animals to care for.
The dogs were found with broken limbs, missing eyes, and were severely malnourished. Others had psychological damage.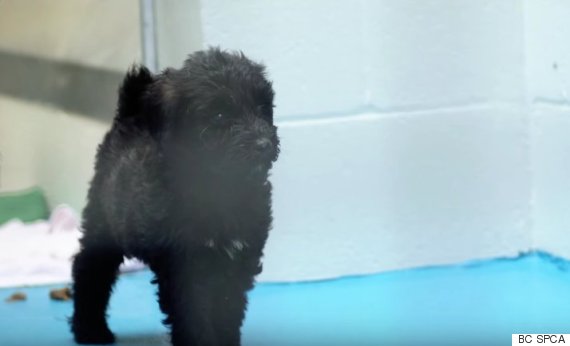 "They were kept several dogs to a cage, stacked up in unheated dark buildings with dangerous ammonia levels from the urine," said SPCA spokeswoman Lorie Chortyk.
Sgt. Randy Fincham, who even offered to foster one of the dogs himself, said the force's K9 officers were more than eager to help when they heard about what had happened.
"Nobody wants to see animals hurt or neglected so badly, and I think it gets people wondering if there are other people running similar operations out there," Fincham said in a media release. "Our dog handlers wanted to reach out and support these dogs, who are like kin to their (four-legged) colleagues."
In March, the K9 unit took $1,300 of overtime pay and donated it to help puppies that are still in the SPCA's care.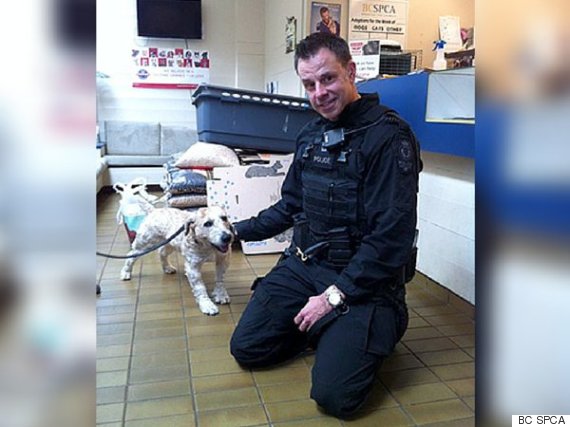 "We are so grateful for the Vancouver Police Department's generosity — and for the overwhelming generosity we've experienced from the public at large since these dogs came into our care," said the organization's Charlotte Ellice.
The pups, we're sure, are grateful, too.
Related on HuffPost:
Animal Cruelty Cases In B.C.
In total, 35 dogs, 16 horses, and six cats were found to be severely malnourished, without any water, food, or shelter at a Surrey, B.C. home Taking care of them could cost up to $20,000, said the SPCA. The organization launched an animal cruelty investigation after rescuing the animals in August 2015. Full slideshow here.

A neighbour found a 20-year-old tabby, named Charlie, dehydrated,

A labrador retriever named Ryder was repeatedly stabbed in the face and had jewelry shoved into his eyes after wandering away from home in February 2015. Lindsey Susan Hirtreiter of Surrey, B.C. was later charged with two counts of animal cruelty. If found guilty, she faces up to two years in prison, a fine of up to $75,000, and a lifetime ban on owning animals.

Six pets that were reported stolen by their dog walker in Langley, B.C. in 2014, actually died of heat stroke in the truck they were supposedly snatched from. Emma Paulsen was later sentenced to six months in jail for their deaths.

Surveillance video from a Vancouver hotel showed Des Hague kicking a one-year-old Doberman pinscher, and yanking it by its collar. He pleaded guilty to causing an animal to be in distress. Hague issued a public apology. He was forced to resign as CEO of a North American sports catering service company after major public backlash.

A severely emaciated Siberian husky who was found wandering in Maple Ridge in February 2015

A bleeding five-month-old puppy was found wandering Vancouver Island with a

A family dog from Colwood, B.C. was found with "

A three-year-old pomeranian was found dead in a Richmond, B.C. home in September 2015 after being

In 2014, two "emaciated, filthy" dogs were found huddling together, wet and shivering,

Esquimalt First Nation Chief Andrew Thomas was charged with animal cruelty after his

(WARNING: Graphic photos follow) Molly, a Shepherd-cross, was found near death in Port Hardy on Nov. 25, 2013.

Someone phoned RCMP about the dog who was tied up on a porch in freezing temperatures. "Molly was in critical condition, non-responsive and shivering, with a collar deeply embedded in her neck," said the B.C. SPCA.

Molly's owner, Rupert Wilson, received a three-month conditional jail sentence and a 10-year ban on owning animals, reported CBC.

Molly was reported to be "happy and healthy" in her new home.

Captain the dog was found in a Vancouver dumpster in July 2012. He had serious cuts, massive head and body bruising and spinal damage. The dog died of its injuries the next day.

His owner, Brian Whitlock, was sentenced to 60 days in jail for beating Captain with a baseball bat and leaving him in a dumpster. Whitlock was also given three years probation and a lifetime ban on owning pets by a judge.

Whitlock's lawyers blamed the incident on mental illness during a sentencing hearing, saying that Whitlock thought Captain was poisoned after the dog started behaving strangely after a meal.

In November 2014, Whitlock was charged with killing his mother.

NEXT: Sea Lion Shot, Decapitated In Campbell River B.C. (WARNING: Graphic photos)

The remains of a sea lion, who had been shot and decapitated, were found on a beach in Campbell River in November 2012.