Canada's Top Porn Searches: 'Teens' Out, 'Lesbians' In, And P.E.I. Goes For 'Bondage'
What a difference a few years makes — at least when it comes to taste in smut.
Pornhub, the world's largest streamer of videos featuring fornication (a company that was started in Montreal, no less), has released its latest study of Canada's top porn search terms.
Things look decisively different from a few years back. "Lesbian" is now the top search term in every province but Quebec, where "Quebec" is the top search term.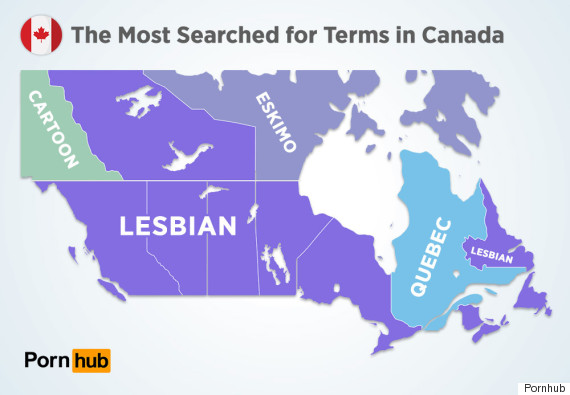 In the 2014 survey, "teen" won the far west (Alberta and B.C.) while "MILF" took the top spot in many other provinces. Neither of those terms topped any province in this year's survey. Check out the same chart from two years ago: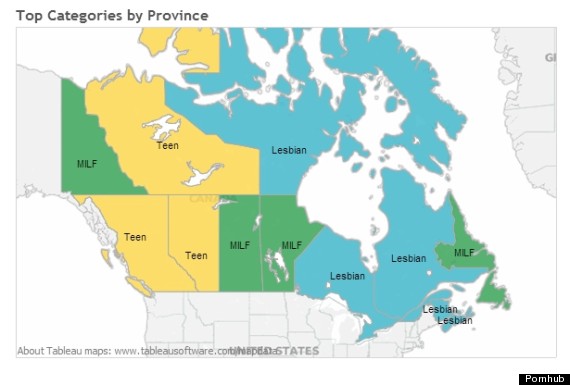 Pornhub also looked at top relative search terms — the terms used more in a particular province than in other provinces.
"Alberta's rough-necks enjoy pumping to 'creampie' porn, and Saskatchewan enjoys 'cartoon' videos," Pornhub declares, not sparing us the vivid imagery.
The Maritimes appear to be particularly kinky.
"Folks in New Brunswick enjoy 'smoking' porn, Nova Scotia likes 'facesitting' and Prince Edward Island is really, really into 'bondage'," Pornhub says.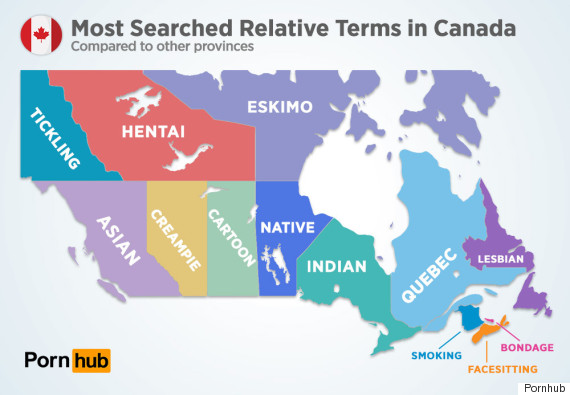 The U.S. actually seems more diverse than Canada when it comes to taste in porn.
Pornhub's survey of U.S. search terms also shows "lesbian" the winner in many states coast to coast, but some U.S. states favoured "step sister" or "step mom" over "lesbian," while in some states with large African-American populations, "ebony" or "black" led the way.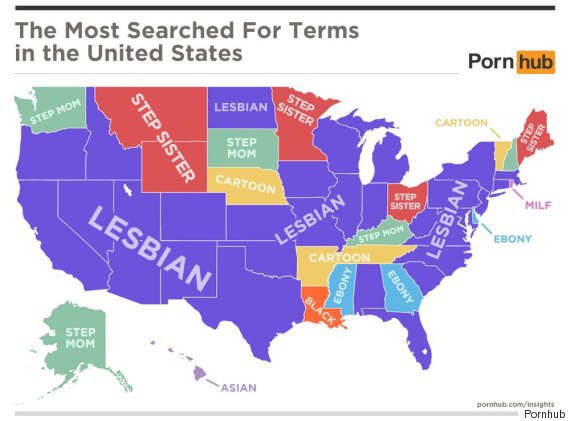 By the way, if those "lesbian" videos aren't doing it for you anymore and you need a new kick, you'll be glad to know virtual reality porn is becoming a thing.
Female porn actors receive more money for their time than men. A former porn producer wrote: 'Back in 03', a girl could make $2,500 a scene depending on what she did. Men only (made) around $500.' They said that the rate for those men willing to take part in gay porn was roughly the same as women.

Male performers say the hardest bit about porn is been standing to attention at all times. One wrote: 'So even before we start the video, we do the picture shoot. This is done separately to the video and I have to get into all the positions we are going to do and stay still from 20 - 50 seconds, which is really fucking awkward, like no movement nothing. 'This is why I have to take Viagra before I get to work, it's hard work staying hard.'

There's little planning or preparation for outdoor scenes, with permits and permissions rarely sought by producers. One male actor wrote: '…on the street stuff is actually filmed on the street. They don't have a plan or permit for it, just go and get it done before people start asking questions.'

According to performers, they can be on set for anything from five to twelve hours for a 30-minute scene. They get bored, text, and smoke.

Performers have to pose for up to an hour for photography before the main shoot has even begun. According to one actor, the poses and positions taken in the photos have to be painstakingly replicated on film.

Actors say that the job is, perhaps unsurprisingly, pretty physically demanding. But it's also mentally draining, with performers recommending good mental health as an attribute for success in the industry.

By whom it's unclear. But the vast majority is improvised - obviously.

Those actors commenting on the Reddit thread suggested that they rarely kept in touch with their fellow performers. One male performer wrote: 'After the shoot is done we go our ways, I've rarely spoke to the girls I worked with much because a lot of them are pretty broken and I'd avoid them if I didn't have debts to pay.'

Performers lament the amount of paperwork they have to complete before and after shooting scenes. One performer said that they were even filmed providing answers to questions. They wrote: 'I have to fill out a million forms and be filmed on video before and after (a scene) answering questions like if I'm there of my own free will or if I'm on drugs'.

Smells: Smells are a big problem, according to Reddit porn actors. Some actors take great care -- and others... don't. Stickiness: And other undesirable stuff happens a lot. 'It comes with the territory'... 'Money Shot': Is often faked -- and through a variety of ingenious means too x-rated to outline in detail.