Canadian House Prices 40% Too High For A Reason, The Economist Says
The Economist magazine has been saying for years that Canadian houses are overvalued. Its latest outlook offers the largest estimate yet: Houses in Canada, it says, are about 40 per cent too pricey, relative to "fair value," or what people can afford.
But this time, the magazine's latest global housing outlook offers an explanation for why Toronto and Vancouver, in particular, have seen runaway house price growth in recent years, while other Canadian markets have stagnated or even seen falling prices.
"Globalization has created a handful of metropolises that attract people, capital and ideas from all over the world, almost irrespective of how their national economy is doing," The Economist writes. "House prices in such places, unsurprisingly, outpace the national average."
In Europe's major capitals, house prices are growing at twice the rate of national averages.
In Canada, this is translating into an ever larger concentration of jobs, and people of home-buying age, in Toronto and Vancouver, even as the economy in many other parts of the country stagnates.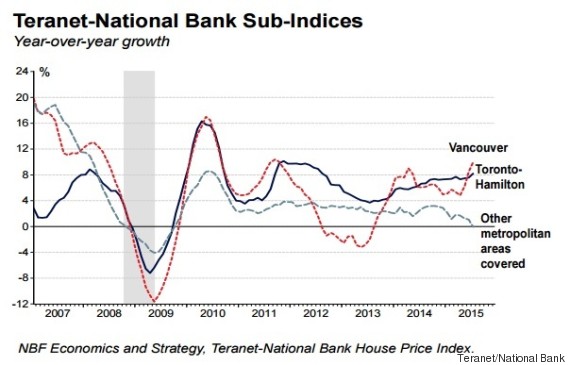 House prices are soaring in Toronto and Vancouver, but are stagnating or falling in the rest of the country. The situation in the job market is similar. (Chart: National Bank Financial)
"The working age population is growing about 70 per cent faster than the national average in Vancouver and Toronto," National Bank economist Stefane Marion noted this week.
These two cities now account for an enormous share of Canada's economic growth. While nationwide job growth amounted to 0.9 per cent over the past year, Toronto added 5.5 per cent new jobs and Vancouver added 4.4 per cent new jobs, Marion noted.
This same pattern can be seen worldwide. As the average house price in Canada passed the half-million-dollar mark last month, British house prices topped the GBP200,000 (C$370,000) mark for the first time. Thanks to London's popularity among billionaire home buyers, prices in southern England are now twice as high as in northern England.
"Between 2002 and 2012 the typical London home sold for seven times the city's average annual salary. That figure has since risen to 12 times," The Economist noted.
But living in one of these "globalized cities," as The Economist calls them, is no guarantee that the price of your home will go up forever.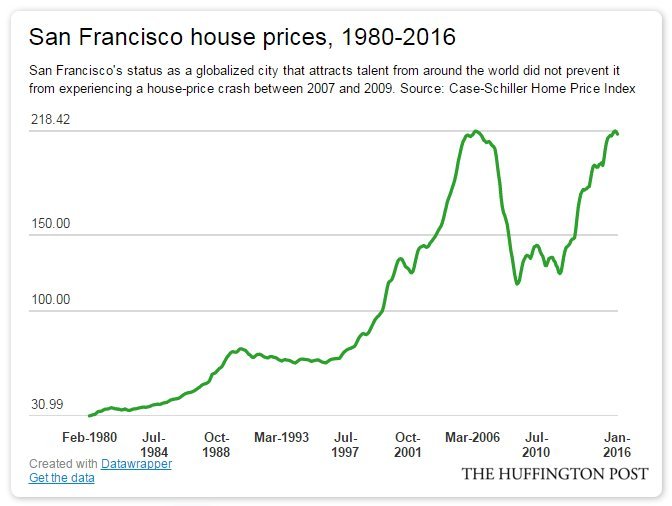 Globalized cities can, and do, see house-price crashes. Silicon Valley's tech boom didn't stop San Francisco house prices from falling 43 per cent from 2007 to 2009. London was already the world's favourite place for the wealthy to buy homes in 2008, when its house prices fell by 15 per cent in a year.
"As property developers from Las Vegas to Limerick will attest, when supply does eventually respond to soaring demand, property prices fall," The Economist notes.
Like HuffPost Canada Business On Facebook

Also on HuffPost:
The World's Most Expensive Streets Look Like This
This four-bedroom home in Hong Kong's Peak area is 4,600 square feet of luxury. The unit receives plenty of daylight thanks to floor-to-ceiling windows and a view overlooking the harbour. Every bedroom has its own bathroom, while the master has its own balcony. The second floor bedrooms also have a terrace.

There aren't many real estate opportunities on London's Kensington Palace Gardens. But this one offers buyers a chance at a mansion with six bedrooms, a reception and dining room, double garage, terrace and private garden. The listing is so exclusive that prospective buyers have to submit background information with the realtor before learning any more about it.

A penthouse fit for royalty, this unit comes with five rooms in almost 4,000 square feet of living space. It has two entrances, a dining room that opens on to a terrace and four bedrooms, each with their own bathroom.

Finding real estate proved challenging on this French street. It was easier to find the Four Seasons Grand-Hotel du Cap-Ferrat, luxurious accommodation that would be perfectly at home in a James Bond film. The hotel has a Michelin-starred restaurant, an 8,000-square-foot spa, and gorgeous views of the French Riviera.

A corner unit at The Marq on Paterson Hill, a project residing in one of Singapore's priciest areas. The apartment is 3,089 square feet, and it has park views in a building that also boasts a lap pool.

This villa offers you a panoramic view of the Mediterranean from the shores of Costa Smeralda, Sardinia. It has covered terraces, a pool, and five bedrooms.

Ostozhenka is known as "Moscow's Golden Mile," and it's easy to see why. A statue of Friedrich Engels, co-author of "The Communist Manifesto," overlooks this street where you can find buildings raised before the Russian Revolution and Art Nouveau architecture. To hit home its upscale nature, there's even a restaurant called "Snobs." A four-bedroom apartment at Ostozhenka, 7 has almost 2,000 square feet of space, with pastel-coloured walls, a fenced yard and security around the clock.

Largely known as a shopping district, New York's Fifth Avenue is also the site of some ritzy real estate that has been home to famous figures including entrepreneur David Koch and fashion designer Vera Wang. Sotheby's International Realty is pitching a "simplex" of 12 rooms for just under C$27 million at 1060 Park Avenue. It's a corner suite that gives residents a gorgeous view of Central Park. Interior features include a library, classy dining room and a corner living room with a wood-burning fireplace. This is high living.

Another shopping district that doubles as a neighbourhood for the very wealthiest. Actress Marlene Dietrich once called Avenue Montaigne home. This listing is more a pied-a-terre than a full-time residence, but it does have four bedrooms on the fifth floor of an old stone building. You know, for the richest among us, who can afford a weekend jaunt to Paris.