Kirsten Dunst Child Star: Actor Shares Hilarious Throwback Commercial
Many people think Kirsten Dunst got her start in "Interview With A Vampire." Sure the actor was just 10 when she played Claudia alongside Tom Cruise and Brad Pitt in the iconic '90s film, but she was already a Hollywood veteran by then.
In a recent appearance on BBC's "The Graham Norton Show," the "Midnight Special" star revealed she started acting in commercials at the age of three.
Even though she was a child star, Dunst went to a public school, including going to prom and football games. "It's hard to be a child actress and make sure it's balanced with school and friends and all that stuff. And I always had that, so I got lucky with growing up in that way," the 33-year-old said in a Reuters interview.
But being in a "normal school" as a child actor can have its downfalls. Apparently, kids would make fun of her for one 1990 commercial in particular: Baby Uh-Oh.
Dunst would have been about seven or eight in the ad. She is the girl in pink. Take a look.
Dunst told Norton that kids would sing her the Baby Uh-Oh song on the bus. But she took it all in stride thinking, "Heh heh, I made so much money."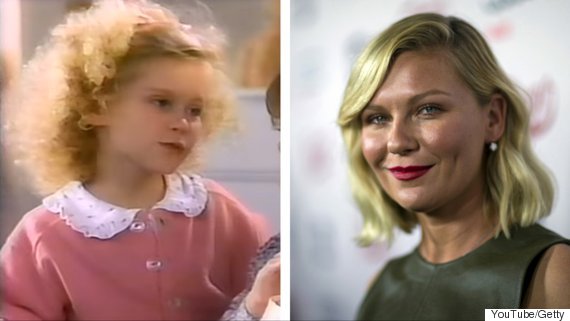 ALSO ON HUFFPOST:
Child stars who look waaaay different now
At 13 years old, Jaleel White made a name for himself as his character Steven Urkel on Family Matters.

Now 38 years old, White continues to appear on TV. He is also now a father to a six-year-old daughter named Samaya.

Mark-Paul Gosselaar is known for his famous role as Zack Morris in Saved by the Bell. He was 15 years old at the time, although he had started acting three years prior.

The actor is now 41 years old.

At 12 years old, Kristen Stewart made her big film debut in Panic Room alongside Jodie Foster.

Kristen is now 24 years old.

Did you know that Anna Paquin won an Oscar for Best Supporting Actress for her role in The Piano? Amazingly, the actress was only 11 years old at the time.

Today, Paquin is famously known for her role in True Blood. She is also now a mom to twins Poppy and Charlie.

Jonathan Lipnicki was such a cute in Jerry Maguire! He was only 6 years old at the time.

Today, Lipnicki is 24 years old and is very interested in becoming an action star.

Miley Cyrus has done such a good job establishing her music career, it's hard to remember where she came from. At the age 14, Cyrus starred in Hannah Montana which propelled her into the limelight.

Cyrus is now 23 years old.

That's right -- Laurence Fishburne was a child star too! At age 7, Fishburne got his start on the soap opera One Life To Live.

The 53-year-old actor is now a dad to three kids: Montana, Delilah, and Langston.

Who could forget this famous little boy from The Sixth Sense? By the time the film was released, Haley Joel Osment was 11 years old and had already been acting for five years!

The 26-year-old actor still continues to act in film and TV today.

Soleil Moon Frye got an early start in acting and won her first role at the age of six. In the 80s, she was then known as Punky Brewster from the TV series of the same name.

Frye is now a well-known celebrity parent and has three kids: Jagger, Poet, and Lyric.

Raven Symone played the adorable Olivia on The Cosby Show when she was just 4 years old.

Since then, Raven went on to star in her TV show That's So Raven and many other Disney channel shows.

How could we not include Joseph Gordon-Levitt? Amazingly, Gordon-Levitt had been acting for 8 years before he landed his iconic role on 3rd Rock From the Sun in 1996. He was 15 at the time.

The 34-year-old continues to have a successful acting career. He has also started his own collaborative production company called HitRecord.

Young actress Abigail Breslin made her film debut in Signs at age 6. She was then cast in a number of famous films as a child actor, including Raising Helen and Little Miss Sunshine.

Breslin continues to have a successful career. Today she is 18 years old.

Remember this little guy? He was just 4 years old when he appeared on TV for the first time. He's most known for his roles on Full House, Sister, Sister, and Smart Guy.

Mowry, 29, is still a TV star today.

At age 11, Candace Cameron Bure was starred in Full House as D.J. Tanner.

Cameron Bure is now a mom to three kids: Natasha, Lev, and Maksim.

Macaulay Culkin started acting at the age of 5 and became well-known for his Home Alone films from the 90s.

Since his acting day, the 34-year-old has started a band called The Pizza Underground.

You probably didn't know that before Naya Rivera became famous from Glee, she played Gwendolyn on Family Matters!

Rivera, who has been acting since the age of 4, is now 28 years old.

Our of all the kids from the original Harry Potter cast, we have to say Matthew Lewis was the one who changed his looks the most.

Neville Longbottom sure cleans up good! The actor is now 25 years old.

Georgie Henley is known for her role as Lucy from The Chronicles of Narnia series. She was 10 years old at the time.

Now 19, Henley is all grown up and has appeared in two other films: Perfect Sisters and The Sisterhood of Night.

Noah Hathaway was 13 years old when he starred as Atreyu in The NeverEnding Story.

Who could forget this sweet face? Anna Chlumsky starred alongside Macaulay Culkin in My Girl in 1991. She was 11 years old

Chlumsky is now 34 years old and is now known for her role on the TV show Veep.

Lacey Chabert started her acting career at the age of 9. Her most notable childhood role was as Claudia from Party of Five.

Chabert went on to play the famous character Gretchen Wieners from Mean Girls in 2004. Today, Chabert is 32 years old.

Before Christian Bale became Batman, he was a child star. His first role was in a TV movie in 1986 and then the following year, he got cast in the big feature film Empire of the Sun at age 13.

Bale, 41, is now a proud papa to two kids. His daughter Emmeline is now 9 years old and last year, Bale welcomed a son, whose name has not been revealed.