Canada Real Estate: Alberta Exodus Could Boost Toronto And Vancouver
Low interest rates. Foreign investment. A slumping Canadian dollar.
Those are just three factors driving housing markets across Canada, particularly Toronto and Vancouver.
But real estate firm Royal LePage is adding one more driver to the list: an exodus of workers fleeing Alberta's slumping economy.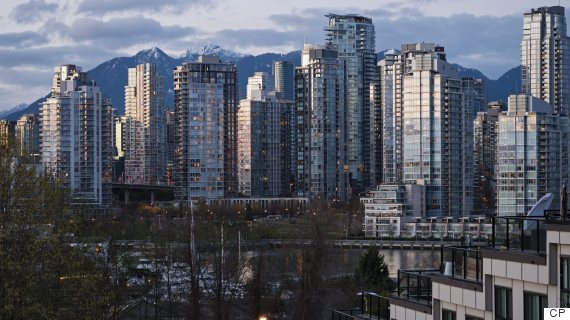 Condos along Vancouver's False Creek. (Photo: Bayne Staley/CP)
The company's first-quarter house price survey for 2016, which was released Thursday, showed the aggregate price of a Canadian home jumping to $512,621, up 7.9 per cent from the same time last year.
Condo prices climbed four per cent to $344,491, while bungalows jumped 6.8 per cent to $426,216 and two-storey properties rose 9.2 per cent to $629,177.
Overall, the figures shows a healthy real estate market, but Royal LePage president Phil Soper said there's also "extreme regional disparities of the kind we haven't seen in over a decade."
Vancouver, for example, saw home price growth of 21.6 per cent to $1,044,750 year-over-year, while Toronto housing prices jumped 8.4 per cent to $613,733.
At the other end of the scale, Regina saw its aggregate home price fall 1.1 per cent year over year to hit $327,618, while Calgary's dropped 0.6 per cent to $466,184.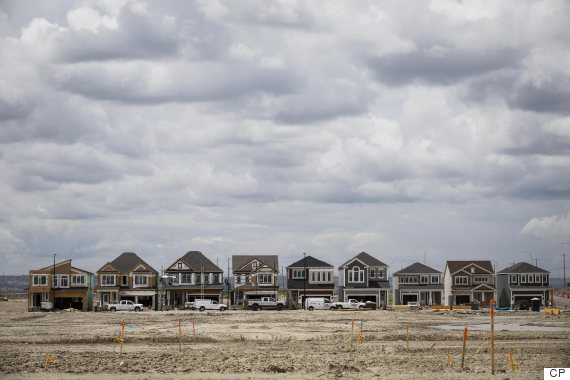 New housing under construction in Calgary in 2014. (Photo: Jeff McIntosh/CP)
But Vancouver and Toronto could do even better if, as Royal LePage suggests, Alberta's moribund economy pushes more workers into B.C. and Ontario.
"For the first time in many years, we are witnessing an out-migration trend in [Alberta], as economic conditions and employment prospects dim," Soper said.
"We expect British Columbia, followed by Ontario, to be the top recipients of new household inflows in the coming year, which will further fuel housing demand and price appreciation in Greater Vancouver and the GTA."
La belle province
But B.C. and Ontario aren't the only places expected to see positive housing gains in 2016.
Home sales jumped 9.4 per cent year-over-year in the Greater Montreal Area in the first quarter. Sales of luxury homes worth more than $1 million on the island of Montreal leaped 14 per cent, while sales of properties in the $500,000 to $1 million range there rose 23 per cent.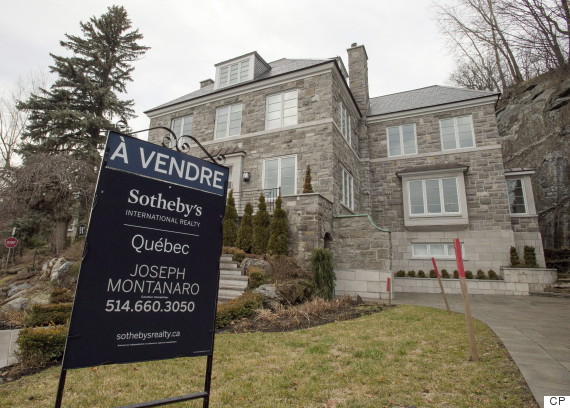 A house for sale for $4,998,000 in Montreal's Westmount neighbourhood on Dec. 11, 2015. (Photo: Ryan Remiorz/CP)
Montreal's market is benefitting from factors such as lower energy costs, a cheaper Canadian dollar and an expanding economy down south.
But it is also likely to see a boost from infrastructure projects such as some work on the city's Champlain Bridge, as well as the Turcot Interchange.
"Following a multi-year-period of stalled economic and residential real estate market growth, the Greater Montreal Area is seeing a frankly wonderful upswing in demand and unit sales, which often foreshadows stronger home price appreciation," Soper said.
The Trump factor
But there's yet one more factor that could drive economic growth in Canada this year — the spectre of a Donald Trump presidency.
Earlier this year, Cape Bretoners promoted their region as a great place for people fleeing the U.S., should Trump ascend to the White House.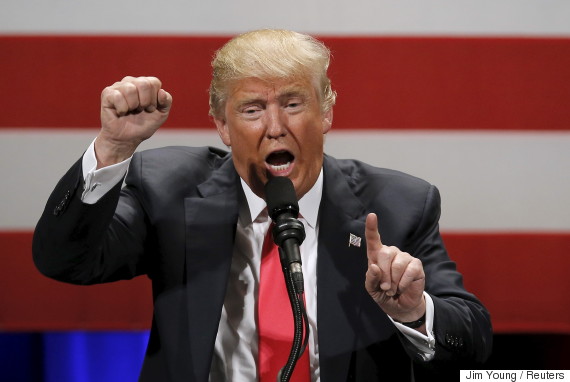 U.S. Republican presidential candidate Donald Trump speaks at a campaign event in Milwaukee, Wisc. on Apr. 4, 2016. (Photo: Jim Young/Reuters)
But Soper said it's more than a joke: "Canada's attractiveness as a more realistic place to pursue life, liberty and happiness is gaining traction in America."
He said the Cape Breton ad campaign, as well as Americans Googling "how to move to Canada," "reinforces the worldwide strength of brand-Canada as a prosperous and tolerant place to raise a family."
Like HuffPost Canada Business On Facebook

Also on HuffPost:
Craziest Vancouver Real Estate Stories Of 2015
This Tudor home in Vancouver's ritzy Shaughnessy neighbourhood was listed for $5.99 million in May. After 12 days, it sold for just over $8 million. "When you've got too little supply (of detached houses) and too many buyers, that's always what happens," realtor Stuart Bonner told The Province.

This abandoned home (read: eyesore) became a dumping ground over several months in 2015. Piles of rotting trash and unwanted furniture attracted rodents to the area, and the smell was sometimes so bad that neighbours refused to open their back doors. The house was assessed at $813,000, and others in the area were valued at over $1 million.

"Avail now. Bring your tent." A Craigslist ad advertised a backyard for rent for $500 per month. WiFi, use of the home's bathroom, kitchen, laundry, and "art room" were part of the deal. Great for travellers, apparently!

This home was listed at just under $3 million in June, and was sold to an offshore buyer for $4.1 million after a couple hours, the realtor said.

Bargain alert: a former grow-op hit the market in March for $930,000. The 1968 two-storey home was in such bad shape that no one could live in it. The house got an occupancy permit back in 2001, and was renovated before it was listed. The price was mostly because of the 6,000 sq.-ft. lot.

This rare, 3.6-metre wide home sold in April for $1.35 million. Tucked in the upscale Point Grey neighbourhood, the floor space is only 945 sq.-ft., but manages to cram in a full kitchen, master bedroom, living room, garage, den and 1.5 bathrooms. The home is believed to be one of the last of its kind in the entire city, according to the realtor.

This house, listed for just under $1.6 million, sold for $2.17 million in March — a mind-boggling 35 per cent over asking. "It was the highest price per square foot ever achieved for an East Vancouver home," realtor Paul Eviston told CBC News.

Chump change, amirite? This 25,000 sq.-ft. mansion, which sits on a 1.09 hectare property, was purchased in December 2014 for $51 million. (Details of the sale were made public in March.) The deal included a movie theatre, grass tennis court, and 10-car garage, according to the CBC.

Talk about a sweet deal! This (very well-decorated) gingerbread house was advertised on Craigslist for $4.5 million in December. It's a one-bedroom home that's a single sq. ft. in size. The baking sheet upon which it stands was not included in the sale. The seller asked for "serious" inquires only.