Wireless Prices Poll Finds Only 8 Per Cent Of Canadians Think They Have A 'Good Deal'
If there's one thing that unites Canadians, it's a deep conviction that we're getting ripped off on wireless prices.
A new poll from Angus Reid shows that fewer than one in 10 Canadians say they are getting "a good deal" on their cellphone plan, while six in 10 say they're paying too much and more than half — 55 per cent — say more competition is needed.
But while a majority want want more competition in wireless, few are aware of a recent CRTC decision that many experts say makes this less likely, the poll found.
The results themselves suggest that more competition would make consumers happier with their services. It found the highest level of satisfaction with cellphone competition was in two provinces that have four, instead of three, major wireless carriers: Saskatchewan (where SaskTel is the fourth player) and Quebec (where Videotron offers wireless).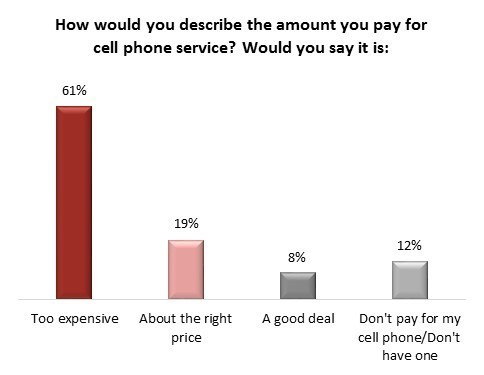 Sixty-one per cent of respondents in the Angus Reid poll say their wireless bills are too high, while 19 per cent say it's "about the right price," and only 8 per cent feel they have "a good deal." Chart: Angus Reid Institute)
As HuffPost has reported before, those provinces that have four major players have significantly lower wireless prices than provinces where there are only three major players.
For instance, when the big three wireless companies all raised prices earlier this year, blaming the falling loonie (an argument many analysts didn't buy), prices didn't go up in Manitoba, Saskatchewan or Quebec.
The poll found many Canadians — 61 per cent — are unaware of a CRTC decision that some experts say will make it more difficult to bring new competition to the market. The CRTC in February sided with the large telcos, and rejected a request from a group of small telcos to mandate access to the large telcos' networks.
The small telcos are or want to operate as "mobile virtual network operators" — essentially resellers of the large telcos' wireless bandwidth. In some other countries where MVNOs operate, they have had some effect in bringing down prices to consumers. Wind Mobile, recently bought by Shaw, is Canada's largest and best-known MVNO.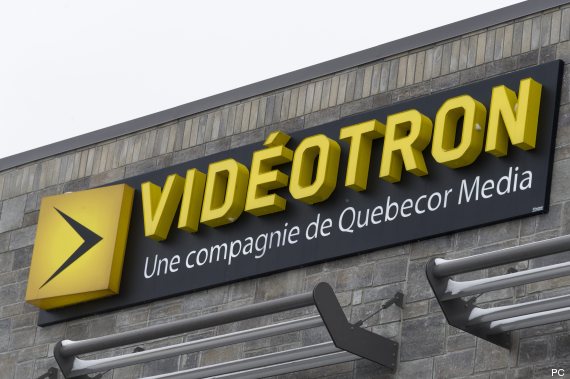 Videotron is one of four major wireless carriers in Quebec. (Photo: CP)
"Awareness of the decision drives opinion on it," Angus Reid said in its poll results. "Those who have been following the issue in the news mostly believe the CRTC made the wrong decision, while those who haven't been following are unsure."
If Canadians are convinced they aren't getting the best deal on wireless, it may have to do with all the stories out there asserting Canadian wireless prices are among the world's highest, and the packages offered by the wireless companies are pretty much all the same.
Sometimes they're almost identical, as a Reddit user showed recently with a comparison of wireless prices. With one exception, plans at Rogers' Fido brand and Telus' Koodo brand are identical.
Card
Also on HuffPost:
Canada's Unfair Wireless Prices (2014)
Ten gigabytes of data with unlimited Canada-wide calling and unlimited messaging will run you $75 in Manitoba.

Meanwhile in Ontario, that same 10 gigs of data and unlimited calling and texting will cost you $145 — nearly double the cost in Manitoba.

Telus offers a plan in Manitoba that is just about the same as the Rogers plan mentioned above, and also costs $75.

That same Telus plan with 10 gigs of data will cost you $145 in Ontario. This the same pricing scheme, and the same difference between provinces, as Rogers offers.

In Manitoba, $55 will get you unlimited nationwide minutes and one gig of data.

...But in Ontario, $55 will get you 150 nationwide minutes and only 200 MB of data.

Fido offers unlimited Canada-wide calling and 5 gigs of data for $55, even making a point of highlighting the deal is only available in Manitoba and Saskatchewan.

In Ontario, you can't get five gigs of data and unlimited calling with Fido, but for $20 more per month than the five-gig deal in Manitoba, you can get two gigs and unlimited calling.

Koodo offers five gigs of data and unlimited minutes for $55 in Manitoba.

In Ontario, two gigs of data with unlimited calling will cost you $74, which is $19 more per month than five gigs and unlimited calling costs in Manitoba.

Virgin charges $105 for unlimited calling and three gigs of data in Manitoba.

In Ontario, three gigs of data and unlimited calling will run $105. That's the same as in Manitoba. Congrats, Virgin, on keeping that regional rift to a minimum!