Canada's Post-Oil Economy: There's Vancouver And Toronto, And Not Much Else
With Canada's oil-exporting regions struggling through their second year of recession, it seems pretty much all the economic momentum has shifted to just two cities.
Last week we reported on how utterly two-sided Canada's job market has become, with only three provinces — Ontario, British Columbia and Quebec — adding jobs over the past year.
Most of those were created in just two provinces, Ontario and B.C., but BMO senior economist Robert Kavcic points out job growth is actually even more concentrated than that.
"Vancouver and Toronto have created 171,000 net new jobs in the past year (through Q1), while the rest of the country has lost 47,000," he wrote in the bank's latest labour market report card.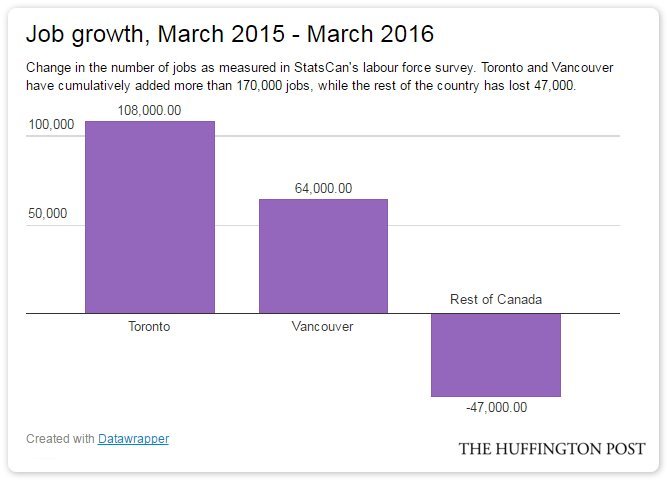 That's right. Jobs — and with them, wealth — are flocking to just two metropolitan areas. In fact, job growth in these two cities is ridiculously strong — up 5.5 per cent in Toronto and 4.4 per cent in Vancouver.
That is putting serious upward pressure on house prices in these cities, National Bank economist Stefane Marion wrote in a client note last month.
"The working age population is growing about 70 per cent faster than the national average in Vancouver and Toronto on the back of strong inflows of highly educated immigrants who can more easily integrate the job market," he wrote.
That may help to explain how it is that both of these cities saw record-high home sales in the first quarter of this year, despite the federal government's new mortgage rules intended to cool off excessive borrowing. (And in any case, evidence is building that those rules are by and large ineffective.)
At the same time, the number of homes going up for sale in these cities has dropped dramatically, further putting upward pressure on prices. (People don't flee cities that have booming job markets.)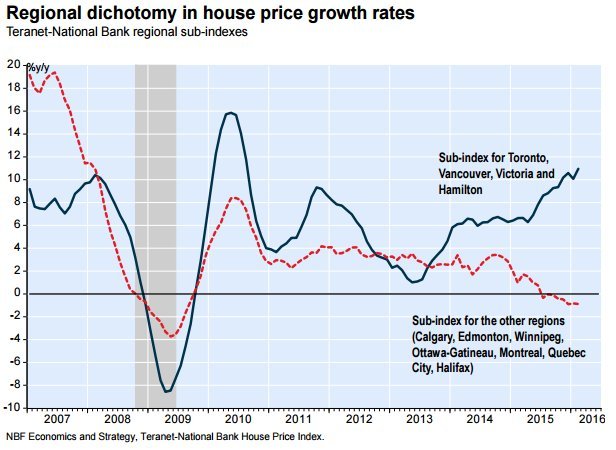 Home prices are on the rise in Toronto and Vancouver, while falling, overall, in the rest of the country -- a similar situation to the job market. (Chart: National Bank Financial)
The average selling price in Greater Toronto jumped 13.6 per cent from the first quarter of 2015 to the first quarter of 2016, to $613,815, while the benchmark price for a home in Greater Vancouver jumped 23.3 per cent, to $815,000, in the year to March.
Still some jobs outside GTA, Vancouver
That's not to say that no other parts of the country are creating jobs. But the job situation outside Toronto and Vancouver is all over the map. Kavcic's latest labour market report card shows Guelph, Ontario, retains the title of the best city in Canada for jobs, but another mid-sized Ontario city — Sudbury — is the worst city for jobs.
Simply put, you can find jobs in many places across Canada, but Toronto and Vancouver are the closest thing there is to a sure thing.
Here's BMO's labour market report card.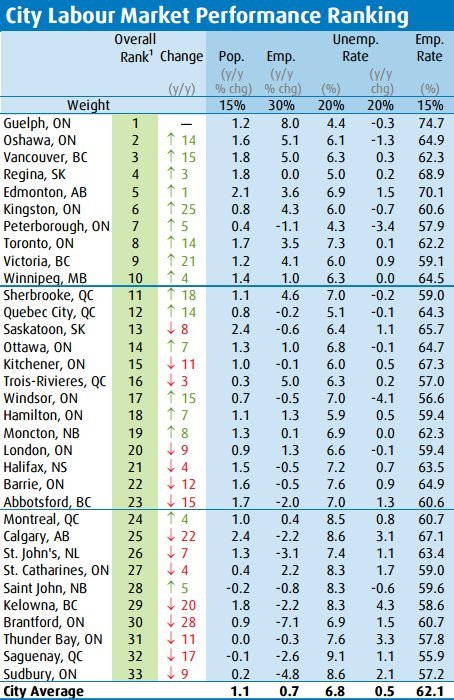 Also on HuffPost:
What $5 Million Will Buy You Across Canada
This five-bedroom, five-bath house in Montreal's ritiziest neighbourhood has a large (almost 19,000-square-foot) lot featuring an amazing rock formation that makes the back yard entirely unique. The realtor boasts of spectacular views of the city as well. Listing.

This house in Coyote Valley, northwest of Calgary, features five bedrooms and three full baths in more than 6,000 square feet of living space. The property features an exercise room, a rec room and a media area, as well as a four-car garage. Listing.

This two-bedroom, two-bath condo in Coal Harbour features a 221-square-foot patio on the lower level and a master-bedroom balcony on the upper level. Which is helpful, because the views are not to be missed. Listing.

This four-bedroom, four-bath property sits in one of Canada's ritziest urban neighbourhoods and features a "smart home" automation system and an elevator. And the view from bedroom windows is of trees, which is sort of incredible for downtown Toronto. Listing.

This 9,200-square-foot house in the Greater Toronto suburb of Oakville was built around 1888, and features seven bedrooms and nine baths, and no fewer than six fireplaces. The realtor says the home was recently entirely renovated. Listing.

This 20-acre private island in swanky Lake of Bays, some 200 km north of Toronto, features five separate summer cottages and a three-bedroom boathouse, with parking for five boats. Great place for an extended family -- a rich extended family. Listing.

The realtor's boast that this is "one of the most beautiful waterfront settings on the Continental Eastern Seaboard" was a little difficult for us to verify, but it sounds good. Five bedrooms and seven baths in this 12,000-square-foot house that also features a library, a gym and a "hidden wine cellar." Listing.