Tanker Traffic Jams Happen Because We're Drowning In Oil
A huge traffic jam is wreaking havoc across the world — and it's not happening on any major highway.
Sea routes used for shipping oil are clogged with more than 100 tankers that are just sitting and waiting to deliver about 200 million barrels of crude, Reuters reported.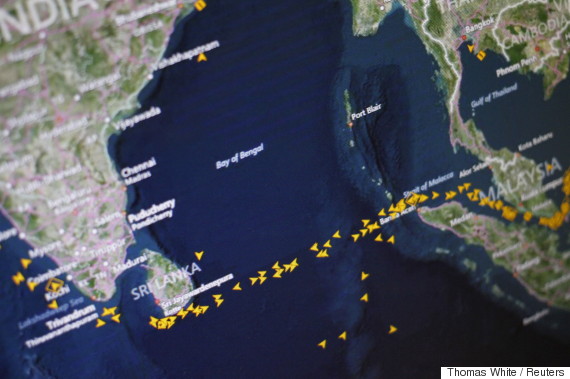 Supertankers are seen travelling between India and Southeast Asia in this illustration photo of an Eikon ship-tracking screen Apr. 7, 2016. (Photo: Thomas White/Reuters)
If the congested tankers were lined up bow to stern, the lineup would be about 40 kilometres long.
To put that in context, that's about the distance from Toronto to Pickering. Or Calgary to Okotoks. Or from Vancouver to Maple Ridge.
The reason for the jam is that the world simply has too much oil.
Increased production has led to a dramatic fall in oil prices, but it has also brought more demand from refineries based in China — and Asian ports can't keep up with traffic.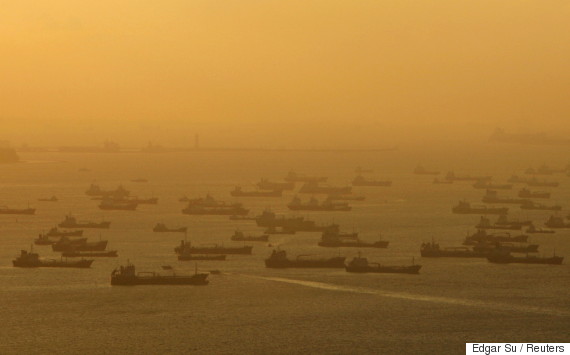 Shipping vessels and oil tankers line up on the eastern coast of Singapore in this July 22, 2015 file photo. (Photo: Edgar Su/Reuters)
One tanker has been anchored off of Qingbao, China for over three weeks. Workers stranded aboard have been passing the time by watching movies and playing music.
Sky-high cost
The jam is costing as much as $6.25 million per day based on ship hire rates, Reuters reported.
Matt Smith, director of commodity research at oil tracker ClipperData, told CNN that he first noticed tanker traffic jamming up near Singapore in October.
He said it was a strange scene because Asia handles up to one-third of international oil demand.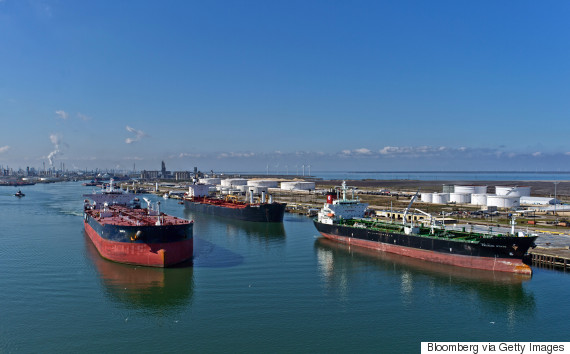 The tanker Maria, left, sails out of the Port of Corpus Christi after discharging crude oil at the Citgo refinery in Corpus Christi, Texas on Jan. 7, 2016. (Photo: Eddie Seal/Bloomberg via Getty Images)
Smith later noticed similar jams in China and the Arabian Gulf.
"There just appears to be more oil than can be dealt with," he told CNN. "They haven't got anywhere to put it."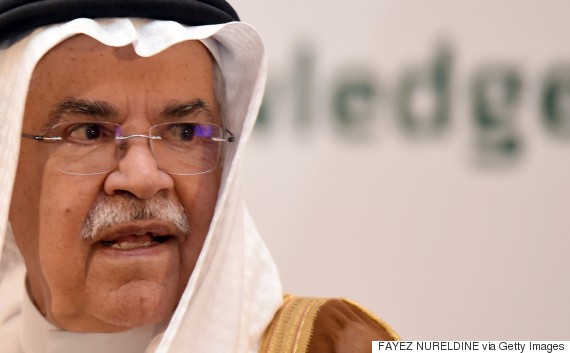 Saudi Minister of Oil and Mineral Resources Ali al-Naimi. (Photo: Fayez Nureldine/Getty Images)
Oil prices dropped once again on Wednesday after Saudi Oil Minister Ali al-Naimi ruled out the possibility of a production cut, Agence France-Presse reported.
His remarks came before OPEC and non-OPEC oil producers are set to meet in Doha, Qatar on Sunday to talk about capping production at levels seen in January.
Also on HuffPost:
Unexpected Consequences Of Falling Oil Prices
More people are dying in road accidents, as falling oil costs translate into cheaper prices at the pump - increasing the number of journeys. "A $2 drop in gasoline price can translate into about 9,000 road fatalities a year in the US," sociology professor Guangqing Chi said last month. Chi told The Huffington Post that it typically takes almost a year for drivers to adopt new driving habits in response to changes in gas prices. Last year, US road deaths rose by 9.3% in the first six months of 2015. In the UK, while road deaths have fallen almost every year since 2004, provisional data suggests that fatalities increased in 2015 by 3%, alongside a 2.2% increase in traffic. Research has yet to reveal a link between these in the UK.

Pirates are unlikely victims of the global reduction in oil prices. Piracy in West Africa's Gulf of Guinea is now at its lowest level since 2002. Speaking to Bloomberg, Florentina Adenike Ukonga, executive secretary of the Gulf of Guinea Commission, said: "With oil at a low bottom price of below $30 per barrel, piracy is no longer such a profitable business as it was when prices hit $106 a barrel a few years ago." Attacks on oil transported declined by around a third last year, according to a report. Dyrad Maritime found sea crime figures for 2015 "painted a picture of optimism" - although the threat to vessels not carrying oil remains high.

Falling oil prices have translated into rock-bottom "bunker" fuel costs for shipping firms - reducing their incentive to take economical shortcuts. Rather than use routes via the Suez Canal, huge container ships are returning to ports in Asia via the "long way around" the southern cape of Africa. As prices tumble, burning more fuel is cheaper than paying passage rates through the waterway. For one-way passage, an oil transporter can pay as much as $325,000 (2008) to travel through the Suez canal. "For many services it is cheaper to sail south of Africa on the [return journey] than to use the canal routings," SeaIntel, a shipping monitor, said.

Thousands of oil workers have been sacked as a result of dwindling oil prices. In the UK alone, 70,000 oil-related jobs are feared to have been lost since the price war began 12 months ago. Last month, oil giant BP shed 3,000 jobs on top of previously announced redundancies. An estimated 250,000 jobs have been lost across the oil industry as a whole worldwide.

The plunging oil price has added to turmoil on stock markets the world over, affecting many of the world's biggest pension funds. According to Reuters, shares fell sharply this week as oil prices dropped after Saudi Arabia effectively ruled out reducing the output of oil by its producers. Oil prices, lowered by increased production, are one of a number of factors worrying investors. The FTSE 100 index of Britain's biggest traded companies was down 15.38% on a year ago as of Wednesday. The index holds millions of Brit's pension pots. "The markets are really worried that we are missing something here, that the global slowdown may be more significant than we are recognizing and that slowdown could be causing oil prices to drop, and commodities prices in general," Tracie McMillion of Wells Fargo Private Bank told Reuters.

Perhaps the most surprising effect of diving oil prices has been that demand hasn't risen significantly. Despite costs plunging, European economies remain weak, China is decelerating and growing energy efficiencies mean vehicles need less fuel. So the overall effect has been a flatlining of demand, rather than an increase, according to PwC (PDF).

And despite all of this, airfares for passengers flying in and out of Britain jumped 46% from November to December 2015, the Office of National Statistics found. The increase in fares was the highest since 2002. The "highly variable" changes were a result of increased consumer demand for air travel, the ONS said. In America, air passengers were more likely to benefit from tumbling costs - airfares there were lower throughout most of last year.