RCMP Obtained Decryption Key To Hack BlackBerry Communications: Report
UPDATE 4/18/2016: BlackBerry CEO John Chen is defending his company's involvement in an RCMP probe that cracked the encryption on BlackBerry PIN-to-PIN messages.
"We have long been clear in our stance that tech companies as good corporate citizens should comply with reasonable lawful access requests," Chen said in a blog post published Monday.
Chen said the police investigation "resulted in a major criminal organization being dismantled," and added that at no point was BlackBerry's enterprise server [BES] for business clients compromised.
"Our BES continues to be impenetrable – also without the ability for backdoor access – and is the most secure mobile platform for managing all mobile devices."
Original story follows below.
Just days after BlackBerry's CEO stressed the company's network has no back doors for law enforcement, a news report alleges the RCMP obtained the ability to decrypt communications on BlackBerry devices.
Vice reports that the RCMP was able to crack PIN-to-PIN messages related to Operation Clemenza, a large-scale probe into organized crime in Quebec. The investigation launched in 2010 and resulted in dozens of arrests in 2014.
The RCMP isn't keeping it a secret that it used BlackBerry communications to crack the case. It states on its website that its use of these messages marked "the first time that this technique was used on such a large scale in a major investigation" in North America.
"Over one million private messages were intercepted and analyzed as evidence using the PIN to PIN interception technique," the RCMP said.
But according to Vice, court documents show the RCMP had access to a BlackBerry decryption key — a piece of code that would allow any communications between two BlackBerry devices to be hacked and read.
It's unclear if BlackBerry handed the key to the RCMP, but it is known that BlackBerry, along with Rogers Wireless, was under a court order to help police in the investigation.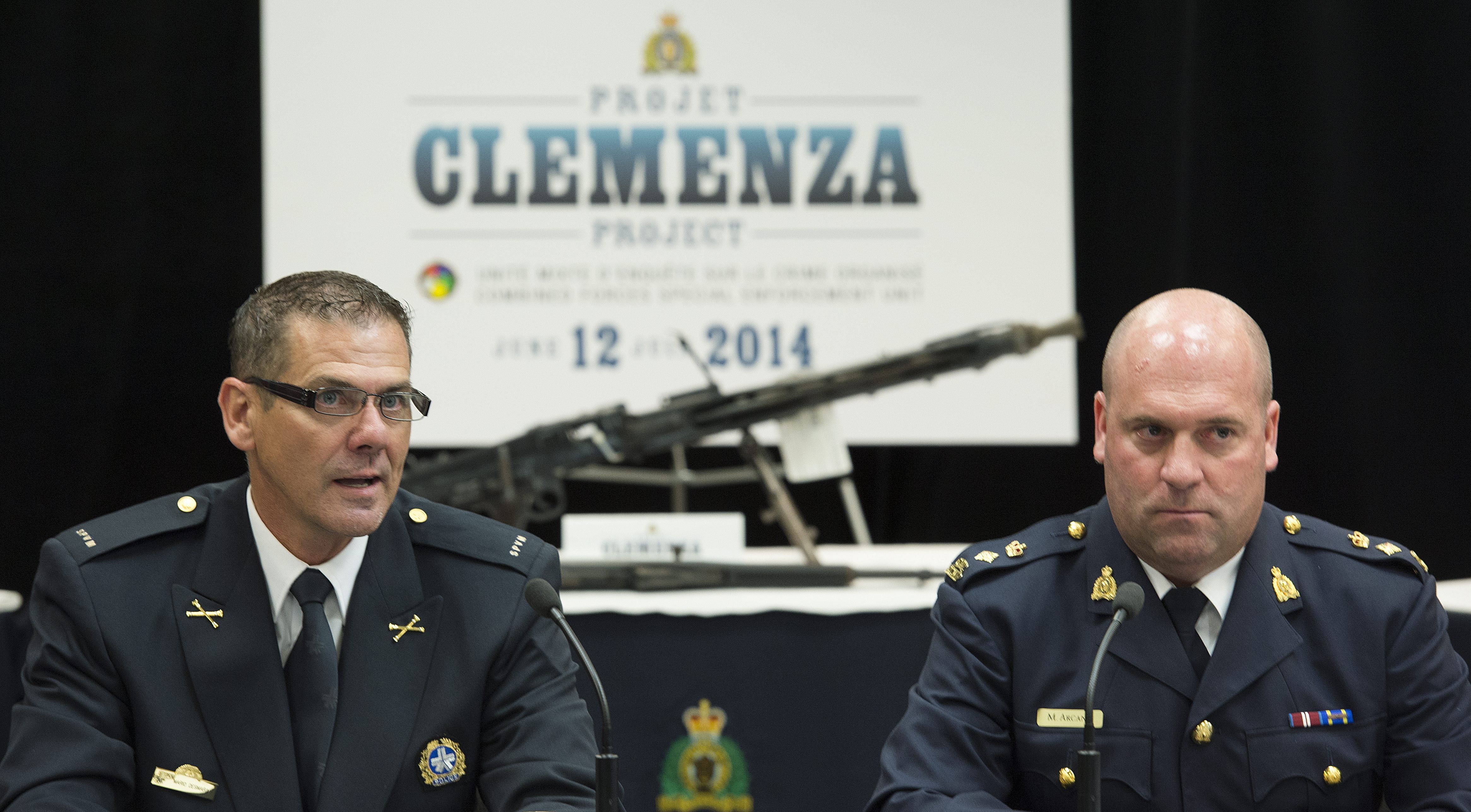 Mario Desmarais, left, with the Montreal Police Department and Michel Arcand with the RCMP speak to reporters during a news conference at RCMP headquarters in Montreal in June 12014, where they answered questions about Project Clemenza. (Photo: Canadian Press)
Communications on BlackBerrys, as on many other devices, are encrypted. Police can collect metadata on those communications (when, where, who) — but without the ability to decrypt it, the content would be meaningless gibberish.
The decryption key reportedly affected communications between individual BlackBerry messaging users but not communications on the company's enterprise servers for business communications.
It "would mean that police enjoyed years of access to Canadians' personal cellphones without the public being any the wiser," Vice reports.
"Our privacy commitment does not extend to criminals."— BlackBerry CEO John Chen
BlackBerry CEO John Chen played up the company's privacy features in a TV interview last week, saying the company's servers are secure and there are no "back doors" that would allow someone to tap into the encrypted network.
But Chen has taken a more co-operative approach to working with police than some other companies. He has criticized Apple for its refusal to decrypt iPhones at the request of the FBI, saying, "We are indeed in a dark place when companies put their reputations above the greater good."
Privacy and security "form the crux of everything we do," Chen wrote in a blog post last December. "However, our privacy commitment does not extend to criminals."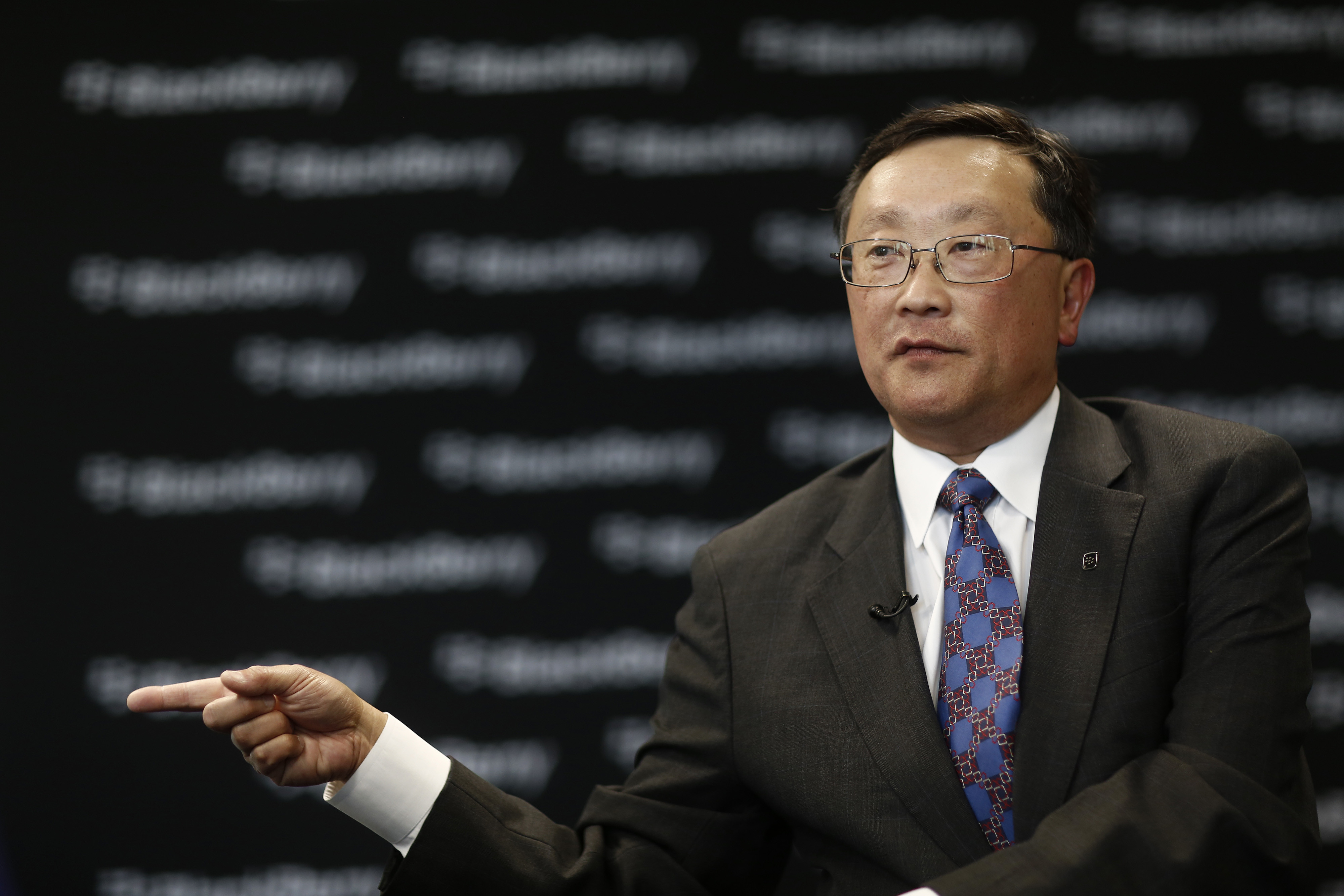 Blackberry CEO John Chen reacts during a Bloomberg Television interview at the Mobile World Congress in Barcelona in 2014. (Photo: Getty Images)
Many observers in the tech world say BlackBerry has lost its advantage as a brand for secure communications — perhaps because its encrypted BlackBerry Messenger service was too good at keeping exchanges secret.
Governments around the world in recent years threatened to ban BlackBerry if it didn't give them access to its encrypted communications.
In the past several years, BlackBerry has given the Indian government access to communications on its networks, and has even built a server in Saudi Arabia so the local government can access Saudi users' communications.
However, BlackBerry did not fulfill a request by the Pakistani government for unfettered access to the company's enterprise servers for business. After BlackBerry threatened to leave the Pakistani market altogether, the government backed down from its demands.
Also on HuffPost:
The RIM Inter@ctive Pager 950 was one of the first true BlackBerry devices. Released in 1998 it looks more like a large pager - because that's exactly what it was. But it could also handle messages up to 16,000 characters, and came with an Intel 386 processor - which was pretty good at the time. Oh, and it ran for almost a month on a single AA battery. Take that, iPhone. It cost $350 at launch.

The RIM 957 Wireless Handheld was introduced in April 2000, and was described as a "breakthrough palm sized wireless handheld". It gave users access to the Internet, email, pager and organiser functions, with a 32 bit Intel 386 processor and 5MB of flash memory. It was the first device to offer 'always on" performance, and sold for about $500.

The first true 'BlackBerry' was the 5810 - and it was also the first to include Voice Calls. That's right - the earlier devices weren't even phones, making this the first truly integrated phone-organiser-email-thingy. It was expensive - $749 - but could do just about most of the same things a basic smartphone can do today.

One of the most famous - even iconic - BlackBerry devices ever was the classic blue Blackberry 7230, which came with a 65k colour screen instead of the old monochrome versi0on, as well as 16MB of storage and a battery with up to 240 hours of stand-by. It sold for about $400 at the time, and featured a full QWERTY keyboard.

The BlackBerry 7100 series featured the company's first models without a full keyboard, instead opting for the T9 'SureType' system familiar from other mobiles. The phones were popular with the mass-market as they looked and were sized similar to normal phones,. They were marketed to consumers for about $200.

The BlackBerry 8700 was the first of its handhelds to use high-speed internet via EDGE. It offered much faster browsing and came with a QVGA 320 by 240-pixels screen, as well as Bluetooth support and 64mb of Flash memory.

The Pearl was at the time the smallest BlackBerry ever released. It weighed just over 3 pounds and cost just $200 with a two-year contract. It was the first BlackBerry to come with a camera and a microSD slot.

The BlackBerry Curve 8300 came with a camera, a 3.5 headphone jack and a full QWERTY keyboard. It was pretty cheap - $200 on contract - but looked more like a high-end professional device.

The BlackBerry Bold is in some ways the ultimate BlackBerry - sleek, dark, with a full QWERTY keyboard and support for 3G networks, 1GB of memory and a higher-resolution display, it pretty much opitimises what the BlackBerry was all about.

The Storm was BlackBerry's first phone without a keyboard, and it launched to mixed reviews. It was clear that RIM's software wasn't able to keep up with the current crop of devices, and that BlackBerry needed a relaunch. That wouldn't happen until 2013.

The BlackBerry torch was pitched as the first "elite" consumer offering from RIM. It's slider form factor, full keyboard and touchscreen placed it as the mid point between and iPhone and an old school Blackberry, but for reviewers it wasn't able to do either job well and it failed to gain much attention.

Launched in the first quarter of 2013, the Z10 was the first smartphone to run on Blackberry 10, a QNX based OS. The interface was optimised for gestures and touch, and featured an Android layer, which allowed users to install Android apps. Specs wise, the Z10 featured a 1.5 GHz dual core processor and a 4.2-inch screen, a micro HDMI port for presentations and NFC for mobile payments.

The Z30 was their flagship phone of 2013, the OS was updated to 10.2, the Z30 integrated a faster processor and a 5-inch Super AMOLED display, along with a 2880 mAh battery. Reviewers praised the hardware and design, but complained about the steep learning curve of the user interface.

BlackBerry Passport has a 4.5-inch screen in an unconventional 1:1 aspect ratio. It incorporates a 13 megapixel camera, a physical QWERTY keyboard that can be used like a trackpad, and a 3450 mAh battery, the largest on a BlackBerry yet.

The new BlackBerry Priv runs on the Android system.