The Perfect Sorry: Researchers Identify 6 Ingredients For Most Effective Apology
Have you accidentally set fire to your neighbour's shed? Drove over her kid's skateboard while running late to work? Set fire to your neighbour's shed on purpose?
If you have — really, who hasn't? — then you'll need to dig out the Canadian's weapon of choice in these all circumstances: the apology. And lucky for you, a new study has identified six elements required to craft an effective sorry.
They are:

1. Expression of regret

2. Explanation of what went wrong

3. Acknowledgment of responsibility

4. Declaration of repentance

5. Offer of repair

6. Request for forgiveness
The study, led by Roy Lewicki of Ohio State University, tested the effects of apologies containing anywhere from one to all six of the elements among 755 people.
The participants were given a scenario where they are the manager of an accounting department looking to hire someone. That someone has messed up in a previous job. The participants then received different apologies he/she gave for that mistake and graded them.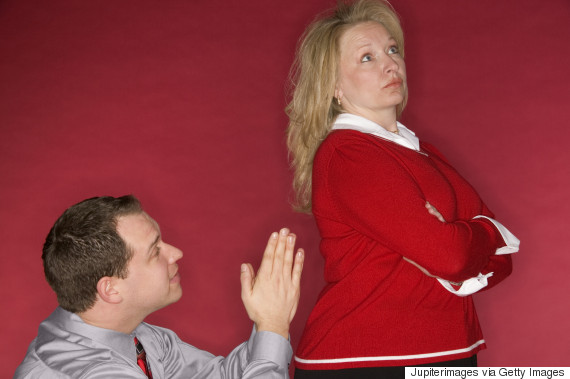 This apology has all of the six elements. That's a perfect apology right there. You can take this one to the apology bank. (Photo: Getty Images)
Researchers found the most effective ingredient in an apology was taking responsibility for the mistake. The second most helpful component was an offer to fix the problem.
"Our findings showed that the most important component is an acknowledgement of responsibility. Say it is your fault, that you made a mistake," Lewicki said.
"One concern about apologies is that talk is cheap. But by saying, 'I'll fix what is wrong,' you're committing to take action to undo the damage."
The study found the least helpful element was asking to be forgiven. "That's the one you can leave out if you have to," said Lewicki.
One caveat is that these apologies were statements participants read, so tone of voice will make a difference.
"Clearly, things like eye contact and appropriate expression of sincerity are important when you give a face-to-face apology," Lewicki said.
Also On HuffPost:
Coolest Science Photos Of The Decade
A baby weasel took the ride of a lifetime on the back of a green woodpecker in Hornchurch Country Park in East London. Photographer Martin Le-May just happened to be lucky enough to capture the moment on March 2, 2015.

Astronomers using NASA's Hubble Space Telescope assembled a comprehensive picture of the evolving universe -- among the most colorful deep space images ever captured by the 25-year-old telescope. The image was released on June 3, 2014.

NASA astronaut Mike Hopkins snapped a selfie while completing a spacewalk outside of the Earth-orbiting International Space Station on Dec. 24, 2013.

A rare Mascarene petrel with an egg-shaped bulge in its middle. Photographed in 2012 by researchers near Reunion, an island off the coast of Madagascar, it was said to be the first to show a bird flying with a visible "baby bump."

In 2011, a female Celebes crested macaque (Macaca nigra) in North Sulawesi, Indonesia, decided to pick up British wildlife photographer David Slater's camera and take a selfie.

A stunning scanning electron micrograph of a human T lymphocyte (also called a T cell) from the immune system of a healthy donor, taken on May 24, 2010.

An electron microscope photograph shows self-assembling hair-like polymers around a polystyrene sphere, about two micrometers in diameter. It won first place in the National Science Foundation's 2009 International Science & Engineering Visualization Challenge.

Hurricane Ike covers more than half of Cuba. It was taken by the Expedition 17 crew aboard the International Space Station from a vantage point of 220 miles above Earth, on September 9, 2008.

A close-up look at a double transgenic mouse embryo, just 18.5 days old. The photo won first place in Nikon's 2007 Small World Photomicrography Competition.

A photo of the International Space Station (ISS) and Space Shuttle Atlantis flying between Earth and the sun. The photo was taken from Normandie, France on Sept. 17, 2006.

A portrait of a Muscoid fly (house fly) that won first place in Nikon's 2005 Small World Photomicrography Competition.