Julianne Moore's Kids Are All Grown Up!
Julianne Moore's family has us seeing double! Last week, the 55-year-old actress made a rare red carpet appearance with her husband, director Bart Freundlich, and their two kids: 18-year-old Caleb and 14-year-old Liv.
The entire family attended the Tribeca Film Festival in support of Freundlich's latest film, "Wolves." Not only did they stun on the red carpet, but they made us do a double take! Both Caleb and Liv are the exact mini-mes of their parents.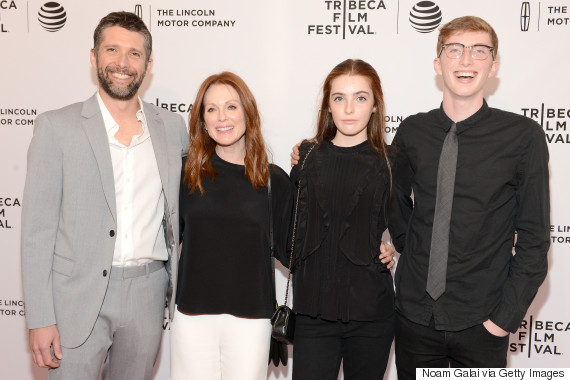 We've always known that Liv was the spitting image of her mother. After all, she inherited Moore's signature auburn locks and high cheekbones. But now that the teen is getting older, we can see how much she's really taking after her famous mom.
For reference, here's what Liv looked like three years ago when she was 11. Stunning!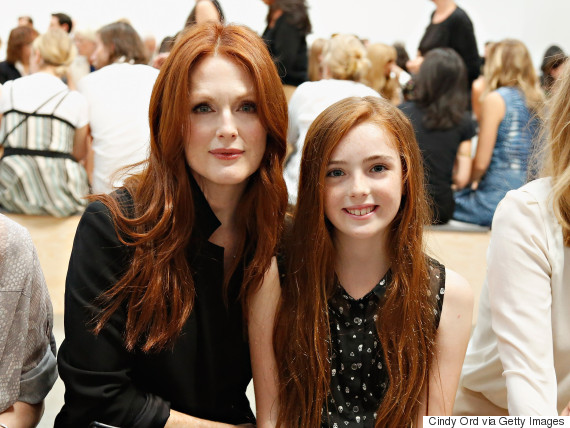 As for Caleb, he's grown up to look just like his dad. Everything from his tall stance to his smile is reflective of Freundlich. This is a pleasant surprise, since just last year the 18-year-old looked a lot like Moore's other mini-me.
Take a look for yourself. Here is Moore, Freundlich and their kids at a New York City event in 2015: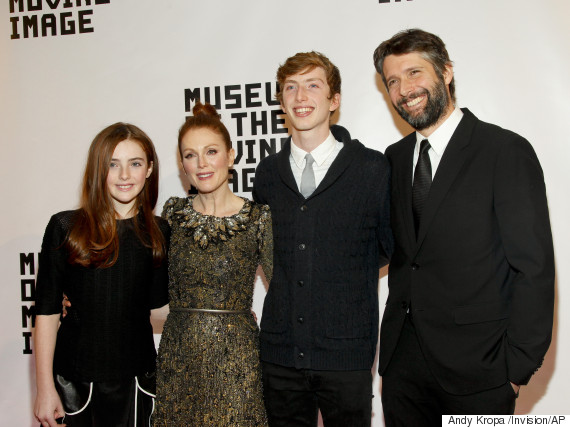 Last year, Moore opened up about what it's like parenting teens. "It's hard, as you know, to get teenagers to do anything with you," she told Town & Country.
Moore also revealed that while her daughter Liv might look just like her, they are actually quite different.
"She's just her own person," the actress explained. "What's amazing is how quickly that happens. My mother said, about me and my sister and brother, 'You are who you are. You aren't any different from the day you were born.' I remembered that distinctly when my kids were born, because they came with very specific temperaments."
Can't get enough of celebrity mini-mes? Flip through the slideshow below to see more!
Celebrity Parents With Little Mini-Mes
Cindy Crawford's 13-year-old daughter Kaia looks just like her! The successful model is also a mother to a son named Presley, who is 15.

Funnyman Adam Sandler has two adorable daughters, Sadie, 8, and Sunny, 6, that look just like him! Pictured here is Sadie at age one looking as cute as ever!

With such similar hair and facial features, there's no doubt Goldie Hawn and Kate Hudson could pull off being twins! Now all grown up, Kate not only shares her mom's genetics, but her Hollywood passion as well. Kate is also now a mom to two kids: Ryder Robinson, 10, and Bingham Bellamy, 3.

While Angelina Jolie is absolutely stunning, her first biological child Shiloh looks more like Brad Pitt than her! Together Jolie and Pitt have three biological children: Shiloh, 7, and twins Vivienne and Knox, 5. Their other kids -- Maddox, 12, Pax, 10, and Zahara, 9 -- are all adopted.

Halle Berry had her daughter Nahla during her relationship with Canadian model Gabriel Aubrey. Now at 6 years old, Nahla is the spitting image of her mom. Berry also has a son named Maceo, who she had with current husband Olivier Martinez. Maceo was born in October 2013.

Maxwell is only 2 years old, but she's already starting to take after her mother Jessica Simpson. Simpson also has a son, Ace, who she gave birth to in June 2013. The 33-year-old singer had both her kids with husband and former football player Eric Johnson.

Despite their contrasting hair colours, Lourdes Leon certainly looks a lot like her mother Madonna. Lourdes, 18, is Madonna's eldest child. The pop star is also a mom to three other kids: Rocco, 14, David, 8, and Mercy, 9, who is adopted.

Reese Witherspoon's daughter Ava has always looked like her. But now that she's grown up now at 15 years old, she looks even more like the actress than she did before! Witherspoon had Ava and her 11-year-old brother Deacon during her marriage to fellow actor Ryan Phillippe. Witherspoon is now currently married to Jim Toth, who she has a 2 year old son with.

No doubt Will Smith has passed on his good looks to his son Jaden. The 15-year-old started following in his father's footsteps at a young age, gaining leading roles in films like The Karate Kid and After Earth. His sister, 13-year-old Willow, is also quite famous and is known for her music.

Tina Fey has two daughters, Alice and Penelope, who both take after her. Alice (pictured here) is 9 years old and Penelope is 3. Fey had both her kids with husband Jeff Richmond.

Brooklyn is the oldest child of the Beckham's and resembles his father, David, the most. Brooklyn is 15 years old and has already started a modelling a career. David's other kids include Romeo, 11, Cruz, 9, and Harper, 2.

Jennifer Garner has some pretty cute kids, but her youngest daughter Seraphina takes the cake as her mini-me! Seraphina is 5 years old, while her older sister is 9. The two girls also have a brother named Samuel, who is only 2 years old. Garner had all her kids with husband Ben Affleck.

Uma Thurman is a mother of three, but her eldest daughter Maya looks the most like her. Maya is 16 years old and her brother Levon is 12. Thurman had both kids during her marriage to Ethan Hawke. Most recently, Thurman welcomed her third child Luna in 2012 with Frenchman Arpad Busson.

Suri is Katie Holmes's only child and the similarities between them are remarkable! Holmes had her daughter, who is now 8, during her brief marriage to Tom Cruise in 2006. The couple was together for 6 years before they split in 2012.

You can probably already guess that these are Meryl Streep's daughters – Mamie, Grace, and Louisa. All three have many of them same recognizable features as the Academy-award winning actress, most notably her nose! In total, Streep has four kids: three daughters and a son named Henry.

Supermodel Heidi Klum has four kids, but her eldest, Leni, takes after her the most. Klum had Leni during her brief relationship with Flavio Briatore. Klum then went on to have three more kids – Henry, Johan, and Lou – with ex-husband Seal.

You can't deny that Orlando Bloom and his son Flynn make the cutest father-son duo! Flynn is now 3 year old and looks just like his daddy! Bloom and his wife Miranda Kerr had Flynn in during the first year of their marriage.

With her husband Joel Madden, Nicole Richie has two kids: Harlow, 6, and Sparrow, 5. Funnily, both take after their mother.

Even though Jennifer Lopez has twins, her daughter is the spitting image of her, compared to her son. Emme and Maximilian are 6 years old now. Lopez had her kids with ex-husband Marc Anthony.

Julianne Moore's daughter is definitely her mini-me! Liv, who is 12 years old, shares her mother's signature red locks and will no doubt grow up to be just as beautiful as her. Liv is Moore's youngest child. She also has a 17-year-old son named Caleb.

Hollywood director Clint Eastwood has a total of 7 children! His second son, 27-year-old Scott, looks the most like him. Scott is currently an actor and model. His siblings include: Francesca, Kyle, Alison, Morgan, Kathryn, and Kimber.