Canadian Dollar Will Still Fall To 59 Cents U.S. But Just Later, Forecaster Says
As the loonie hit its highest level since last summer on Wednesday, the currency analyst who predicted it would hit 59 cents U.S. in 2016 says it will still happen — just not this year.
David Doyle of Macquarie Group — whom Bloomberg Business calls the top forecaster of the Canadian dollar — is pushing back his call for when he sees the loonie dropping to an all-time low.
The loonie is flirting with the 80-cent U.S. mark, closing at 79.05 cents on Wednesday, the highest level since July 2015. It was boosted by a rally in oil prices.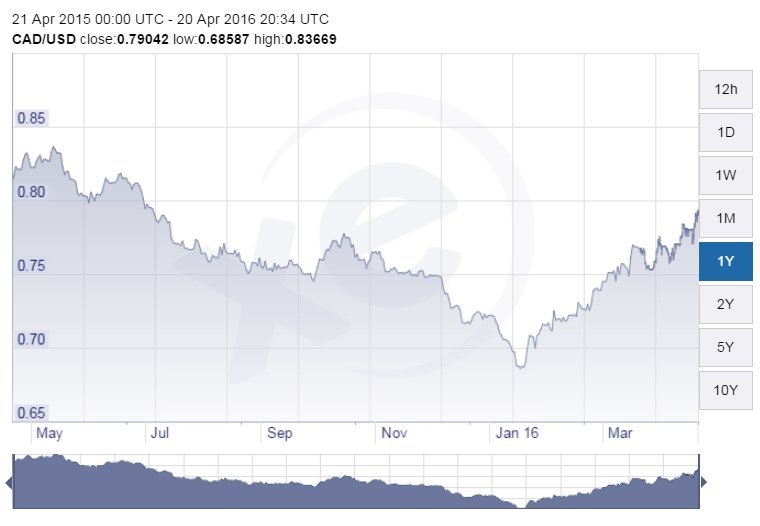 The Canadian dollar has gained back all of its losses for this year, and was around nine-month highs above 79 cents U.S. this week, but analyst David Doyle still sees a 59-cent dollar in the years ahead. (Chart: Xe.com)
"We have published a couple of reports where we pushed out the timeline for when we think we will get to US$0.59," Doyle said, as quoted at the Financial Post. "It's no longer likely in the next couple of years."
'The worst of both worlds'
Doyle now sees the loonie hitting that low point somewhere within the next five years, but he sees the currency ending this year around 72 cents U.S. — about seven cents lower than where it was trading on Wednesday. And he doesn't think that a higher dollar is particularly good for Canada.
"The challenge that the economy faces right now is it's in a state that we've described as being potentially the 'worst of both worlds' scenario," he told Bloomberg last week.
That's because oil prices have risen from around US$30 a barrel to around US$40 a barrel, causing the loonie to rise. That harms Canadian exporters, but at the same the higher oil price isn't high enough to boost spending in Canada's oil patch, he said.
"So where's the growth going to come from?" he asked.
Doyle's point echoed one made by CIBC senior economist Benjamin Tal last week, when he argued that a $30 barrel of oil is better for Canada than a $40 one, because the lower loonie that comes with a $30 barrel is better for exporters.
Also on HuffPost:
FUN FACT: Australia was the first country in the world to have a complete set of banknotes made from plastic, which helps protect from counterfeiting and general wear.

FUN FACT: Egyptian notes are different shapes and sizes based on the denomination and include watermarks and metallic threads for enhanced security. Clarification: An original version of this slide said that Egypt had no specified currency until 1834. In fact, in 1834 the Egyptian Pound became the currency of Egypt, replacing the piastre.

FUN FACT: The colorful, floral notes of French Polynesia feature depictions of the land and the native people.

FUN FACT: The Maldives, made up of over 1,100 islands in the Indian Ocean, exchange colorful rufiyaa as currency. Each banknote depicts a bunch of coconuts and the traditional Dhivehi Odi, a type of boat used for inter-island transport.

FUN FACT: Each brightly-hued Swiss Franc includes two stunning portraits of various cultural icons. Security features include a "tilt effect" which allows the note's denomination to only be seen at an unusual angle.

FUN FACT: Hong Kong's currency includes colorful paper and polymer notes. The notes include eight security features, most of which are visible to the naked eye.

FUN FACT: South African banknotes feature the "big five" animals of the country, which include the lion and elephant.

FUN FACT: The lempira note from Honduras is named after a 16th century ruler that led the resistance against Spanish conquistadors.

FUN FACT: New Zealand has also adopted the use of polymer notes and recently redesigned all of its notes to reflect distinct cultural aspects of the country. The $10 note (pictured) includes an image of the endangered blue duck.

FUN FACT: Canada is the latest country to begin issuing polymer notes. Unfortunately, according to the Toronto Star, the bills shrink under extreme heat.