On Electoral Reform, Liberals Working In Their Own Interest, Opposition MPs Say
OTTAWA — Prime Minister Justin Trudeau is fixing the rules to ensure only a new electoral system that benefits the Liberal party will be chosen, opposition MPs say.

On Tuesday, Trudeau suggested he will not hold a referendum on changing the voting method because he believes Canadians would likely choose the status quo.

"Many of the people...who propose that absolutely we need a referendum, well, they know that the fact is that referendum are a pretty good way of not getting any electoral reform," he told students at University of Ottawa.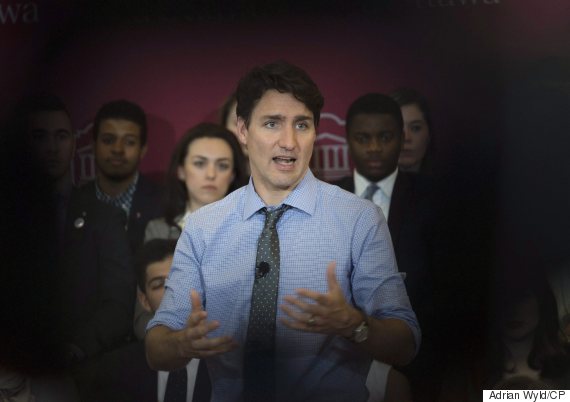 Prime Minister Justin Trudeau speaks at an event at a university in Ottawa, Tuesday, April 19, 2016. (Photo: Adrian Wyld/CP)
The prime minister said his party had put forward "a very clear platform" pledging that the Oct. 19 election would be the last under the current first-past-the-post system and Canadians responded "positively and massively" to it and to other parties who wanted change.
"So I think we can see that there is a fairly clear desire out there to improve our electoral system."
The current system worked "pretty good for me this time," Trudeau told the students, and it could be tempting to claim it is too complicated to change it now, but, he told them it remains "a priority to me."

"Quite frankly, political parties shouldn't be able to appeal to narrow constituencies and suddenly wield enough power to run the entire country," he said.


Canadians should have an electoral system that values their voices, that creates good governments, that ensures people feel involved in the political process, and that they don't have to make "impossible choices" between options they don't like, he said.

The Conservatives say the Liberals have a mandate to propose change but not one to dictate it. They fear the Grits will propose a system that naturally gives them the biggest partisan advantage, democratic institutions critic Scott Reid said.

"This is a blatantly, nakedly opportunistic attempt to change the rules in a way that will help them to win election 2019 or do better at it by systematically disenfranchising certain Canadians," he told The Huffington Post Canada.

"The Canadian people must get the last word on this," he added.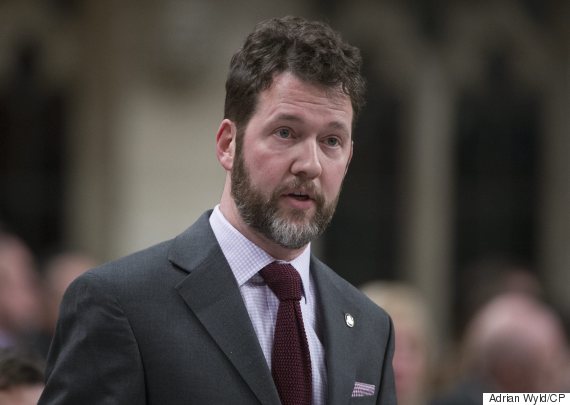 Conservative MP Scott Reid rises in the House of Commons Thursday February 18, 2016 in Ottawa. (Photo: Adrian Wyld/CP)
"A government which says that first-past-the-post produces artificial mandates can hardly argue that 39 per cent in an election is a mandate for electoral reform."
The Liberals won 39.5 per cent of the popular vote last fall.
For the past several months, the Conservatives have argued Trudeau should put any new electoral system to Canadians in a referendum.
In 2005, a majority of British Columbians, 57.7 per cent, voted in favour of adopting a new system suggested by the B.C. Citizens' Assembly on Electoral Reform. But the measure failed because the referendum required 60 per cent approval.
Those results mirror other referendums held in Ontario in 2007 and Prince Edward Island in 2005 where two thirds of voters rejected the proposed mixed-member proportional systems.
"A government which says that first-past-the-post produces artificial mandates can hardly argue that 39 per cent in an election is a mandate for electoral reform."
— Scott Reid
Nathan Cullen, the NDP's democratic reform critic, told HuffPost he believes Trudeau is showing a "worrying lack of faith" in Canadians by refusing to put a proposed new voting system to the public.
But, Cullen said, his personal opinion is the government should adopt a new system and then take it out for a "test drive." Give the new selection process at least two election cycles, and then ask Canadians in a referendum whether they like the new method or would prefer going back to first-past-the-post.
"That way people would be voting with a clear knowledge of what it means," he said.
At the moment, though, Cullen said he is primarily concerned that the Liberals are stacking the deck in their favour and inexplicably delaying the process.
During the campaign, the Liberals pledged to "make every vote count." They promised to convene an all-party parliamentary committee to review various reform options, such as ranked ballots, proportional representation, mandatory voting and online voting, and to table legislation within 18 months of forming government.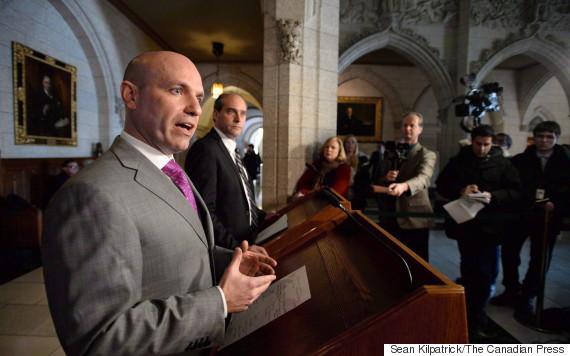 Nathan Cullen speaks to reporters in the foyer of the House of Commons. (Photo: Sean Kilpatrick/CP)
More than five months into their mandate, the clock is ticking, and no committee has been formed. The Liberals rejected Cullen's proposal that they give up their majority on the committee and that seats be allocated in proportion to each party's share of the popular vote in the last election.
"The Liberals could simply pass anything that they want," Cullen told Huffpost. "And the idea that the Prime Minister's Office would remain utterly neutral, after the prime minister has made his intentions known, is naive and, perhaps, even cynical."
Trudeau has already made it clear he prefers a preferential ballot.
He told the Ottawa U students that while the Liberals are open to "all sorts of different options," his own preference is that parties should be rewarded for reaching out to broad communities and finding common ground with people of different ideologies and perspectives, rather than highlighting differences and distinctions between them.
"This is the kind of conversation we should be having about the kind of voting future we want," he said. "It shouldn't be 'Oh this model is best because it will help this party, or that model is best because it will help that party.' Who knows what a changed model will actually have in terms of help or none help?"
"The idea that the Prime Minister's Office would remain utterly neutral, after the prime minister has made his intentions known, is naive and, perhaps, even cynical."
— Nathan Cullen
Many experts believe a preferential ballot, or as it is also known, a ranked ballot, would benefit the Liberals as they tend to be the second choice of other parties' supporters. An analysis by CBC's Eric Grenier suggest the Liberals would have won 224 seats under a preferential ballot, but only 134 seats under a proportional system. They won 184 seats.
Trudeau, however, dismisses the criticism.
"Canadians are pretty smart, and when they want a better government , they'll vote for a better government. When they want to change the government, they'll make whatever system they have in front of them work," he suggested Tuesday. "A good political party that has the right kind of platform or program for Canadians should be able to make any system work."
PR not too radical, Cullen says
While the Conservatives are, for now, advocating for no particular voting system, the NDP is a staunch supporter of proportional representation, also known as PR, and campaigned on a promise to bring in some form of mixed-member proportional representation to make every vote "truly count."
The Green Party also called for a new proportional voting system. But the Liberals have not included any mention of proportionality or fairness in any of their discussions surrounding the new voting system, Cullen noted.
But the Liberals have not included any mention of proportionality or fairness in any of their discussions surrounding the new voting system, Cullen noted.
"One of the hallmarks of voting around the world is that there is an element of proportionality, some connection between the votes cast and the result," he told HuffPost. "I don't think that's too radical a notion."
Last week, Democratic Institutions Minister Maryam Monsef announced, without public consultations, eight principles that will guide the selection of the new electoral system:
Canadians must perceive the outcomes as legitimate and feel their intentions are translated fairly into the results;
Canadians must feel that they can influence politics and voting makes a difference;
The voting system must encourage inclusive politics, meaning it must contribute to increasing civility in politics, restoring public trust in government, and strengthening representation by ensuring greater diversity in both the House of Commons and the political process more broadly.
The voting system should not be overly complex or onerous;
The voting system should be more user-friendly and accessible.
The voting system should take into consideration the relationship – and accountability – between citizens and their local MPs.
The new system must be objective and verifiable and protect election results from cyber or physical tampering and ensures that the secrecy of their votes is protected.
The new system must inspires Canadians to find common ground, pursues consensus and encourage governments to cast a broad tent that seeks to include all Canadians regardless of their partisan disposition.
All eight principles would support the choice of a preferential or ranked ballot. They would less likely apply to various proportional systems, which are complicated, might be seen to create division and could weaken constituents connection with their local MP.
Also on HuffPost:
Trudeau's 7 New Senate Appointments
Prime Minister Justin Trudeau announced seven new Senate appointments on Friday, March 18. The new senators fill vacancies in Ontario, Manitoba and Quebec. Here is more information on each, from The Canadian Press.

He spent 29 years in the federal public service, including 16 years as a deputy minister and four years as the personal representative of the prime minister to three G8 Summits. He was appointed by Trudeau to manage the Liberal transition into government last fall. Harder, then-secretary of the Treasury Board of Canada, is shown at a news conference on Nov. 10, 1999.

Justice Murray Sinclair. He was the first Aboriginal judge appointed in Manitoba and only the second in Canada. He was the chief commissioner of the Truth and Reconciliation Commission, which investigated the legacy of the residential school system and delivered a landmark report in 2015. Sinclair is shown speaking during the closing events for the Truth and Reconciliation Commission in Ottawa, Monday June 1, 2015.

She has won over 20 medals for Canada in the sport of wheelchair racing, beginning at the 1992 Paralympic Games in Barcelona. She is chef de mission for Canada's team at the 2016 Paralympic Games in Rio de Janeiro. Petitclerc shows off her five gold medals from the 2008 Beijing Paralympics at Trudeau airport in Montreal Friday, Sept. 19, 2008.

Author and journalist, he spent 14 years as editor-in-chief of the Quebec daily paper La Presse. He is one of the founders of a Quebec think tank on federalism. Journalist and author Andre Pratte autographs copies of the book 'Reconquerir Le Canada' (Reconquering Canada), in Montreal, Thursday, Nov. 8, 2007.

Most recently, Lankin spent 10 years running the United Way in Toronto, taking that job after years as an NDP cabinet minister and MPP in Ontario. From 2009 to 2016, she was a member of the Security Intelligence Review Committee, the oversight body for the country's security agencies. Governor General David Johnston welcomes Frances Lankin into the Order of Canada during a ceremony at Rideau Hall Friday November 22, 2013 in Ottawa.

She has worked in education for over 35 years. She served as president of Universite Saint-Boniface from 2003 to 2014. She was responsible for the college obtaining full university status and has been honoured for increasing the range of educational opportunities available in French in the province. Governor General David Johnston presents the Order of Canada to Raymonde Gagne during an investiture ceremony at Rideau Hall in Ottawa on Wednesday, September 23, 2015.

Recognized globally for her contributions to increasing the inclusion of immigrants, she is currently the founding executive director of a think tank at Ryerson University's school of management that focuses on diversity, migration and inclusion. She is the chair of Lifeline Syria, which seeks to bring 1,000 privately sponsored Syrian refugees to Toronto. She also serves on the boards of the Centre for Mental Health and Addiction, The Environics Institute, and Samara. Lifeline Syria's Chair Ratna Omidvar works with volunteers at the organization's offices in Toronto on Friday, September 4, 2015.

UP NEXT: Trudeau's First Cabinet

Prime Minister Justin Trudeau has kept his promise of a smaller, gender-balanced cabinet. At 31 ministers (including him), Trudeau's first cabinet features many new faces and some veterans.

Minister of Finance Morneau is the former executive chair of Morneau Shepell, one of Canada's largest human resources firms.

Minister of Foreign Affairs An MP since 1996, Dion served as Canada's intergovernmental affairs minister under Jean Chrétien and environment minister under Paul Martin. He served as Liberal leader and leader of the Official Opposition from 2006 to 2008.

Minister of Justice and Attorney General of Canada Wilson-Raybould is a former Crown prosecutor and regional chief of the B.C. Assembly of First Nations.

Minister of International Trade An MP since 2013, Freeland was courted by Trudeau's team when she was a senior editor at Thomson Reuters in New York City.A Rhodes scholar, she is a well-known author and journalist. She was part of Trudeau's team of economic advisers.

Minister of Health Philpott is a family physician, associate professor at the University of Toronto, and former chief of the department of family medicine at Markham Stouffville Hospital.

Minister of National Defence Sajjan is a retired lieutenant colonel who served in Afghanistan and was the first Sikh to command a Canadian Army regiment. He also served as a Vancouver police officer for 11 years.

Minister of the Environment and Climate Change McKenna was a former legal adviser for the United Nations peacekeeping mission in East Timor and founded Canadian Lawyers Abroad (now known as Level), a charity focused on global justice issues.

Minister of Employment, Workforce Development, and Labour Mihychuk was an NDP MLA in Manitoba from 1995 to 2004, serving as minister of industry, trade, and mines, and later minister of intergovernmental affairs.

Minister of Infrastructure and Communities An Edmonton city councillor since 2007, Sohi immigrated to Canada from India 35 years ago. He spent time as a political prisoner in India in the late 1980s.

Minister of Canadian Heritage Joly, 36, made a name for herself by finishing second to ex-Liberal cabinet minister Denis Coderre in the Montreal mayoral race in 2013. She's a lawyer and communications expert.

Minister of Democratic Institutions Monsef, a community organizer, was born in Afghanistan. She fled the Taliban and came to Canada as a refugee with her widowed mother and sisters in 1996.

Minister of Veterans Affairs and Associate Minister of National Defence Hehr was an Alberta MLA from 2008 to 2015, was one of just two Liberals elected in Calgary. In 1991, he was the victim of a drive-by shooting that left him confined to a wheelchair.

Minister of Status of Women Hajdu was executive director of Shelter House, Thunder Bay's largest homeless shelter.

Minister of Sport and Persons with Disabilities Qualtrough is a lawyer and former Paralympian. Legally blind, she won three Paralympic and four World Championship medals for Canada in swimming and was president of the Canadian Paralympic Committee.

Minister of Families, Children, and Social Development Duclos is a renowned economist who taught at at Laval University.

Minister of Natural Resources Carr, a former Manitoba MLA and deputy leader of the Manitoba Liberal Party, served as president of the Business Council of Manitoba from 1998 to 2014.

Minister of Public Services and Procurement An MP since 2008 and the party whip, Foote previously held several cabinet portfolios in Brian Tobin's provincial government.

Minister of Transport The former astronaut, navy engineer, president of the Canadian Space Agency and Liberal leadership contender was first elected in 2008. He has served as an industry and foreign affairs critic.

Minister of Public Safety and Emergency Preparedness The finance minister under Paul Martin's government, Goodale was the only Liberal elected in Saskatchewan.

Minister of Innovation, Science, and Economic Development An MP from 2004 to 2011, Bains regained his seat this year. In addition to being a certified management accountant, holding an MBA, and teaching at Ryerson University, Bains was an important Trudeau organizer and also served on the Liberals' national election readiness committee.

President of the Treasury Board An MP since 1997, Brison was the public works minister and receiver general of Canada in Paul Martin's government. He had been the Liberal spokesman on economic issues and the vice-chair of the Commons' committee on finance.

Minister of Indigenous and Northern Affairs A family physician who has been an MP since 1997, Bennett was Canada's first minister of state for public health and oversaw the 2003 response to the SARS epidemic. In recent years, Bennett has served as the party's vocal critic on aboriginal affairs.

Minister of Fisheries, Oceans, and the Canadian Coast Guard A former MLA and speaker of the Nunavut legislative assembly, Tootoo held several cabinet positions in the territory and has extensive government administration experience.

Minister of Agriculture and Agri-Food An MP since 1988, MacAulay has served as solicitor general of Canada, minister of labour, secretary of state for veterans and secretary of state for the Atlantic Canada Opportunities Agency. In the last Parliament, MacAulay was the critic for fisheries and oceans.

Leader of the Government in the House of Commons The Liberals' House leader in the last Parliament, LeBlanc was sworn in as a privy councillor in 2004 when, under Paul Martin, he served as parliamentary secretary to the leader of the government in the House and deputy government whip. He is a childhood friend of Trudeau's

Minister of Immigration, Refugees, and Citizenship First elected in 2000, McCallum, a former chief economist at the Royal Bank of Canada, served as minister of national defence and minister of veterans affairs under Jean Chrétien. He was named minister of national revenue under Paul Martin and was also tasked with leading an expenditure review of government spending.

Minister of Small Business and Tourism Chagger, 35, worked for the Kitchener-Waterloo Multicultural Centre. She also worked on Trudeau's leadership campaign.

Minister of National Revenue A small business owner who has been an elected warden for the Regional County Municipality of Rocher Percé since 2010, Lebouthillier won a seat in Gaspé that the Liberals haven't held in more than a decade.

Minister of International Development and La Francophonie Bibeau worked for the Canadian International Development Agency (CIDA) in Ottawa, Montréal, Morocco and Benin, Africa, before settling and launching her own business in her riding.

Minister of Science Elected in 2008, Duncan taught meteorology, climatology, climate change, and medical geography at the university level.