Jonathon Nicola, Windsor High School Basketball Player, Arrested By Border Officers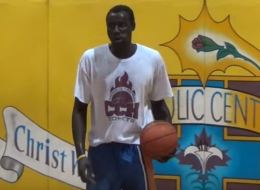 Canadian border officials have arrested a star player on an Ontario high school basketball team — saying he's actually a 30-year-old man.
The Windsor Star reports Jonathon Nicola, a refugee from South Sudan who claims he is 17 years old, was arrested for contravening the Immigration Refugee Protection Act on Wednesday.
Authorities did not elaborate what the Windsor, Ont. Catholic school student did specifically to violate the act.
Nicola has a profile on UPlayCanada.com, an organization that helps student athletes with volunteering and scholarship opportunities. Videos and Facebook posts describe him as a 17-year-old Grade 11 student who is six-foot-10 — although the Star says he is six-foot-nine.
In an earlier Postmedia interview, Nicola says it took him six months to arrange a student visa to study in Canada.
"I'm really happy that I'm here, happy with the nice people over here to support me," he said at the time.
A spokesman for the Windsor-Essex Catholic District School Board told the Star that he could not comment and that "there's not a whole lot to say."
Great piece in The @TheWindsorStar about Jonathon Nicola of Catholic Central @CCHcomets https://t.co/Jqfm20Kox0 pic.twitter.com/mG8wjQycnk

— WECDSB (@WECDSB) January 20, 2016
Nicola's player profile on the Catholic Central Comets' website has been deleted as of Thursday.
A screengrab from a cached version of the profile page shows four YouTube videos embedded. Three are deleted.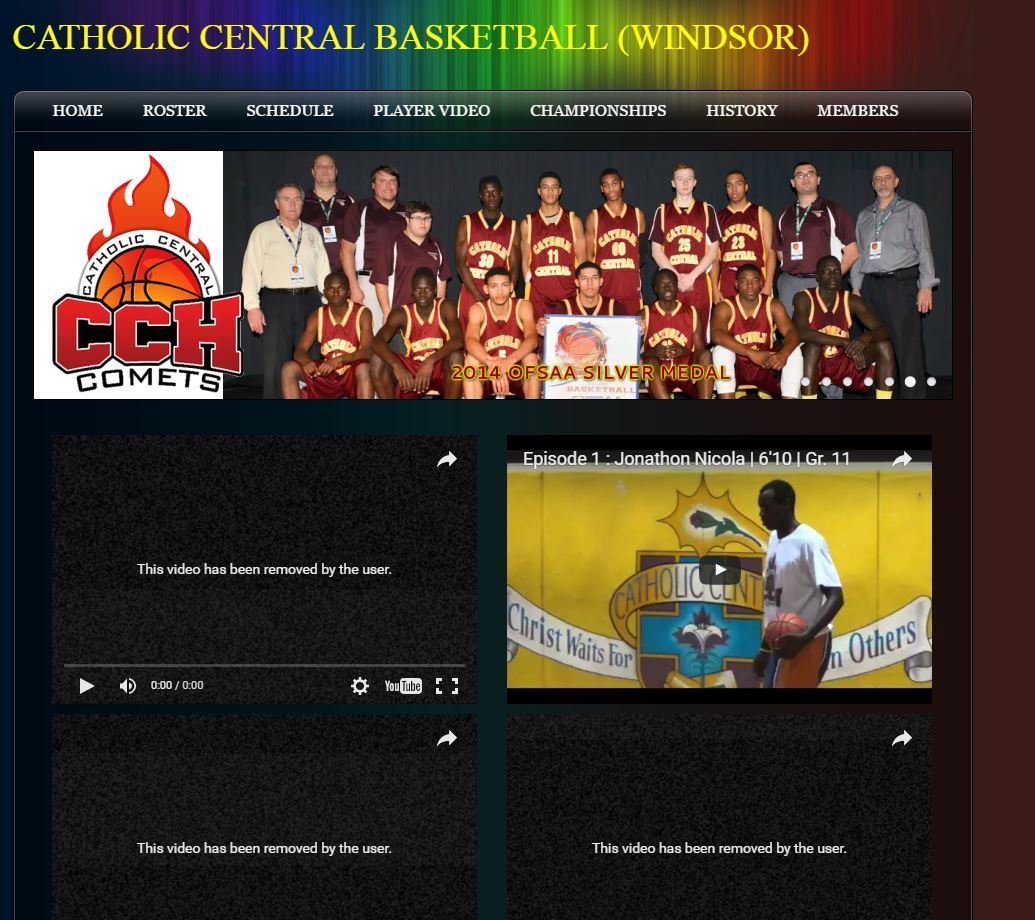 (Screengrab/Cometbasketball.com)
Also On HuffPost:
Top Ten College Basketball Freshmen
The 6-foot-11-inch Okafor, who just turned 19, is a Chicago native like Jabari Parker. And like Parker before him, Okafor has more than lived up to the massive hype, giving Duke its first truly dominant center in quite some time. The likely No. 1 pick -- with whom HuffPost chatted last April -- has displayed terrific footwork and interior moves from both blocks. Better yet, he's shown a deft touch around the basket. He possesses excellent hands and is already an elite rim protector. Okafor needs to become a truly dominant rebounder (he currently averages 9 per game), but the early returns for Coach K have been awfully impressive.

Towns has the best rebounding rate in the nation, per ESPN, and he's been a dominant shot-blocker since day one. In the manner of Nerlens Noel and even Anthony Davis to an extent, Towns remains more of a work in progress offensively, but his sheer length and quick feet suggest that part of his game will come.

The 6-foot-6-inch Winslow is a bona fide two-way star oozing with NBA ability. He can guard up to four positions and score both inside and out. Winslow's versatility has earned him comparisons to former No. 2 pick and Kentucky star Michael Kidd-Gilchrist, and that's fair, but Winslow can really handle the ball as well and may have more upside. CORRECTION: A previous version of this slide incorrectly identified Michael Kidd-Gilchrist as the third overall pick in the 2012 NBA draft. In fact, he was the second overall pick.

Johnson might be better than Aaron Gordon, the star freshman of last year who went fourth in the draft. A true two-way wing who can really fly on the break, Johnson excels as an attacking scorer. The MVP of the Maui Invitational, he will have to morph into a more efficient offensive player (2.5 turnovers per game is too high), but with his 6-foot-7-inch, 245-pound frame and raw athletic ability, Johnson has a chance to be special.

Oubre barely played at the beginning of the season, but he's since emerged as perhaps the premier wing talent in America. A rangy 6 feet 6 inches with incredible length (he boasts a 7-foot-2-inch wingspan), Oubre is a monster athlete who plays with real power. He puts a ton of pressure on opposing defenses with his natural attacking ability, but he'll need to drastically improve what is currently a broken left-handed jumper.

It has been a colossally disappointing year two for UCLA head coach Steve Alford, but don't blame Looney, who has burst onto the scene with his remarkably sound two-way game in Westwood. Looney, a Milwaukee native and the reigning Pac-12 Player of the Week, has become a double-double machine. At 6 feet 9 inches with a devastating 7-foot-3-inch wingspan, he is a plus athlete whose physical play matches his unrelenting motor.

It's hard to predict what Jones will be like at the next level, given his diminutive 6-foot frame. But he clearly has a feel for the position -- he knows when to score and when to pass, and always seems to make the right decision. Jones, whose 3.16 assist-to-turnover ratio speaks for itself, is an extension of his coach on the floor. Duke has become a legit national title contender and Jones is the anchor.

If you love big guards, Russell is your guy. A massive 6-foot-5-inch lefty, Russell's open floor ability is astounding, but perhaps just as impressive is his decision-making in the half-court. Despite a massive total usage clip -- he actually plays off the ball mostly for the Buckeyes -- Russell averages a respectable 3 turnovers per game and is a fantastic guard rebounder. He has proven surprisingly adept at perimeter shooting, converting nearly 45 percent from deep. The Louisville native could be a top-five draft selection.

Trimble, Maryland's best freshman under fourth-year coach Mark Turgeon, reminds me of Louis Williams with his predatory scoring instincts. A Maryland native, Trimble has quickly ascended with his fluid scoring ability as one of the country's premier combo guards, regardless of class. He really can score from anywhere (35 percent from 3) and loves to attack -- hence the sensational 8 free-throw attempts per game.

Kentucky shooting guard Devin Booker could have been our No. 10 pick here, as could have Texas' Myles Turner, Utah's Jakob Poeltl and Syracuse's Chris McCullough (injured for the season). Vaughn, though, is a big-time scorer with the 6-foot-5-inch frame to play off the ball at the next level. He can create off the dribble and excels in the open floor -- thus his 17 points per game. He will need to improve as a shooter and learn how to compete every possession, but the talent is robust.