Canadian Consumer Insolvencies Are Soaring, And Not Just In Alberta
It may be a statistical blip, or it may be a warning bell that Canadians have taken on too much debt, and are now struggling to handle it.
The number of consumer insolvencies in the country jumped by 9.7 per cent over the past year, according to data from the Office of the Superintendent of Bankruptcy (OSB).
Personal bankruptcies rose 6.3 per cent in February, compared to a year earlier, while "consumer proposals" — an increasingly popular alternative to bankruptcy — soared by 13.2 per cent.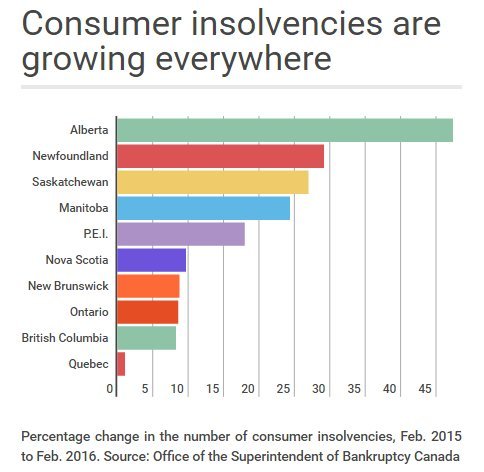 Not surprisingly, oil-producing regions saw the largest increases in insolvencies, but the trend wasn't limited to those places.
Ontario insolvencies jumped by 8.6 per cent, while in British Columbia they jumped by 8.3 per cent.
That's a new development: These provinces have been leading employment growth in Canada, and until recently, their insolvency rates were declining, as were the insolvency rates in most non-oil provinces.
But rapid house-price growth has eroded home affordability to multi-year lows in the Toronto and Vancouver areas, with single-detached homes the least affordable they have ever been. Rental prices have also been rising.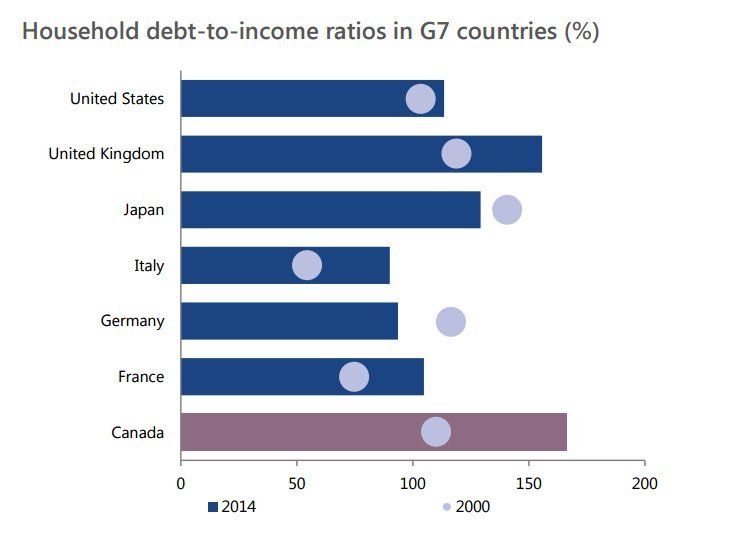 On household debt, Canada has gone from being middle of the pack to leading the G7. (Chart: PBO)
The rising insolvency rate seems to square with what Canadians have been telling pollsters: Many are close to the breaking point on debt. A recent poll found half of Canadians would struggle to pay their bills if costs increased by $200 a month.
Canadian household debt hit a record high of 165 per cent of disposable income in the last quarter of 2015, the highest rate of any G7 country.
Still, the worst of it is falling on oil-exporting regions. Insolvencies in Alberta are 47.4 higher than they were a year ago, and about 60 per cent higher than they were two years ago, shortly before the oil crash began.
In Newfoundland, insolvencies are up 46.4 per cent in two years, while in Saskatchewan they're up 42.7 per cent in that time.
If the current pace continues, nearly 128,000 Canadians will become insolvent this year. Might be time to check those credit card statements.
Also on HuffPost:
Consumer Debt Per Person (2014)
Source: Equifax

Source: Equifax

Source: Equifax

Source: Equifax

Source: Equifax

Source: Equifax

Source: Equifax

Source: Equifax

Source: Equifax

Source: Equifax

Source: Equifax

How Canada's Debt Burden Compares

Canada hit a record high in the first quarter of 2011, reaching $1.5 trillion in household debt. If spread evenly across Canada, that means every family with two children has $176,461 in debt. In the U.S., household debt hit $11.5 trillion by the end of March this year. The average household debt in the U.S. for a family of four is $148,000.

Loans owed to Canada Student Loans amount to nearly $14 billion and rising. In the U.S., where tuitions are considerable higher, loans owed exceed $932 billion, including federal and private loans.

With their debt ceiling raised again, the U.S. has more than $14 trillion in government debt in the first quarter of 2011. Canada has more than $563 billion. That figure works out to 84 per cent of Canada's GDP, compared to 58.9 per cent for the U.S.

In the first quarter of 2011, the average Canadian had more than $3,500 in credit card debt, according to TransUnion Canada. In the U.S., the average American consumer owes more than $4,200 in credit card debt.

As of June 2011, the median cost of a home in Canada was $372,000. Vancouver, Victoria and Toronto are some of the most expensive places in the country to buy a house. Prices in the U.S. vary more than they do in Canada. As of June, the median price of a home in the Northeast was $261,000, while the median price in the Midwest was $147,000. The median in the South was $159,100 and in the West, it was $240,400. The average price of a home in the UK is £232,628 as reported by their first quarter in 2011, which converts to around CAD $371,000.

In 2010, there were more than 1.5 million non-business bankruptcy filings in the U.S. In the same year, there were only 92,694 personal bankruptcies in Canada. That means there were 48 bankruptcies per 10,000 people in the U.S., and 28 bankruptcies per 10,000 in Canada.