You Have To Work Twice As Long As Your Parents Did To Own A House
If you suspect your parents and grandparents had an easier time buying a house than you, a new study from a University of Ottawa professor says you're probably right.
The amount of work time it takes for a Canadian to buy a typical home has more than doubled since the 1970s, economics professor Marc Lavoie concluded in the study.
"Residential properties, with the exception of the 1988-1991 period, are now clearly less affordable for middle-class Canadians than they were for the last five decades," he wrote.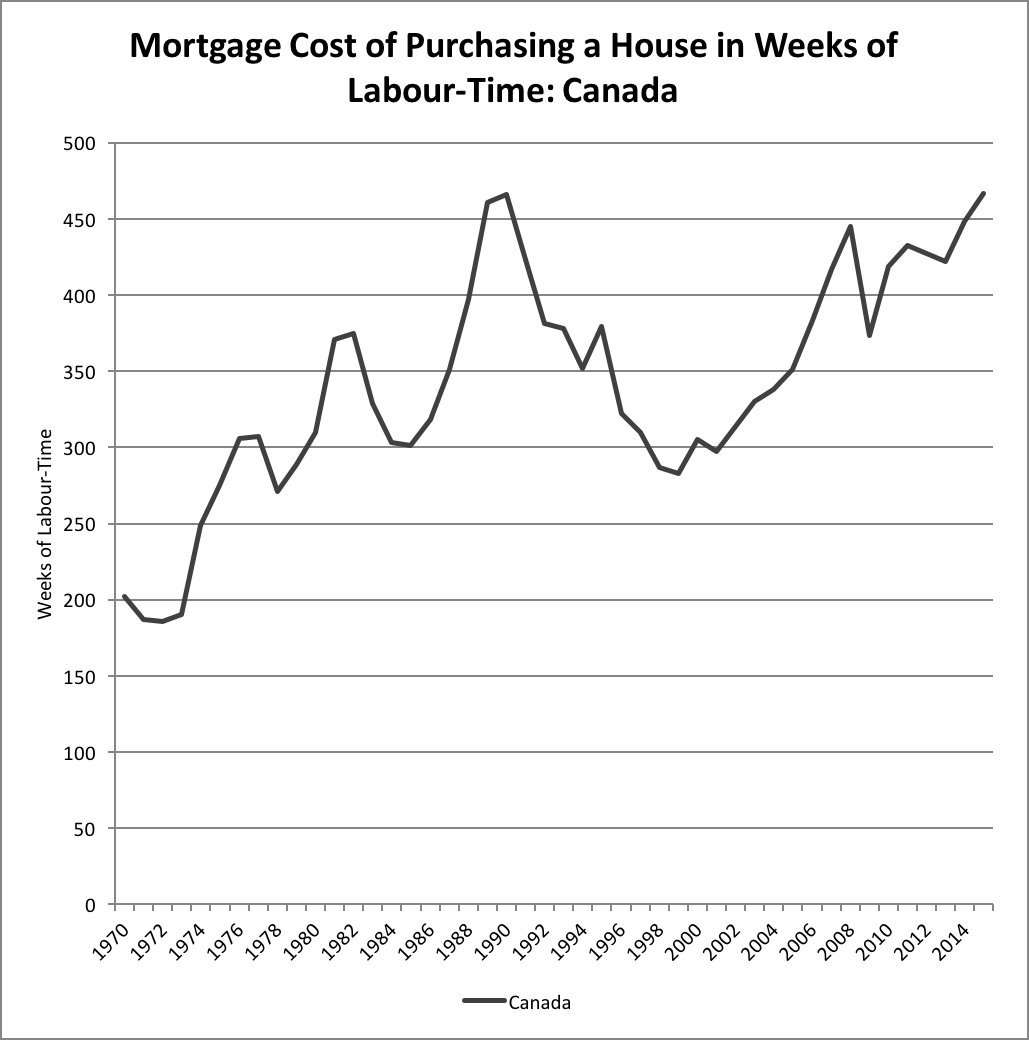 Chart: Marc Lavoie
It now typically takes the equivalent of 420 to 450 weeks of work time, at the average weekly rate, to own a home when buying one with a mortgage. As recently as 2000, it only took around 300 weeks of work. And until the mid-1970s, it took less than 200 weeks.
"No wonder so many young prospective buyers, especially those in major cities, feel that owning a residential unit is more like a long-distance dream," Lavoie wrote.
In weeks worked, cash prices are the worst they've ever been
The last time it took this long to pay off a mortgage on a house was the late 1980s and early 1990s, when Canada arguably experienced a housing bubble that saw house prices more than double in a short period of time.
That bubble burst when the Bank of Canada sharply raised interest rates in order to fight inflation — something that is extremely unlikely to happen today.
In terms of cash costs for buying a house, things have never been this bad. Those buying a house in cash today require the equivalent of 400 weeks of work today to pay it off, compared to 184 weeks in 1984.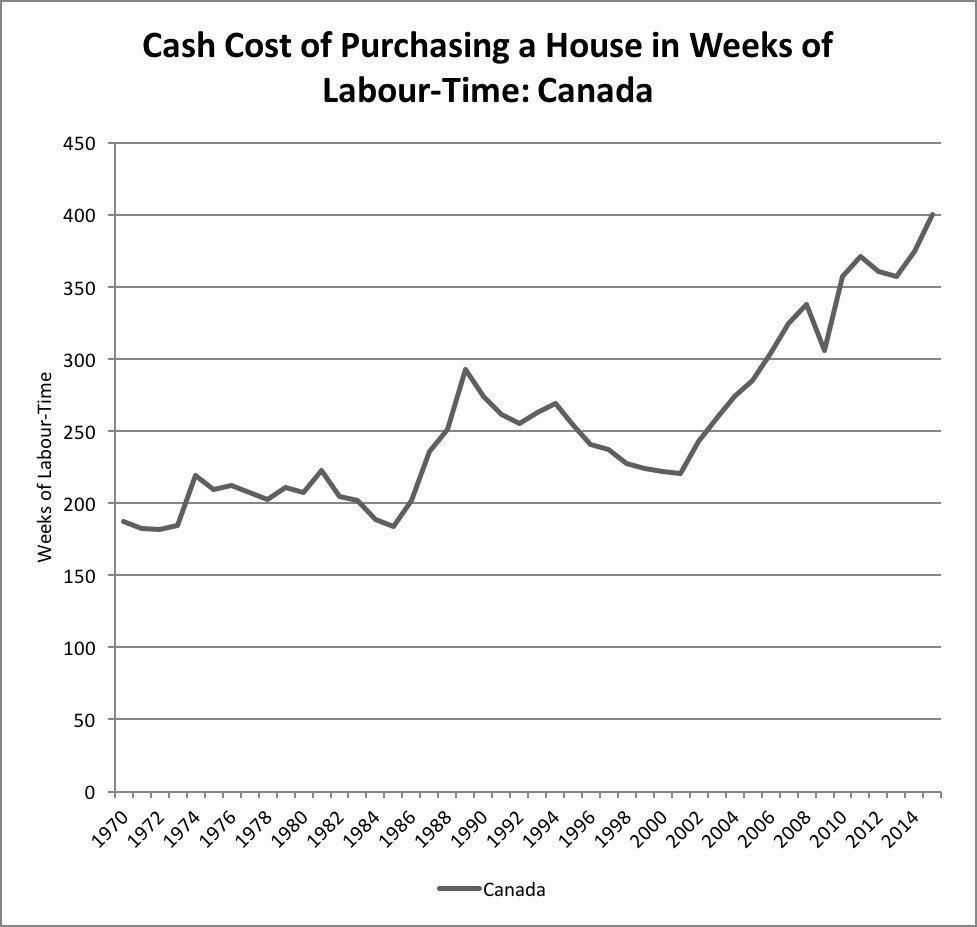 Chart: Marc Lavoie
Lavoie notes it's not just price growth that accounts for the longer time it takes to own a house — homes have been getting bigger over the years.
"Newly-built houses in 1975 had on average 1,075 square feet; in 2013 they had about 2,000 square feet," he wrote.
"Whether current households suffer from inter-generational inequity depends on whether one believes that the average size of houses is a free individual choice or … is being imposed by the construction industry and society more generally."
But that trend towards larger homes has reversed itself in recent years. In Toronto and Vancouver, Canada's priciest major housing markets, condos have been shrinking for years.
"No wonder so many young prospective buyers, especially those in major cities, feel that owning a residential unit is more like a long-distance dream."

— Marc Lavoie, University of Ottawa
Lavoie argues the government has a role to play in helping Canadians afford homes — in the form of policies that grow wages.
Today's low mortgage rates "do not compensate enough … for the high cash cost of purchasing a dwelling in Canada today," Lavoie wrote.
"Pro-growth fiscal policies that could eventually lead to faster growth in wages, without interest rate increases, would further help in bringing mortgage costs towards cash costs."
Like HuffPost Canada Business On Facebook
Also on HuffPost:
Feb. 2016: What $5 Million Will Buy You In Canada
This five-bedroom, five-bath house in Montreal's ritiziest neighbourhood has a large (almost 19,000-square-foot) lot featuring an amazing rock formation that makes the back yard entirely unique. The realtor boasts of spectacular views of the city as well. Listing.

This house in Coyote Valley, northwest of Calgary, features five bedrooms and three full baths in more than 6,000 square feet of living space. The property features an exercise room, a rec room and a media area, as well as a four-car garage. Listing.

This two-bedroom, two-bath condo in Coal Harbour features a 221-square-foot patio on the lower level and a master-bedroom balcony on the upper level. Which is helpful, because the views are not to be missed. Listing.

This four-bedroom, four-bath property sits in one of Canada's ritziest urban neighbourhoods and features a "smart home" automation system and an elevator. And the view from bedroom windows is of trees, which is sort of incredible for downtown Toronto. Listing.

This 9,200-square-foot house in the Greater Toronto suburb of Oakville was built around 1888, and features seven bedrooms and nine baths, and no fewer than six fireplaces. The realtor says the home was recently entirely renovated. Listing.

This 20-acre private island in swanky Lake of Bays, some 200 km north of Toronto, features five separate summer cottages and a three-bedroom boathouse, with parking for five boats. Great place for an extended family -- a rich extended family. Listing.

The realtor's boast that this is "one of the most beautiful waterfront settings on the Continental Eastern Seaboard" was a little difficult for us to verify, but it sounds good. Five bedrooms and seven baths in this 12,000-square-foot house that also features a library, a gym and a "hidden wine cellar." Listing.