Muslim Prom Queen Crowned In Aftermath Of San Bernardino Attacks
Any girl would be delighted to be crowned prom queen, but for one Muslim teen, the honour was particularly meaningful.
Zarifeh Shalabi, who wears a hijab, also lives close to the site of December's deadly shootings in San Bernardino, Calif.
At the time, the FBI said the incident was being investigated as an "act of terrorism."
The 17-year-old Fontana high school senior told The New York Times she and her family were on edge after the tragedy, worried someone would try to hurt them.
But her peers gave her a big thumbs-up recently when she was nominated to Summit High School's prom court — and later when she was announced queen.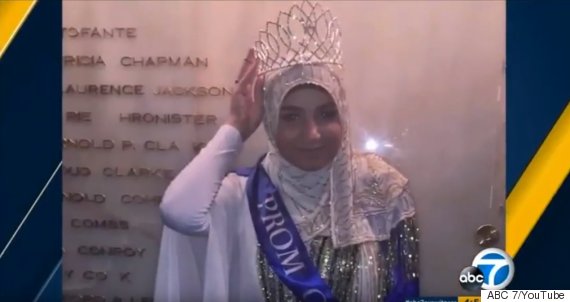 She told the Times her win "proved that not all Muslims are something to worry about."
Her friends led her successful campaign, wearing headscarves and touting the slogan, "Don't be a baddie. Vote for the hijabi," according to CBS Los Angeles.
Rosamaria Lopez told ABC 7 the friends wanted to send a message that they don't discriminate against anyone, including Muslims.
But Shalabi said it took some hard work to convince her mom to let her attend the dance after she was nominated.
"It was so exciting because she is so covered up and she doesn't show what every girl at prom shows, and she still won."
"Me and my friends are all going single, we're just going as a group of girls, like a group date together and eventually she said 'yes,'" she told ABC 7.
"It was my first dance, my first party."
And the night of April 9, she won, resplendent in her traditional dress and beaded hijab.
"When they announced my name, I was just in total shock," she told CBS, saying she thought the five other nominees were more popular.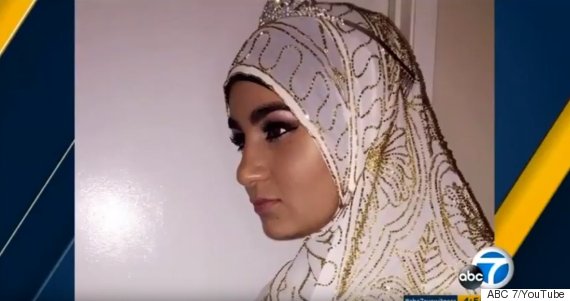 Her friends were thrilled too.
"It was so exciting because she is so covered up and she doesn't show what every girl at prom shows, and she still won," Savanna Smith told the Times.
"It was like she can still go out there and represent a fine, elegant woman."

You can see more on the story in the video above.
Follow Huffington Post Canada Living on Pinterest, Facebook and Twitter!
ALSO ON HUFFPOST
28-year-old British Pakistani Imran has been using drag for six years, creating a female alter ego Zareena Khan. Single and searching for love, he has profiles on a number of dating apps and social media sites, but has discovered he attracts more interest as Zareena. Men in both Britain and Pakistan respond to his online profiles – often married men who he believes find it more acceptable to sleep with him because he dresses as a woman.

Ibrahim, a 22 year-old Mauritian, is studying for a degree in the UK. He recently came out to his family who surprised him with their unconditional support. Since arriving in the UK he has immersed himself in the Gaysian scene and wants to start performing drag. Having discovered Asifa Lahore online he seeks out Asif for advice and support. Despite his passion to perform, Ibrahim sometimes struggles to reconcile drag with his devout religion.

32-year-old Asif Quraishi is Britain's first out and proud Muslim drag queen. Performing as his glamourous alter ego Asifa Lahore he has established himself as a leading figure within the Gaysian community, and as an activist for gay rights. Born to conservative British Pakistani parents, his choice to perform and out himself so publically has strained relations within his own family and triggered death threats against both himself and his parents. Unbowed, he uses his very visibility to campaign and challenge perceptions: "Up until now, people in my community have chosen to be invisible," he explains. The epitome of glamour, Asifa appears on stage in sequins, ruffles, saris and cocktail dresses and in a calculated move to provoke reaction and debate – a burqa.