Canada Real Estate Graph By Rentseeker Shows You CAN Afford A Home In Some Cities
There really are a few Canadian cities where you'll be able to afford a home some day.
They're just not Toronto and Vancouver.
Rental listings website Rentseeker has produced a new, 3D-infused graph showing how much it costs to buy a home across the country — and how much that's changed since last year.
Click for full size.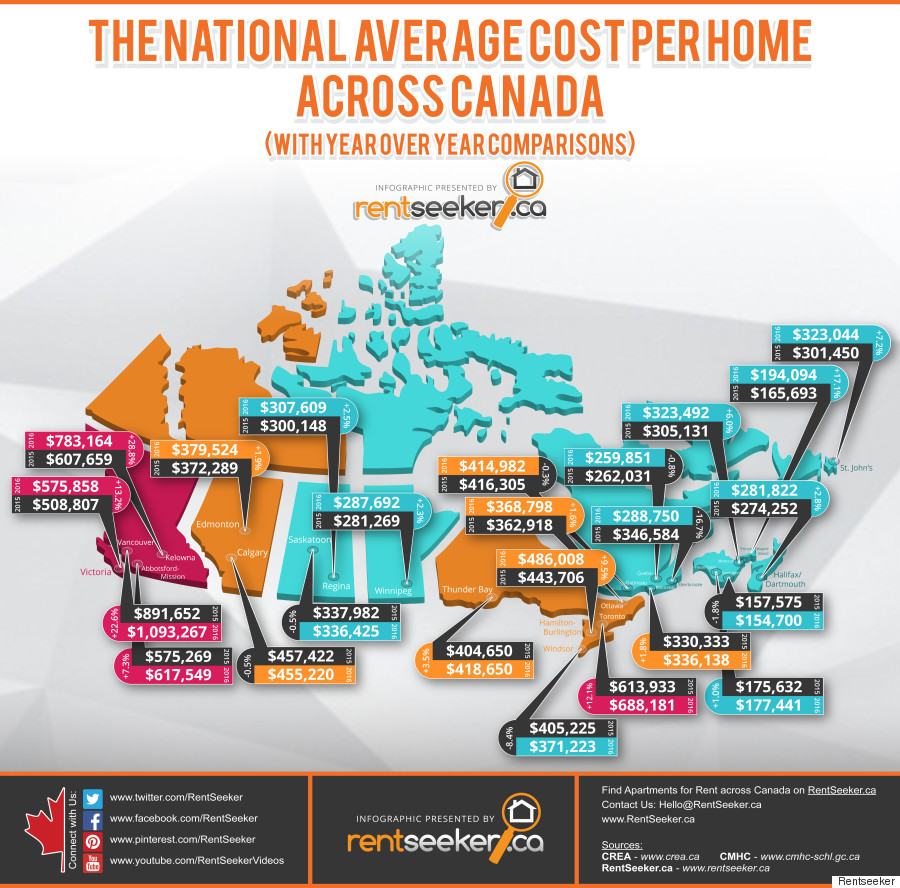 The graph provides more bad news for prospective homeowners in Canada's hottest housing markets. In Toronto, the average home price grew 12.1 per cent, from $613,933 to $688,181, according to data from the Canadian Real Estate Association (CREA) and the Canada Mortgage Housing Corporation (CMHC).
And must one say how much home values increased in Vancouver? OK — they went from $891,652 to $1,093,267 in one year, an increase of 22.6 per cent, the biggest jump in the country.
But those aren't the only markets where home values leaped. Home prices jumped by 17.1 per cent in Prince Edward Island, and by six per cent in New Brunswick.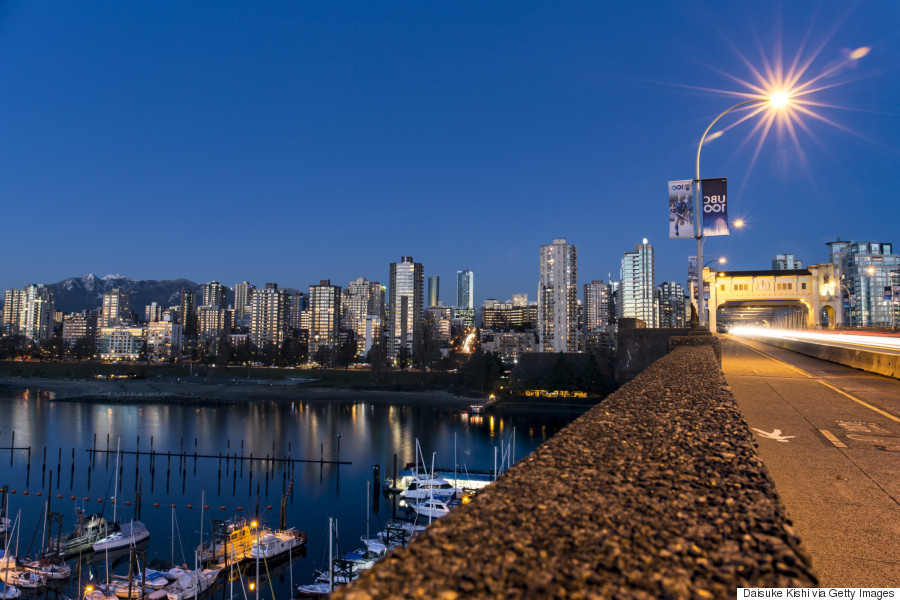 Condos along Vancouver's False Creek. (Photo: Daisuke Kishi/Getty)
These gains are no doubt daunting for people who hope to buy a home (and impressive for those who already own). But there are signs that the relentless increases may be coming to an end.
CREA noted Monday that home sales have slowed in both Toronto and Vancouver.
April saw no sales growth in "the 6ix" after they fell by 1.8 per cent in the previous month. And in Vancouver, sales dropped one per cent from March to April.
But slowing activity hasn't done much to home prices yet. Vancouver's benchmark price rose 25.34 per cent to $844,800. The benchmark price in Toronto sat at $614,700 last month, a jump of 11.6 per cent from a year prior.
But not every city was a winner when it came to home values. Prices in Sherbrooke, Que. plummeted from $346,584 to $288,750, a fall of 16.7 per cent, while in Windsor, Ont., they dropped 8.4 per cent, from $405,225 to $371,223.
Where CAN you buy?
Home prices appear to be jumping in communities close to Toronto and Vancouver — but at much more affordable levels.
The average prices in the Hamilton-Burlington region, outside Toronto, rose 9.5 per cent from $443,706 to $486,008.
And in Abbotsford-Mission, about 70 kilometres from Vancouver, prices jumped 7.3 per cent, from $575,269 to $617,549.
Meanwhile, in Victoria, B.C.'s capital (only a ferry ride away from Vancouver), prices increased 13.2 per cent, from $508,807.
So while major cities themselves may seem out of reach, there are (for now) opportunities in places close by.
Also on HuffPost:
The World's Most Expensive Streets Look Like This
This four-bedroom home in Hong Kong's Peak area is 4,600 square feet of luxury. The unit receives plenty of daylight thanks to floor-to-ceiling windows and a view overlooking the harbour. Every bedroom has its own bathroom, while the master has its own balcony. The second floor bedrooms also have a terrace.

There aren't many real estate opportunities on London's Kensington Palace Gardens. But this one offers buyers a chance at a mansion with six bedrooms, a reception and dining room, double garage, terrace and private garden. The listing is so exclusive that prospective buyers have to submit background information with the realtor before learning any more about it.

A penthouse fit for royalty, this unit comes with five rooms in almost 4,000 square feet of living space. It has two entrances, a dining room that opens on to a terrace and four bedrooms, each with their own bathroom.

Finding real estate proved challenging on this French street. It was easier to find the Four Seasons Grand-Hotel du Cap-Ferrat, luxurious accommodation that would be perfectly at home in a James Bond film. The hotel has a Michelin-starred restaurant, an 8,000-square-foot spa, and gorgeous views of the French Riviera.

A corner unit at The Marq on Paterson Hill, a project residing in one of Singapore's priciest areas. The apartment is 3,089 square feet, and it has park views in a building that also boasts a lap pool.

This villa offers you a panoramic view of the Mediterranean from the shores of Costa Smeralda, Sardinia. It has covered terraces, a pool, and five bedrooms.

Ostozhenka is known as "Moscow's Golden Mile," and it's easy to see why. A statue of Friedrich Engels, co-author of "The Communist Manifesto," overlooks this street where you can find buildings raised before the Russian Revolution and Art Nouveau architecture. To hit home its upscale nature, there's even a restaurant called "Snobs." A four-bedroom apartment at Ostozhenka, 7 has almost 2,000 square feet of space, with pastel-coloured walls, a fenced yard and security around the clock.

Largely known as a shopping district, New York's Fifth Avenue is also the site of some ritzy real estate that has been home to famous figures including entrepreneur David Koch and fashion designer Vera Wang. Sotheby's International Realty is pitching a "simplex" of 12 rooms for just under C$27 million at 1060 Park Avenue. It's a corner suite that gives residents a gorgeous view of Central Park. Interior features include a library, classy dining room and a corner living room with a wood-burning fireplace. This is high living.

Another shopping district that doubles as a neighbourhood for the very wealthiest. Actress Marlene Dietrich once called Avenue Montaigne home. This listing is more a pied-a-terre than a full-time residence, but it does have four bedrooms on the fifth floor of an old stone building. You know, for the richest among us, who can afford a weekend jaunt to Paris.