Cake Smash Photography: Mom Has Her Own Photo Shoot And It's Epic
One mom is proving that cake smashes are even better for adults.
Minnesota mom, Serina Brueggeman took the birthday photo shoot to the next level using glitter, champagne and a healthy dose of humour.
"I wanted to do something to show that turning 40 doesn't mean you can't still be sassy," the mom-of-two told The Stir. "You can still totally be cute and do something fun and lighthearted to celebrate."
What resulted was a hilarious series of photos taken by her friend, local photographer Rachel Farganis.
In the images, Brueggeman is decked out in a frilly white-and-gold tutu and a T-shirt that reads "forty."
On Facebook, photographer Farganis wrote: "Cake smashes are all about the little details. The perfect cake. The (epic) chalkboard sign. The little feet (and perfect shoes). The glittery crown and fluffy tutu. The subtle glow from the candle(s) ... and, of course, the bubbles from that first glass of champagne. You only turn 40 once."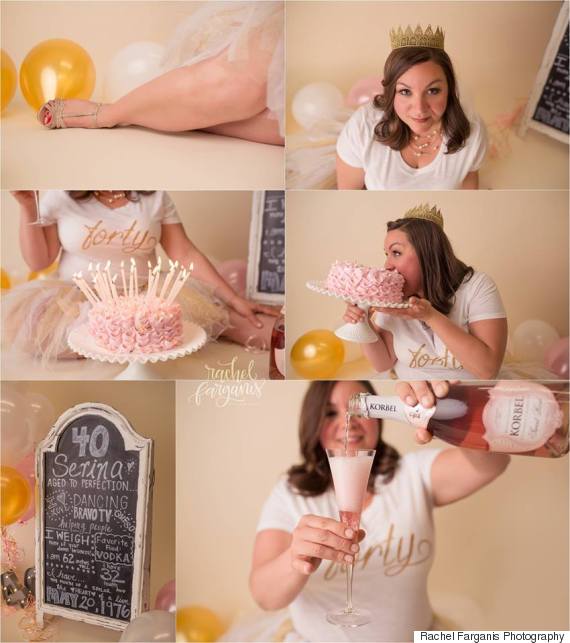 Cakes smashes became a hot parenting trend in 2014, Today.com reports. If you're unfamiliar with this fad, it's when a one-year-old is given a cake to destroy, or "smash," in front of guests at their birthday party. What results is one adorable mess and some truly memorable photos.
Because Farganis specializes in baby and family photography, she was able to channel the joy of cake smashes in epic fashion for Brueggeman's birthday.
"The experience of working with one-year-olds definitely helped when directing [Brueggeman on] what to do," the Saint Paul-based photographer told Scary Mommy. "I tried to mirror the fun that comes along with placing a kid in front of a cake and letting them go to town on it."
Farganis also admitted that she "hadn't laughed that hard at a photo shoot in a long time."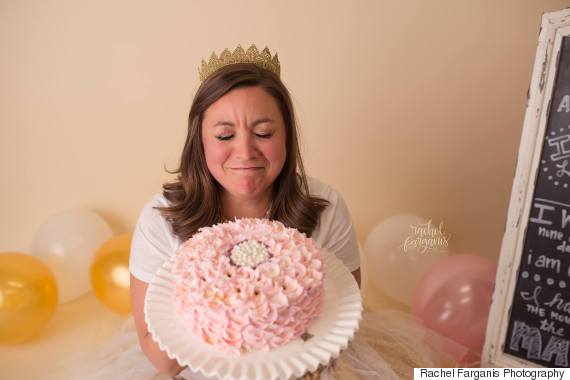 The "cake smash to end all cake smashes," as dubbed by Farganis, has now gone viral, with one photo receiving more than 5,000 likes and 5,000 shares on Facebook.
In the comments, many users praised Brueggeman for her brilliant birthday idea and Farganis for taking such memorable photos.
"This is amazing!" one commenter wrote. "Best adult cake smash ever, right down to the middle finger!"
Another joked, "Best photo ever!!!!!! It would only be better if you cried."
This isn't the first time we've seen a mom put her own spin on the cake smash trend. Last month, a Texas mom-of-two celebrated her 30th birthday with a similar photo shoot.
ALSO ON HUFFPOST:
21 Birthday Party Ideas For Adults
Learn how to make it at Ruffled Blog.

Adding a little extra ribbon and a garland to hanging balloon strings gives them a little extra oomph. Learn how to make it from A Beautiful Mess.

Just because you're adults doesn't mean you shouldn't play games at your birthday party. Learn how make this paint balloon game from Hello, Wonderful.

Even better if you can swap out the place holders with a sweet treat like chocolate truffles! Get more ideas from Sugar and Cloth.

Keep the colours from your party's theme flowing throughout the space with a little DIY garland. Learn how to make it from Pennies For A Fortune.

Bring the outdoors in with a flower covered lattice. It makes a great addition to a garden-themed party. Learn how to make it at The Proper Blog.

Learn how to make them at Easy Paper Crafts.

Photo walls aren't only for weddings — your guests will love taking selfies on a designated (and decorated) wall. Find out how to make one on Lovely Indeed.

This stunning floral display would also look amazing at a bridal or baby shower. Learn how to make it on Sarah Johnson's Blog.

Throwing a surprise party? Make your own confetti poppers using the favourite colours of the celebrant. Learn how to make it on Bird's Party Blog.

Your friends have a lot more aggression to get out than most four-year-olds, so it should be a lot more fun watching them whack around a piñata. Order them from Prospect Goods.

Let's be real, adults use emojis way more than kids, so it's only fitting to have them at an adult's birthday bash. Learn how to make them at Studio DIY.

A good party follows the theme right down to the smallest details — like the ice bucket. Learn how to make it on Sugar and Charm.

Learn how to make it on A Joyful Riot.

And dress up a fabric tablecloth with funky pom poms to pump up the fun factor. Learn how to make it from Let's Mingle Blog.

No room for flowers on the table? Hang them over a buffet table instead. Learn how to make it from We Are Scout.

Whether your three or 33, sprinkles are a birthday necessity. Make wall art or cake toppers using the rainbow-coloured stuff. Learn how to make it The Parade Party.

Punch bowls are so high school — surprise your guests by spiking and serving fresh fruit juice instead. Learn how to make it on Hello Glow.

If you have a big backyard, take advantage of it and make your own outdoor theatre by using a projector and a bed sheet. Bonus points if you can put it on a roof top. Get more ideas from Atelier Christine.

If you still like to print photos, this project is for you. Get more ideas from Martha Stewart.

Is the celebrant a beer lover or wine drinker? Serve up a variety of their favourite drinks with a tasting card so guests can choose their favourites. Get the idea from Sugar Plum Sisters.