Saudi Arabia Plans IOUs For Contractors As Oil Takes A Toll On Its Revenue
Saudi Arabia has been hit so hard by falling oil prices that this is how the kingdom plans to pay contractors.
That's right. IOUs. Just like on "The Simpsons." And in "Dumb and Dumber."
Saudi Arabia is considering them as it continues to grapple with low oil prices that have, in many ways, been of their own doing, Bloomberg reported Wednesday.
Low oil prices have made it more difficult for the kingdom to pay suppliers and contractors, as the resource makes up most of its revenue.
So instead, it's offering contractors payment in the form of "IOUs" that work like government bonds. Contractors could sell them to banks, or hold on to them until their value matures, the news agency said.
This all comes one month after Saudi Deputy Crown Prince Mohammed bin Salman threatened to flood the world with oil, thus tanking prices even further.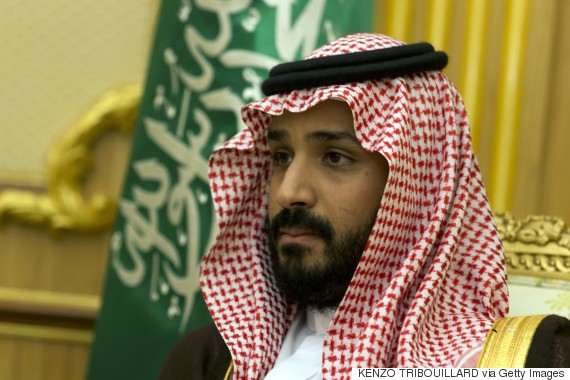 Saudi Deputy Crown Prince Mohammed bin Salman on Oct. 13, 2015. (Photo: Kenzo Tribouillard/AFP via Getty Images)
Oil prices have fallen dramatically in the past two years thanks to a boom in production from alternative sources like shale oil, and thanks to an increase in Saudi production in an effort to gain market share over its competitors.
Countries that depend on oil, including OPEC members, have urged the Saudi to cut production, but the country has refused to do so unless other players such as Iran do the same.
Iran, meanwhile, doesn't want to lower its own production because it only recently got back into the oil-exports game after international sanctions were lifted in January.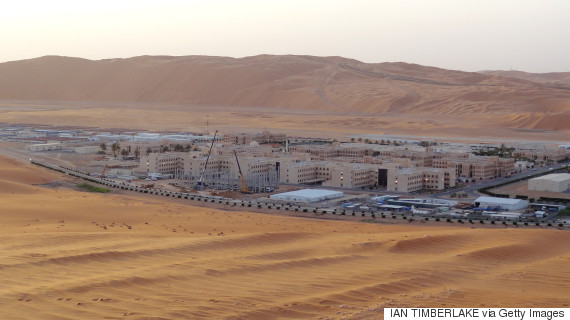 Shaybah, the base for Saudi Aramco's Natural Gas Liquids plant and oil production in the surrounding Shaybah field in Saudi Arabia's remote Empty quarter desert close to the United Arab Emirates, on May 10, 2016. (Photo: Ian Timberlake/AFP via Getty Images)
The resulting lower prices have taken a toll on countries such as Venezuela, which depend on the resource.
But they have also hurt Saudi Arabia, whose credit rating was downgraded by Moody's in response to "lower growth, higher debt levels and smaller domestic and external buffers that leave the Kingdom less well positioned to weather future shocks," Business Insider reported.
The International Monetary Fund (IMF) estimates that the kingdom's debt could grow to 33.4 per cent of its GDP by 2020, according to Zero Hedge.
HSBC, meanwhile, has warned that the kingdom faces a "protracted cycle of stagnation and decay" if it can't implement economic reforms.
And it is skeptical of the Saudis' plan to wean themselves off the resource by selling off part of the Saudi state-owned oil company, and using the money to invest: "We can think of no example of an energy rich economy that has successfully reformed itself after decades of commodity dependence," HSBC said, as reported by Business Insider.
In other words, everyone is feeling the pain — including the people who helped to cause it in the first place.
Also on HuffPost:
Unexpected Consequences Of Falling Oil Prices
More people are dying in road accidents, as falling oil costs translate into cheaper prices at the pump - increasing the number of journeys. "A $2 drop in gasoline price can translate into about 9,000 road fatalities a year in the US," sociology professor Guangqing Chi said last month. Chi told The Huffington Post that it typically takes almost a year for drivers to adopt new driving habits in response to changes in gas prices. Last year, US road deaths rose by 9.3% in the first six months of 2015. In the UK, while road deaths have fallen almost every year since 2004, provisional data suggests that fatalities increased in 2015 by 3%, alongside a 2.2% increase in traffic. Research has yet to reveal a link between these in the UK.

Pirates are unlikely victims of the global reduction in oil prices. Piracy in West Africa's Gulf of Guinea is now at its lowest level since 2002. Speaking to Bloomberg, Florentina Adenike Ukonga, executive secretary of the Gulf of Guinea Commission, said: "With oil at a low bottom price of below $30 per barrel, piracy is no longer such a profitable business as it was when prices hit $106 a barrel a few years ago." Attacks on oil transported declined by around a third last year, according to a report. Dyrad Maritime found sea crime figures for 2015 "painted a picture of optimism" - although the threat to vessels not carrying oil remains high.

Falling oil prices have translated into rock-bottom "bunker" fuel costs for shipping firms - reducing their incentive to take economical shortcuts. Rather than use routes via the Suez Canal, huge container ships are returning to ports in Asia via the "long way around" the southern cape of Africa. As prices tumble, burning more fuel is cheaper than paying passage rates through the waterway. For one-way passage, an oil transporter can pay as much as $325,000 (2008) to travel through the Suez canal. "For many services it is cheaper to sail south of Africa on the [return journey] than to use the canal routings," SeaIntel, a shipping monitor, said.

Thousands of oil workers have been sacked as a result of dwindling oil prices. In the UK alone, 70,000 oil-related jobs are feared to have been lost since the price war began 12 months ago. Last month, oil giant BP shed 3,000 jobs on top of previously announced redundancies. An estimated 250,000 jobs have been lost across the oil industry as a whole worldwide.

The plunging oil price has added to turmoil on stock markets the world over, affecting many of the world's biggest pension funds. According to Reuters, shares fell sharply this week as oil prices dropped after Saudi Arabia effectively ruled out reducing the output of oil by its producers. Oil prices, lowered by increased production, are one of a number of factors worrying investors. The FTSE 100 index of Britain's biggest traded companies was down 15.38% on a year ago as of Wednesday. The index holds millions of Brit's pension pots. "The markets are really worried that we are missing something here, that the global slowdown may be more significant than we are recognizing and that slowdown could be causing oil prices to drop, and commodities prices in general," Tracie McMillion of Wells Fargo Private Bank told Reuters.

Perhaps the most surprising effect of diving oil prices has been that demand hasn't risen significantly. Despite costs plunging, European economies remain weak, China is decelerating and growing energy efficiencies mean vehicles need less fuel. So the overall effect has been a flatlining of demand, rather than an increase, according to PwC (PDF).

And despite all of this, airfares for passengers flying in and out of Britain jumped 46% from November to December 2015, the Office of National Statistics found. The increase in fares was the highest since 2002. The "highly variable" changes were a result of increased consumer demand for air travel, the ONS said. In America, air passengers were more likely to benefit from tumbling costs - airfares there were lower throughout most of last year.