Researchers Use Mobile App To Find Endangered Right Whales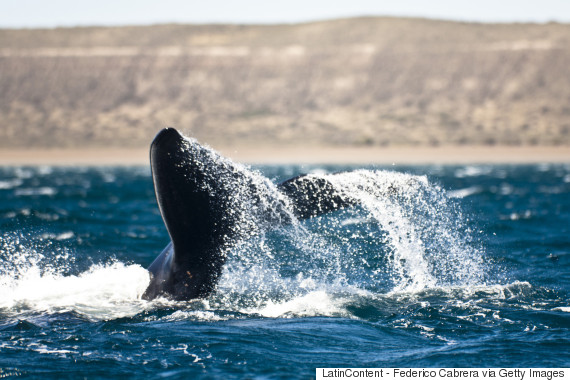 Around 500 right whales have vanished from their usual feeding grounds in the Bay of Fundy and off the coast of Nova Scotia.
Hundreds of endangered whales have disappeared, and researchers from Canada and the U.S. are using an app to try and find them.
There are only 500 North Atlantic right whales left in the world, and they have two key habitats: the Bay of Fundy, and the Roseway Basin off the coast of Nova Scotia.
But a few years ago, they started vanishing.
"[Those] two areas have been traditional feeding grounds for the species over the last 30 years," said Sean Brilliant, who works with the Canadian Wildlife Federation. "[But] there has been a real reduction in the number of whales, and last year was particularly notable."
There didn't seem to be any observations of right whales in the Roseway Basin, and only a handful — less than a dozen — animals showed up in the Bay of Fundy."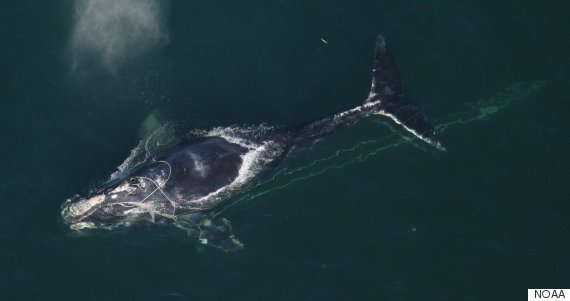 North Atlantic right whale tangled in a net. (Photo: NOAA)
Brilliant said the pods may have moved to the Gulf of Saint Lawrence in search of food, but researchers haven't had any luck in their searches there.
To try and find the 70-tonne mammals, crews have turned to Whale Alert — a mobile app originally created to help American sailors pinpoint animals in the water to avoid collisions.
The modern version of the app, which has expanded to include Canadian waters, allows the public report whale sightings to a real-time database for researchers to examine.
Scientists hope that public sightings can provide some clues as to where the whales have gone.
"More eyes on the water are going to help us," Brilliant said in an interview with The Huffington Post Canada on Thursday.
Tough to track
The researcher, who's been studying right whales for about 10 years, said keeping track of the mammals isn't an easy task.
Traditional suction trackers get knocked off easily, harpoon trackers fall out, and whales can't wear collars like other animals.
In some cases, tracking devices are attached to a dorsal fin, but right whales don't have one.
Plus, "it's not like we can grab a whale and punch an earring into it," Brilliant said.
"It's not like we can grab a whale and punch an earring into it."
Brilliant said researchers, whale watchers, and a number of non-profit organizations have taken an "all hands on deck" approach to finding the mammals — including putting drones on the case.
"We have a hunt for these whales from the sky, we have a hunt for these whales on the ocean, and we have a hunt for these whales under the ocean," he said.
And now, Brilliant said, they hope a cell phone will do the trick.
Also On HuffPost:
Top 10 Endangered Species That Need Our Help
Asian elephants (Elephas maximus) are currently listed as endangered on the IUCN Red List of Threatened Species, meaning they are "facing a high risk of extinction in the wild." World Wildlife Fund estimates that there are between 41,410 and 52,345 Asian elephants in the wild. HuffPost blogger Wendy Diamond writes that besides deforestation and industrialization, landmines also threaten Asian elephants in the wild. The founder of an elephant park in Thailand claims he "has known about 20 elephants who stepped on land mines and died" since 1989. Efforts to raise awareness for elephants' fragile status include Elephant Appreciation Day.

The Javan Rhinoceros (Rhinoceros sondaicus) is very close to extinction. There are believed to be as few as 40 left in the wild in Ujung Kulon National Park, Indonesia and none are currently in captivity. The IUCN Red List currently lists Javan rhinos as critically endangered. In October, poachers killed the last remaining Javan rhino in Vietnam. Several were alive in the wild in Vietnam as recently as 2004. A survey of surviving Javan rhinos in Indonesia found that there are very few females in the population.

Snow leopards (Panthera uncia) are listed as endangered on the IUCN Red List. IUCN estimates that there are 4,080 to 6,590 snow leopards in the wild. A subspecies, the Amur leopard is critically endangered. Native to the Russian Far East and northern China, there are fewer than 50 left in the wild. In July, cameras recorded snow leopards in 16 different locations in northeastern Afghanistan.

Tigers (Panthera tigris) are listed as endangered on the IUCN Red List. According to WWF, there are as few as 3,200 tigers left in the wild. In November, Interpol launched a campaign to save tigers in the 13 Asian countries where they still exist, reported the Associated Press. There were around 100,000 tigers in Asia in 1900.

The Irrawaddy dolpin (Orcaella brevirostris), which is native to Southeast Asia, is listed as vulnerable on the IUCN Red List. The Mekong River subpopulation, however, is listed as critically endangered. According to WWF, there are only 85 of these dolphins left in Southeast Asia. The limited range of this animal along with killing by fisherman has left Irrawaddy dolphin populations in danger.

The Vaquita (Phocoena sinus) is a small porpoise native to the Gulf of California. It is listed as critically endangered on the IUCN Red List. WWF estimates that there are around 245 vaquita left in the wild. They are most immediately threatened by "entanglement in fishing gear." Fortunately, WWF helped authorities in Mexico to reduce bycatch of vaquita to a "level that does not threaten the population" by 2009.

Atlantic Bluefin Tuna (Thunnus thynnus) are listed as endangered on the IUCN Red List. According to WWF, they are threatened by overfishing. A report from October found that eastern Atlantic bluefin is traded at twice the amount catch quotas actually allow. In August, it was reported that Mitsubishi executives planned to buy up tons of bluefin and freeze it to profit from impending population collapses.

The mountain gorilla (Gorilla beringei beringei), a subspecies of the eastern gorilla, is listed as critically endangered on the IUCN Red List. WWF explains that there are estimated to be about 786 individuals left in the two mountain gorilla populations near the Uganda-Rwanda-DRC and in a national park in Uganda. However, the two populations have grown by 14 and 12 percent, respectively, in the past decade. Armed conflicts and natural resource exploitation have been blamed for endangering the gorilla populations.

The Sumatran Orangutan (Pongo abelii) is listed as critically endangered on the IUCN Red List. According to WWF, they are the most endangered of the two orangutan species and there are about 7,500 Sumatran Orangutans left in the wild. Native only to parts of Sumatra, Indonesia, the orangutans are threatened by human agricultural and residential development. A recent study found that residents of Borneo killed at least 750 endangered orangutans in a one-year period. "Born To Be Wild," a recent IMAX film, tells the story of caretakers who are raising orphaned orangutans.

Leatherback turtles (Dermochelys coriacea) are listed as critically endangered on the IUCN Red List. According to WWF, there are about 34,000 nesting females left in the world and populations in the Atlantic are relatively stable. In the Pacific, however, there may be as few as 2,300 adult females. Their wide geographical distribution and shallow dive depth means they are threatened by longline fishing operations, explains WWF. A study from September found that although the number of sea turtles killed in U.S. fisheries has declined by 90 percent since 1990, it may not be enough to sustain sea turtle populations. In August, a 700-pound leatherback washed up on the shore at Montauk, New York.