Tragically Hip's Gord Downie Reveals Brain Cancer Diagnosis
Iconic Canadian band The Tragically Hip revealed Tuesday that lead singer Gord Downie has terminal brain cancer.
Downie was diagnosed in December 2015, said a message on the band's website.
"Since then, obviously, he's endured a lot of difficult times, and he has been fighting hard. In privacy along with his family, and through all of this, we've been standing by him."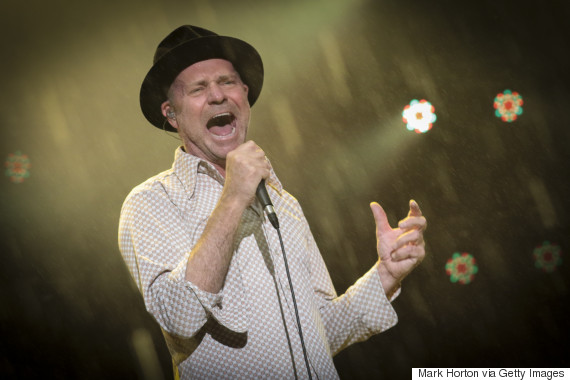 Gord Downie of The Tragically Hip performs at the Ottawa Bluesfest in 2015. (Photo: Mark Horton/WireImage)
A specialist treating Downie said Tuesday that the singer is "doing very well" but it's "too early right now" to know his prognosis.
Dr. James Perry, head of neurology at the Sunnybrook Health Sciences Centre, said there's a very wide spectrum of possible outcomes for patients with glioblastoma, which is the most common and most aggressive cancerous primary brain tumour.
It affects about two to three people per 100,000 in Canada, the United States and Europe, according to information supplied by Sunnybrook. It's the same type of brain tumour discovered in Ted Kennedy, actress Ethel Merman and former Montreal Expos player Gary Carter.
Underwent surgery
Downie underwent surgery to remove "the bulk" of the tumour and was given six weeks of radiation treatment and chemotherapy medication.
"Fortunately for Gord, he has a type of glioblastoma that is more amenable to treatment than most.... with a more favourable response to treatment," said Perry, suggesting Downie could have "a significantly higher chance of longer-term survival."
Perry said Downie has recovered much of his physical, mental and emotional strength and it's safe for him to tour with the band this summer.
"This feels like the right thing to do now, for Gord, and for all of us," said the band's message.
New album next month
Downie, guitarists Paul Langlois and Rob Baker, bassist Gord Sinclair, and drummer Johnny Fay came together in Kingston, Ont. in the '80s. Winners of 14 Juno awards, their 13th studio album, "Man Machine Poem," will be released next month.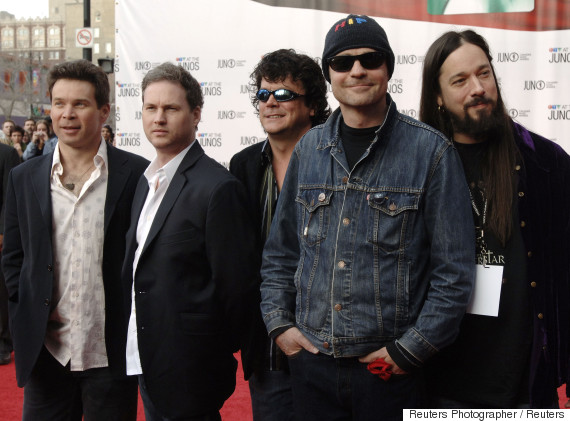 The Tragically Hip were inducted into the Canadian Music Hall of Fame in 2005. (Photo: Fred Greenslade JY/Reuters)
Downie's electric live performances draw loyal fans back time and again to hear the band perform hits that include "New Orleans Is Sinking," "Courage," and "At the Hundredth Meridian."
The doctor emphasized Tuesdsay that Downie will need to avoid fatigue while on stage.
"We all know he doesn't sit down in a rocking chair and play banjo, so I think we have to be cautious about things like hydration," Perry said.
"This feels like the right thing to do now, for Gord, and for all of us."
Details of The Hip's tour are expected to be released on Wednesday.
"What we in The Hip receive, each time we play together, is a connection; with each other; with music and it's magic; and during the shows, a special connection with all of you, our incredible fans," said the band's message on Tuesday.
"So, we're going to dig deep, and try to make this our best tour yet."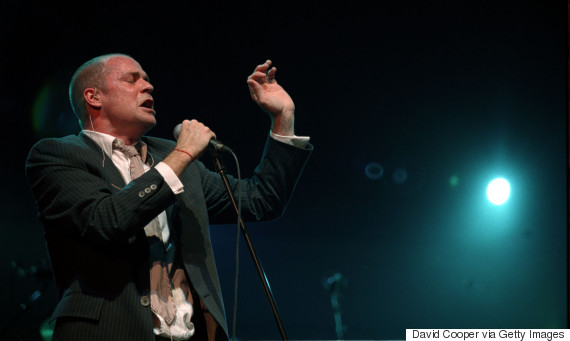 Gord Downie performs at the Air Canada Centre. (Photo: David Cooper/Toronto Star via Getty Images)
The announcement also said the band will not discuss the matter further because ``the music will stand to answer all.''
The decision falls in line with Downie's media-shy public persona. When not on stage, Downie has mostly avoided the spotlight, reserving most interviews and public appearances to support causes close to his heart, such as stopping oilsands and pipelines expansion.
Downie, 52, and his wife have four children.
With files from The Canadian Press
Also on HuffPost:
Canadian University Bands
The school: Queen's University The back story: Four of the five members of the band met in Queen's residence Waldron Tower in 1983, and quickly became beloved around Kingston. In 1985, they did a cross-campus tour, and met Paul Langlois in 1986 to complete the band. (via Canada Live) You know them for: "New Orleans Is Sinking," "Wheat Kings," and a few dozen other oh-so-Canadian songs

The school: Queen's University The back story: They lived across the hall from each other in residence, and a few months later, discovered they all played different instruments. They began to jam together, and the rest was history. You know them for: "When The Night Feels My Song"

The school: Collège Stanislas (a private elementary and high school in Montreal) The back story: The two met in the mid-1990s when they were teens, and continued to work together while going to school in their hometown of Montreal — David Macklovitch (left) to McGill, and Patrick Gemayel, who pursued an accounting degree You know them for: "Jealous," "Fancy Footwork"

The school: McMaster University The back story: Four of the five original members of the band met — one after the other — during orientation week in 2004, they explained to McMaster Daily News. Soon, they started playing local clubs in Hamilton. You know them for: Ballad of Hugo Chavez", "Oh, The Boss is Coming!", "Come to Light", and "Leather Jacket".

The school: Etobicoke School of the Arts (a high school in Toronto) The back story: While there are many, many members of Broken Social Scene, some of the most high profile met back in high school — namely frontman Kevin Drew, Emily Haines (best known for Metric) and Amy Millan (best known for Stars). "Emily asked me in the first week of school to come into the practice rooms and sing harmonies with her. I learned to sing from her," Amy told Flare in 2013. You know them for: "Anthems For A Seventeen Year Old Girl," "7/4 Shoreline," and the many offshoots of the band (Note: Oakwood Collegiate Institute is where many other members of the collective found each other, including James Shaw, Evan Cranley, Torquil Campbell and Chris Seligman.)

The school: Queen's University The back story: She played her first shows at open mic nights at Clark Hall Pub and the Grad Club (just like her brother, Matthew Barber), and her songs are now everywhere, including the "Orange Is The New Black" soundtrack You know her for: "Don't Go Easy," "Chances"

The school: Nova Scotia College of Art and Design The back story: The band had its first gig in the school cafeteria, (via NSCAD) in February, 1991. You know them for: "The Rest Of My Life," "The Other Man"

The school: University of Toronto The back story: A child prodigy with the violin, Pallett studied music at U of T and wrote two operas during his time there (he graduated in 2002). He's also amazingly connected within the Toronto music scene (and beyond), having played with everyone from Arcade Fire to Great Lake Swimmers to Snow Patrol. You know him for: "The Riverbed," Final Fantasy

The school: Queen's University The back story: Though Harmer was a member of Toronto band The Saddletramps while at Queen's, she quit to focus on her education — and then started writing her own songs and formed a band, Weeping Tile, with fellow Kingston musicians. (via The Canadian Encyclopedia) You know her for: "Basement Apartment," "Don't Get Your Back Up"

The school: Simon Fraser University The back story: Good's original folk band, the Rodchester Kings, was discovered at an open mic night at the university in 1992. While they had some early success, that band split up, and a new group (that would become famous) formed in 1995. You know him for: "Load Me Up," "Apparitions"

The school: Queen's University The back story: Mark Makoway (guitars) and Jeff Pearce (bass) first met at Queen's University while studying film; they then moved to Vancouver and hooked up with (Kingston natives) David Usher and Kevin Young to form Moist, along with Paul Wilcox. You know them for: "Push," "Breathe," "Silver"

The school: Memorial University of Newfoundland The back story: All four original members of the band got arts degrees from Memorial. Alan Doyle started by playing solo gigs around the campus and eventually in 1993, hooked up with the rest of the band. You know them for: "Ordinary Day," "When I'm Up (I Can't Get Down)"

The school: McGill University The back story: The group, all from Montreal, came together in a variety of ways, but frontman Sam Roberts and bassist James Hall both attended the university, and, Roberts say, it informed plenty of their work. "The sheer number of books and creative information coming and going was definitely feeding directly into what I was writing about," he told the school's alumni publication. You know them for: "Bridge to Nowhere," "Where Have All The Good People Gone?"

The school: Queen's University The back story: Though band members Mike O'Neill and Dave Ullrich grew up together in Oshawa, they didn't form a band (and call it The Inbreds) until they went to university together in Kingston in the early '90s (via Frizzballs) You know them for: "Any Sense of Time," "North Window"

The school: Concordia University The back story: Régine Chassagne, Richard Reed Parry and original member Sarah Neufeld all went to Concordia — lead vocalist Win Butler went to McGill, so he met now-wife Chassagne while in Montreal. It was there they all started playing together. You know them for: "Reflektor," "Wake Up," "The Suburbs" Photo courtesy of Fro Knows Photo

The school: McGill University The back story: Kid Koala (Eric San) was DJing from a young age, but as he told Exclaim, "Montreal was a very nurturing environment for me." He would play at Gert's, the campus pub, and hand out samples of his music to fellow students. You know him for: "Third World Lover," "'8 Bit Blues"

The school: Saint Mary's University The back story: While at the school in Halifax, the artist (whose real name is Rich Terfry) started getting attention for his hip hop tunes. You know him for: "Wicked And Weird," "Heart of Stone,"

The school: Laval University The back story: While at school, the band won first place in a Montreal radio station's competition, leading to the release of their first album in 1993. You know them for: "Ma vie à l'heure," "Amalgame"