Jack Russell Puppy Bowls Into Water Bottles In Slow Motion (VIDEO)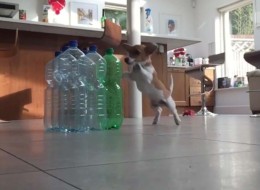 With six water bottles set up like bowling pins, what else was "Fuji" the mini Jack Russell Terrier supposed to do?
Charge at them and knock them all down for a strike of course.
Watch the video above to see it all go down in slow motion.